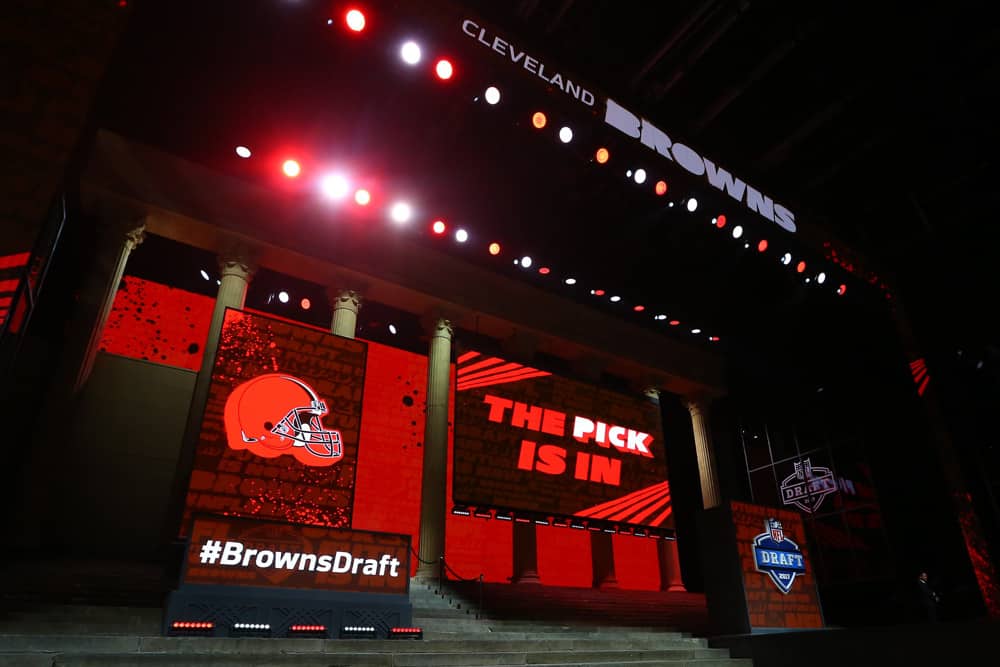 Ever since the 2019 season ended, it has been widely speculated that the Cleveland Browns will draft an offensive tackle with their first-round pick.
In fact, even before the season ended it was obvious this was a position of desperate need.
By now, every draftnik and mock draft has the Browns picking either Tristan Wirfs, Mekhi Becton, Jedrick Wills, or Andrew Thomas.
There has been some speculation that the team may trade up to grab a linebacker.
However, that move doesn't seem logical given that the team could draft that position in later rounds.
In fact, while most "experts" seem to have the Browns 10th pick mapped out, what will become of their second pick?
Second Round Need
As of right now, the Browns second pick of the Draft is number 41 of the second round.
The 41st pick is early enough in the round that the team could feasibly get another position of need.
More than likely, the player that the Browns select in Round 2 could even have a first-round grade.
Every year the Draft is replete with athletes that have fallen out of the first round due to the usual chaos that occurs during that round.
So, it's not a stretch to think Cleveland can get a high caliber player at pick 41.
Now the Browns have a decision to make.
Should they take a safety or a linebacker?
Both positions fall right behind the offensive line in order of importance for 2020.
Only a week ago, I would have gone with a safety, perhaps LSU's Grant Delpit if he was still available.
However, the team recently made public their decision to part ways with linebackers Joe Schobert and, most likely, Christian Kirksey.
That leaves Mack Wilson and Sione Takitaki as the presumptive favorites to start next year.
The team needs depth at that position and there are plenty of good options in the second round.
1. Zack Baun
I recently wrote an article on the top eight linebackers the team could draft in 2020.
Of the eight 'backers I wrote about, Isaiah Simmons of Clemson and Kenneth Murray of Oklahoma are most likely gone at 41.
If Zack Baun of Wisconsin is available, the Browns shouldn't think twice and grab him quickly.
After watching copious amounts of film on Baun, I became a believer.
In part, this is what I wrote about him:
"In a word, Baun can be described as a disruptor. This is evident even before watching film. In 2019, Baun had 76 total tackles, 12.5 sacks, two forced fumbles, an interception and a touchdown. His motor is off the charts and he puts his nose into every play."
This isn't hyperbole. Baun is exciting to watch.
Splash plays are great when you are scouting but some of the best finds (that show you who a player really is) aren't "highlights".

Case in point: Zack Baun (EDGE, Wisconsin) absolutely destroying the double team and rerouting the run completely. pic.twitter.com/giJcmPVeWe

— EJ Snyder (@thedraftsmanFB) February 16, 2020
He never takes a play off and he flat out brings it on every possession.
He is lauded for his football IQ and his ability to leave the offense second-guessing.
Baun is adept at lulling an offense to sleep just before he breaks their hearts with a huge play.
He will be a game-changer for some lucky NFL team.
My hope is that it will be the Browns.
2. Malik Harrison
Okay, what if Baun is gone at 41?
I'll go right back to my list and recommend a homegrown product, OSU's Malik Harrison.
Of Harrison, I wrote:
"Harrison played in the shadow of teammate Chase Young, but he more than held up his own. Harrison has really developed into a versatile, dependable defender. As a former high school quarterback, he has a good feel for the game and anticipates plays well. Harrison plays fast and, when running "downhill," can lower the boom."
It's true, while watching Harrison's film it was hard to miss Young right there with him on nearly every play.
Ohio State LB Malik Harrison (@Leek_39) Highlights

Harrison is a hard hitter who makes plays all over the field. He'll make a tackle behind the line of scrimmage one play & then will drop back into coverage next play to defend a pass

Full Video 🎥: https://t.co/Re1uwU8JOM pic.twitter.com/HL6a5eCsy2

— JustBombsProductions (@JBP_Official) January 22, 2020
However, Harrison did more than showcase his skills.
As I mentioned, he was a former quarterback.
Therefore, he understands the nuances of the position and can anticipate what the opposing quarterback will do.
He knows when to attack the ball as well as when to lure the offense into a mistake.
He can play pass defense fairly well and will clog throwing lanes to create chaos.
There were more than a few occasions where Harrison's mere presence in a passing lane caused the quarterback to second guess himself.
Harrison's knowledge of the game and versatility would add value to the Browns 2020 team.
3. Patrick Queen
Last, but not least, if both Baun and Harrison are gone, the Browns should focus on LSU's Patrick Queen.
A number of mock drafts have him going to the Ravens at 28.
If they should overthink the pick and take someone else, Cleveland will have a tough choice to make.
Queen was overshadowed on the LSU team, but that doesn't mean he should be considered lightly.
I also highlighted Queen in my article, commenting:
"After limited playing time in 2017 and 2018, Queen burst onto the scene in 2019. He is a fairly instinctive athlete with good football knowledge. He has the proverbial "high motor" and can frequently be found at the point of attack. Queen can diagnose a play quickly and is usually one of the first to arrive. He is a heavy hitter with a fast-initial step and short burst speed. It is evident that his flexibility allows him to effectively maneuver straight-line and laterally. He will take on blockers and has the ability to slip a block to get to the football. At 6'1, 227 pounds, Queen's length aids him in both shedding blocks and making a play on the ball. In the passing game, Queen can more than hold his own. In some game clips, he can be spotted 30 or more yards downfield in pursuit of a play."
If you have time, find the 2019 highlights of Queen.
Another highlight of Patrick Queen making an argument for Double A Gap Mug packages. 🔥 https://t.co/7FeP6lM7p2

— Brandon Baer (@BaerWisdom) January 28, 2020
You will see for yourself why so many teams give him a first-round grade.
He is fearless and will attack the ball at the line or in the backfield.
Queen can drop into coverage with the best of them and strike fear into the hearts of receivers.
What is even more appealing about Queen is that he could be turned into a linebacker/safety hybrid.
This would really add value to a team like the Browns who need help at both positions.
In Conclusion
Any one of the athletes mentioned above would be a great fit for Cleveland.
Even better, since this is a second-round pick, the Browns save a lot of money.
One of the buzzwords come draft time is "value."
The team picks a highly rated player in the second round, therefore creating value for the team.
Cleveland gets an impactful athlete and avoids mortgaging their future to get him.
It's a win-win for both the team and the draft pick.
Best of all, any of these three could be plugged into the lineup quickly.
That bodes well for the team's defensive stability next season.