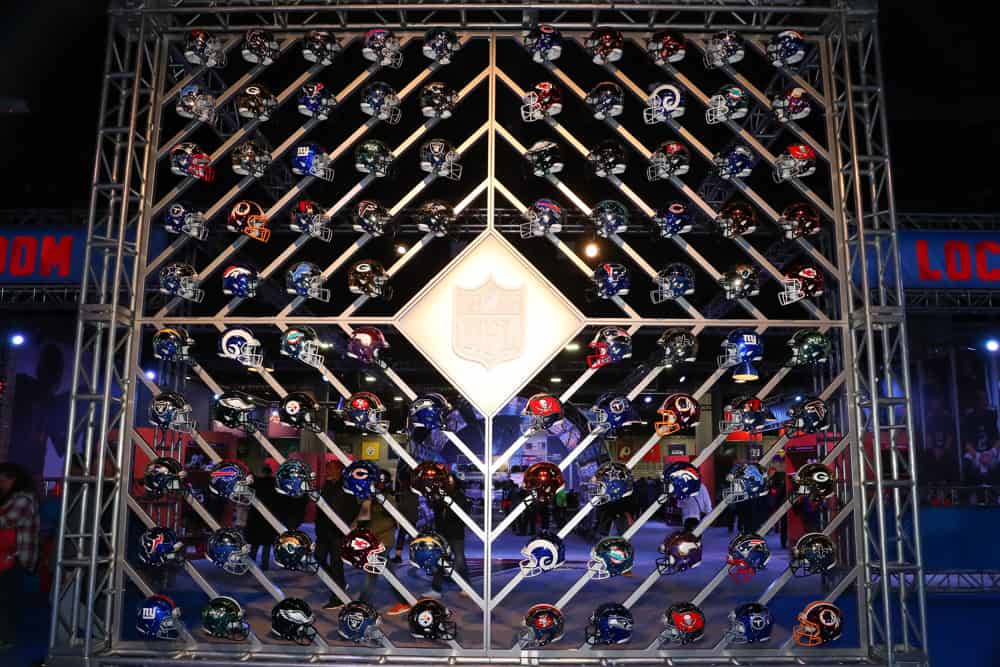 NFL free agency will officially start on March 18th at 4:00 p.m. E.T.
The following players from the Cleveland Browns will see their contracts expire unless the Browns make a deal before that time.
Down below, the upcoming Browns free agents will be classified as unrestricted, restricted, and exclusive rights.
Based on past performance, potential worth, and the future of the Browns, we have predicted what is the best course of action for each free agent.
Enjoy.
Browns Unrestricted Free Agents
Just as a review, an unrestricted free agent is someone who someone that is free to sign with any team with no opportunity for the original club to match an offer sheet.
The following are unrestricted free agents for the Browns:
QB Drew Stanton
WR Rashard Higgins
LT Greg Robinson
S Eric Murray
MLB Joe Schobert
S Damarious Randall
S Juston Burris
Drew Stanton-QB
Stanton signed a two-year contract with the Browns in 2018 and never attempted a single pass for the team.
In 2018, Stanton served as the third-string quarterback behind Tyrod Taylor and Baker Mayfield.
After Mayfield secured the quarterback position, Stanton remained the third-string once Garrett Gilbert joined the team.
Either way, Stanton never would have thrown a pass after suffering a knee injury in September, which placed him on the IR.
Stanton was one of the oldest players on the team.
Browns now have a 37 year old head coach and a 32 year old GM.

Oldest player on the current roster is backup quarterback Drew Stanton, who is 35. Next oldest behind him is a currently injured Morgan Burnett (31). #Browns

— MoreForYouCleveland (@MoreForYou_CLE) January 27, 2020
Prediction: Stanton walks or retires
At 35-years old, Stanton could find a practice squad job out there as this is a deep market for quarterbacks.
The problem for Stanton is that he is going to have to wait for all the dominoes to fall.
The Browns are obviously content with Mayfield as the starters and Gilbert is one of his best friends, so that makes a perfect backup scenario.
The only way Stanton will ever throw a pass in the NFL again is injuries to multiple quarterbacks on the team.
Rashard Higgins-WR
The Browns selected Higgins with the 172nd overall pick in the fifth round of the 2016 NFL Draft.
After playing in all 16 games in 2016, Higgins secured more of a role in the offense in 2017 by finishing with 27 receptions for 312 yards and two touchdowns.
In 2018, he took a step forward by having a career-year with 39 receptions, 572 yards, and four touchdowns.
Higgins slid out of the offense in 2019 though with the resurgence of Jarvis Landry and the arrival of Odell Beckham Jr.
He finished with just four receptions for 55 yards in 10 games and one touchdown.
His one touchdown was a game-winner against the Buffalo Bills.
"TOUCHDOWN! IT'S RASHARD HIGGINS!"

🗣 Jim Donovan's call of our game winner pic.twitter.com/dk2JOTagr2

— Cleveland Browns (@Browns) November 11, 2019
Prediction: Signs with the New Orleans Saints
Kade Kistner of USA Today mentioned three Browns players the Saints could poach this offseason.
Of those three players, Higgins makes the most sense.
The Saints could likely lure Higgins to New Orleans on a team-friendly deal after his production last season.
Without clear-cut number two or three receivers behind Michael Thomas, Higgins could likely thrive under Sean Payton's' system.
Greg Robinson-LT
Robinson never lived up to the hype of being the No. 2 overall pick with the Rams.
At least his two years with the Browns were serviceable but that's all it was worth.
Robinson started in 14 games last season and ranked 11th in the league for holding penalties with five. 
He was one of 14 players in the league that racked up at least 10 penalties or more during the regular season.
The Browns as a unit led the NFL in ejections and this incident during Week 1 did not help the case.
#Browns LT Greg Robinson has been ejected for kicking #Titans safety Kenny Vaccaro. Yikes. pic.twitter.com/yXqfrMtxnT

— NFL Update (@MySportsUpdate) September 8, 2019
Prediction: Robinson signs elsewhere  
The Los Angeles Chargers parting ways with Phillip Rivers helps the Browns in a way. 
The Chargers have the sixth overall pick in the draft and that could be used to select a quarterback.
This prevents the Chargers from selecting a tackle and will allow the Browns to use their first-round pick on the position instead.
All signs point to the Browns moving on from Robinson and using a draft selection to fill the position.
Eric Murray-S
Murray spent the first three years of his career with the Kansas City Chiefs before being traded to the Browns on April 1st.
Compared to production from the past, Murray's stats went down.
He went from 55 combined tackles in 15 games played in 2018 to just 23 combined tackles in nine games played in 2019.
Part of that was due to a knee injury that needed season-ending surgery.
#Browns Eric Murray back at nickelback. Missed 7 games after knee surgery, then returned last week to play special teams. Takes spot of TJ Carrie

— Scott Petrak ct (@ScottPetrak) December 29, 2019
Prediction: Murray is let go
Murray was versatile and his career with the Chiefs proves that; however, the Browns as a unit on safety was average.
The team needs improvement on safety and giving money to a guy that is coming off a knee injury is not the right way to go.
Joe Schobert-MLB
As previously mentioned in the past, this is going to be one of the most critical decisions new GM Andrew Berry faces this offseason.
The NFL tackles leader in 2017 would be a huge loss.
Before Berry was hired, multiple sources said that the Browns were willing to let Schobert walk.
Report: Browns willing to let Joe Schobert leave in free agency https://t.co/9StwRuoWOc

— ProFootballTalk (@ProFootballTalk) December 15, 2019
For the season, Schobert had 133 combined tackles, which ranked 10th overall.
Schobert could be a highly coveted free agent that could be paid greatly, which is a potential reason why the Browns could be letting him walk.
Either way, he is a key piece on defense that would be hard to replace:
Prediction: Browns let Schobert walk
As of right now, the sources and the information point to the Browns not willing to pay up for Schobert.
This would be a frustrating loss because Schobert is the real deal on defense.
If you had to ask any of us, we would tell you it could be a 50-50 shot that he returns but it does not look good right now.
Damarious Randall-S
Randall revived his career with the Browns after three seasons with the Green Bay Packers.
After trading for Randall in 2018, the Browns exercised his fifth-year option for 2019.
Randall finished 2019 with 61 combined tackles and 2.5 sacks.
After trading Jabrill Peppers in a package for Odell Beckham Jr., Randall took on a new role.
Prediction: Randall signs with a new team 
The situation for Randall towards the end of the season did not look promising for a return.
Sure, he resurrected his career but the "extra" that went into the season was not a good look for a Browns team that is trying to change their culture.
State of Browns exposed tonight:

1⃣ Damarious Randall ejected, dirty helmet hits, 1 concussed Diontae Johnson (bleeding from ear)
2⃣ Helmet hit from Williams, concussed Juju
3⃣ OBJ disrespecting Tomlin to his face mid game
4⃣ Garrett skull bashing Rudolph#NFL #BrownsVsSteelers pic.twitter.com/dTjdYttIWi

— The Mayor of Ramona (@TarantinoMike94) November 15, 2019
Even with games left in the season, Randall was benched and did not respond well to reporters when questioned.
🎥: #Browns S Damarious Randall was asked if he thinks the decision to bench him and not make the trip to Pittsburgh on Sunday hurts his chances to come back after this season: "I don't know. Maybe you should ask them." pic.twitter.com/FypWlGrx9v

— 92.3 The Fan (@923TheFan) December 4, 2019
In the end, the Browns could look to the draft to find a safety given that this class is rich with potential prospects.
Juston Burris-S
Burris bounced around last season which included two stints with the Browns.
After the Browns resigned Burris, he was waived on September 1st, where he signed with the Oakland Raiders.
However, he spent just six days with the team and was claimed off waivers by the Browns and spent the rest of the season with the franchise.
Burris played in 14 games for the Browns and nine were starts.
He finished with the season with 30 combined tackles, seven passes defended, and two interceptions.
Juston Burris with the PICK!#LARvsCLE pic.twitter.com/mYx3XccRKb

— Cleveland Browns (@Browns) September 23, 2019
Prediction: Resigns with Browns 
Burris made just $720,000 last season and was a rotational piece on defense.
With three safeties set to become free agents, it seems likely that the Browns would be willing to give Burris a minor pay increase to maybe a million a season.
When he played for the team, he produced, so it would be wise to keep the cheaper option.
Restricted Free Agents
As a review, a restricted free agent is a type of free agent that has special restrictions where other teams can sign the player but the original franchise can match the offer sheet.
The following players have at least three years of accrued service in the NFL (6 games or more on the roster or IR).
The Browns can choose to place a first-round tender, second-round tender, or original round tender on each player.
Over the Cap estimates that the 2020 tenders will be $4.667 million for the first round, $3.278 million for the second round, and $2.144 million for the original round.
Another team can sign a player, but that they would owe that team the corresponding draft pick if the team does not opt to match the offer.
Also, if the following players are not tendered by the start of free agency, they will become unrestricted free agents.
RB Kareem Hunt
TE Ricky Seals-Jones
OT Justin McCray
DE Bryan Cox
Kareem Hunt-RB
It sounds like the Browns want him back.
Hunt rushed for 179 yards and hauled in 285 receiving yards and three touchdowns after he missed eight games due to suspension.
Hunt already made noise this offseason for a run-in with the law.
WATCH: Kareem Hunt's bombshell police video, open vodka container & drug confession pic.twitter.com/D6LYnjCIJx

— TMZ Sports (@TMZ_Sports) January 27, 2020
However, when Berry was introduced as the team's general manager, he had this to say to reporters:
"We want guys who are going to be smart, tough and accountable, on and off the field," Berry said. "Kareem understands that and we're looking forward to him meshing with our culture moving forward."
Prediction: Resigns with Browns
The Browns like the idea of pairing Hunt with Nick Chubb. 
Chubb would give the Browns the ground-and-pound running back, while Hunt could be utilized in a receiving role as well as the ground.
It does not appear that many other teams want to take a chance on Hunt either.
The Browns signed Hunt after he was released from the Chiefs for footage of him kicking a woman in the head in a hotel hallway.
Hunt has been quoted several times about how he likes Cleveland and wants to stay.
The only way Hunt does not come back to the Browns is if the team does not offer him a contract.
Ricky Seals-Jones-TE
Some believe that Seals-Jones is poised to have a breakout campaign in 2020.
After averaging more than 16-yards per catch on just 14 receptions, some believe that one more year of establishing rapport with Mayfield, Seals-Jones could provide a deadly second tight end option.
Seals-Jones began 2019 with the Arizona Cardinals before being placed on waivers.
The Browns picked him up and he finished the season with 14 receptions for 229 yards and four touchdowns.
Free Agent Profile: Ricky Seals-Jones (TE)

Age: 24 H: 6′-5″ W: 245 Spd: 4.69
Exp: 3 Years – Undrafted FA 2017

Career Stats:
39 Games, 55 Receptions, 699 Yards, 6 TD's

Second tier option, could be a developmental project, has had minor injury issues and an off field incident pic.twitter.com/1nkTuYR7sK

— Offseason Champions (@HTTRChamps) January 29, 2020
Prediction: Resigns with Browns 
The Browns do not have to give him a lot of money, which makes him an attractive sign.
Tight end David Njoku is entering a contract year and has question marks with his future with the team.
It makes sense to give Seals-Jones a one-year deal to prove his worth at the same time as Njoku.
Then, the team can pick their future tight end moving forward.
Justin McCray-OT
Justin McCray played in 15 games last season, including four starts.
Former GM John Dorsey shipped Corey Coleman out for McCray at the beginning of the season.
It was not one of his best trades.
Key terrible Offensive grades #Browns Wk 13 per PFF:

Justin McCray 53.6
Chris Hubbard 47.2, an awful 37.3 run blocking!

Both are John Dorsey "real players".

— Robert Stalnaker (@wildlifeluvr) December 2, 2019
Freddie Kitchens is going to get a lot of complaints about this game but…

John Dorsey drafted Austin Corbett: failed. Signed Chris Hubbard Greg Robinson, & Eric Kush. Traded for Wyatt Teller & Justin McCray.

The offensive line has cost #Browns so many opportunities this year

— Kyle Kelly (@KyleKellyNFL) December 1, 2019
Prediction: McCray is not retained
McCray's situation is pretty simple: he is a backup at best and not productive when used.
The Browns can use a late-round pick to find a replacement, so this situation is pretty easy.
Bryan Cox Jr.-DE
Cox played with the Carolina Panthers until he was waived on November 8th.
He bounced around between the active roster and the practice squad.
The Browns claimed the son of former NFL player Bryan Cox on November 13th.
Cox played in six games, totaling 12 tackles and two tackles for loss.
Recently signed DE Bryan Cox is a "smart guy" who is immersing himself into Browns' system, Kitchens says. He's suddenly vaulted up the depth chart with Garrett out.

— Andrew Gribble (@Andrew_Gribble) November 20, 2019
Prediction: Resigns with Browns 
Cox seems like a low-cost, high-reward player.
He played significant minutes while Myles Garrett was suspended.
With Garrett reinstated, Cox could serve as the backup and provide depth at the position.
Exclusive Rights Free Agents
The ERFA is used for players who have less than three accrued seasons in the NFL (six games or more on the roster or IR).
According to ERFA rules, these Browns players could receive a one-year, minimum salary tender for $510,000, $585,000, or $660,000 based on credited seasons.
If the Browns offer to any of these players, no other team could sign them.
B-Dontrell Hilliard
WR KhaDarel Hodge
Pharaoh Brown
B-Dontrell Hilliard
Hilliard played a minor role on offense where he finished with seven rushing attempts for 31 yards and two touchdowns, as well as nine receptions for 81 yards.
However, he was placed on the IR with a knee injury at the end of the season.
The #Browns RB Dontrell Hilliard was placed on injured reserve with a knee injury….

Baker Mayfield's reckless pass ended his season…@D_Hilliard26 is a pending exclusive rights free-agent…#Browns #NFL #Ravenshttps://t.co/az9pph6kWM

— Christopher Reiss (@NFL_ChrisReiss) December 26, 2019
He was the primary return man on punts and kickoffs, where he averaged 7.1 yards per return on punt returns and 24.8 yards per return on kickoffs.
Prediction: Toss Up (leaning towards resigns)
It's going to depend on how the franchise feels his recovery goes.
The Browns liked using him on returns, so if the team feels he is healthy, then we can see him getting an offer.
KhaDarel Hodge-WR
Hodge is another candidate for a breakout 2020.
As an undrafted product out of Prairie View A&M, Hodge showed glimpses of what he can do with his speed.
He finished the season with just four receptions for 76 yards but appears that he could be back.
With Rashard Higgins likely signing elsewhere, and Antonio Callaway released, Hodge is an easy target to be resigned for a cheap cost.
Khadarel Hodge

The Prairie View A&M University product!#DawgCheck pic.twitter.com/dycnRlOYmo

— Cleveland Sports Fans (@CLE_SPORTS_FANS) November 15, 2019
Prediction: Resigns with Browns 
It seems pretty clear-cut with his future.
Pharoah Brown-TE
Brown finished 2019 with two receptions for 27 yards.
He spent all of 2018 on the IR with a shoulder injury.
Prediction: Brown is not retained
He was not an impact player and was used due to Njoku's injury.
With Njoku healthy, and the Browns likely retaining Seals-Jones, that makes Brown expendable.