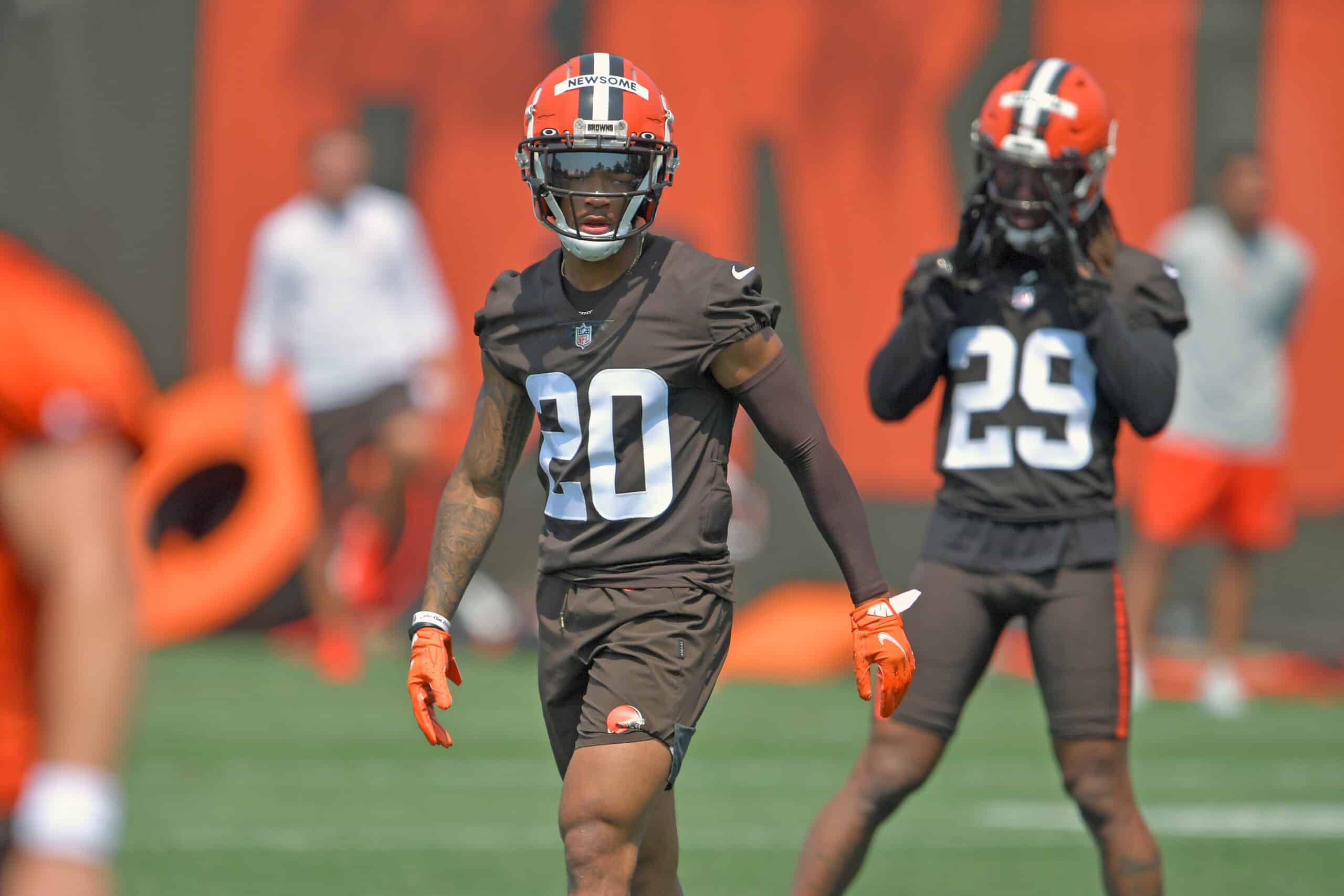 Andrew Berry spent his first-round draft pick on Greg Newsome II out of Northwestern.
The early narrative was the Cleveland Browns landed a second shutdown cornerback to play opposite Denzel Ward.
But there is more to playing the corner than covering receivers.
NFL teams have been known to run the ball on occasion and corners need to make tackles and push away blockers.
Ward made great strides in his tackling last season in Joe Woods' new scheme.
And from the looks of a video found on social media, Newsome has the desire to be a force in the run defense, too.
The video posted by Ben Fennell (@BenFennell_NFL) shows Newsome casting aside a slot receiver trying to block.
Fennell, affiliated with the NFL Network and the Athletic, captions the post, "Rag doll those slot receivers!"
Rag doll those slot WRs off ya! pic.twitter.com/RPBTtQvmYY

— Ben Fennell (@BenFennell_NFL) August 24, 2021
Newsome is certain to find bigger challenges than the Giants receiver victimized in this video.
Rookie Alex Bachman is barely 6′ tall and listed as 190 pounds.
But Newsome did what he had to do to the would-be blocker on the play.
Newsome Ready To Mix It Up 
If Newsome engages every blocker or runner with this type of physicality, he'll win over any fans he hasn't already.
In the video, Newsome is lined up as a slot corner, his first adventure in that role.
In a mid-August interview with Cleveland.com's Andrew Gribble, Newsome said he wants to expand his repertoire.
He noted how his accomplished teammate, Denzel Ward, always stands within earshot of cornerbacks coach Brandon Lynch.
Thought Greg Newsome played Marvin Jones dig well here. In phase, squeezes at the break. Just gets caught a second slow on scramble drill and Lawrence drops it in a bucket. Almost makes a ridiculous play at the catch point. #Browns pic.twitter.com/4NHb6REOy7

— OBR Film Breakdown (@TheOBRFilmBDN) August 17, 2021
And he related the advice Ward gave him early in training camp.
"He told me… When you're looking to fix something, don't go into a practice trying to fix everything. Find one thing that you want to fix for that day. Fix that, and then the next day, fix something else. Just keep stacking bricks like that and you'll get better every day."
Newsome is taking full advantage of the days in preseason training camp.
And his game experience offered valuable lessons, too.
And at this pace, Greg Newsome II will be a star for the Cleveland Browns in his first NFL season.