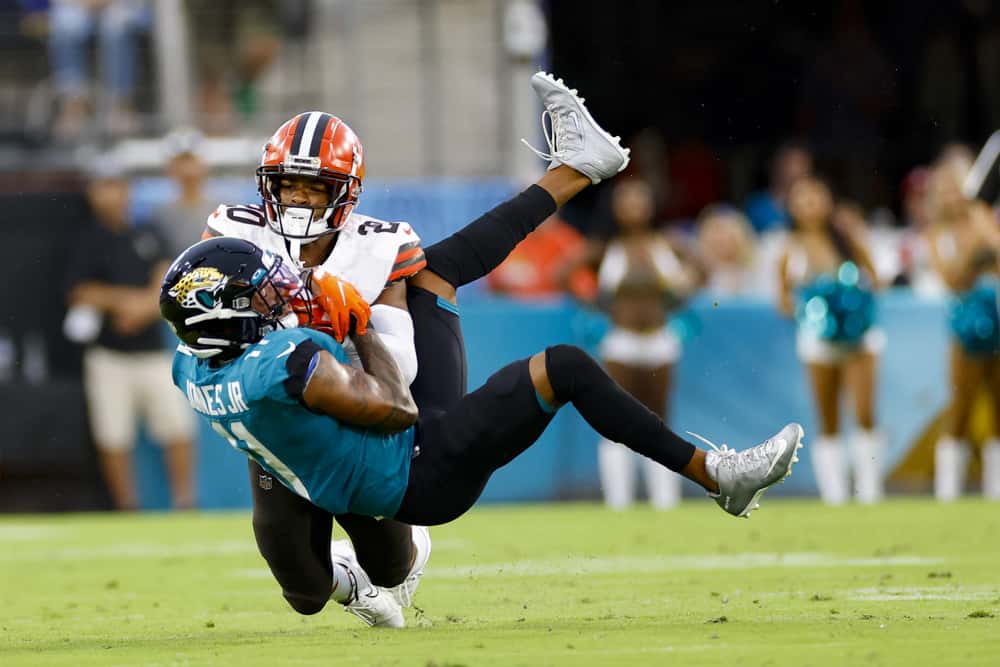 Pro Football Focus is getting ready for the regular season by grading the preseason games.
And by their estimation, the Cleveland Browns Gregory Newsome II needs more work.
Newsome's performance against the Jaguars last week made PFF's list of disappointing rookie efforts.
Browns CB Greg Newsome II allowed a 0.0 passer rating on 3rd/4th down last season.

Only CB in the Draft class to do so. pic.twitter.com/HrFlbxdD9g

— PFF College (@PFF_College) April 30, 2021
The prominent analyst group included 7 other rookies among those with subpar performances.
They were quick to point out that the first preseason game is not often an indicator of true skill or expectations.
In several assessments, the coaches took the brunt of the criticism for how they used the rookies.
But even in that case, coaches don't often throw out the final game plan in August.
#Browns DBs coach Jeff Howard on Greedy Williams and Greg Newsome II: Greedy has a little more experience. Greg, I've been extremely impressed day to day with how he takes coaching, very consistent learner, wise beyond his years. Greedy is same way with being engaged.

— Nate Ulrich (@ByNateUlrich) August 11, 2021
Newsome's PFF score was the third-lowest of the rookies who played enough downs.
For sure, high expectations made him more visible, and only 18 snaps meant mistakes were magnified.
But what went wrong that led to Newsome's disappointing the PFF staff?
A Savvy Veteran Taught Newsome Some Things
Marvin Jones Jr had a knack for delivering big plays for Matthew Stafford and the Lions.
He was brought into Jacksonville as a veteran who could teach their younger receivers how things are done.
But Saturday, he taught Greg Newsome a thing or two.
The Browns got a lock-down DB in Greg Newsome II!@gnewsii vs. throws 10+ yards downfield:

15 targets
1 reception allowed
0 TDs / 1 INT
11.8 passer rating

(h/t @PFF, 📸Digitalize/IG) pic.twitter.com/rWusoiu5Wr

— CBS Sports HQ (@CBSSportsHQ) May 14, 2021
The rookie cornerback gave up 3 receptions on the night, all to Jones.
Newsome's most glaring mistake was a 35-yard reception to convert a 3rd-and-long.
Jones might have caught the rookie glancing into the backfield during a scramble and got a step on him.
Newsome recovered well, forcing Jones to reel in the pass over the hard-charging corner.
Thought Greg Newsome played Marvin Jones dig well here. In phase, squeezes at the break. Just gets caught a second slow on scramble drill and Lawrence drops it in a bucket. Almost makes a ridiculous play at the catch point. #Browns pic.twitter.com/4NHb6REOy7

— OBR Film Breakdown (@TheOBRFilmBDN) August 17, 2021
It was a good pass and the receiver needed a strong effort to keep Newsome from knocking the ball away.
But that play, as well as another 10-yard reception on 3rd-and-9, moved the chains for Jacksonville.
PFF also noted that Newsome was late setting the edge on a screen, and got blocked off the field on the play.
But It Wasn't All Bad For Newsome
Jones' third reception didn't help Newsome's PFF score, but it could have been worse.
Newsome appeared to play too far off the receiver on a 3rd-and-8 situation.
When Jones received the ball 7 yards downfield, another 3rd-down conversion seemed inevitable.
But Newsome showed tremendous burst in reacting to the pass.
He hit Jones hard, pushed him a couple of yards back, and held on until help arrived to secure the tackle.
First-round pick Greg Newsome is learning quickly in Joe Woods' defensive scheme.

Newsome has played in the slot and on the outside during training camp.

📰 » https://t.co/rGWoraoXMi pic.twitter.com/X3AB5EVvyx

— Cleveland Browns (@Browns) August 11, 2021
On his two most memorable plays, Newsome showed off his tremendous closing speed.
Speed can cover some mistakes during the season, but experiences like this should minimize those.
Playing against someone as savvy as Marvin Jones Jr will help Newsome and Browns coaches spot any flaws.
And we suspect it will do nothing to diminish Newsome's role or reputation.
Even if the folks at PFF were disappointed.