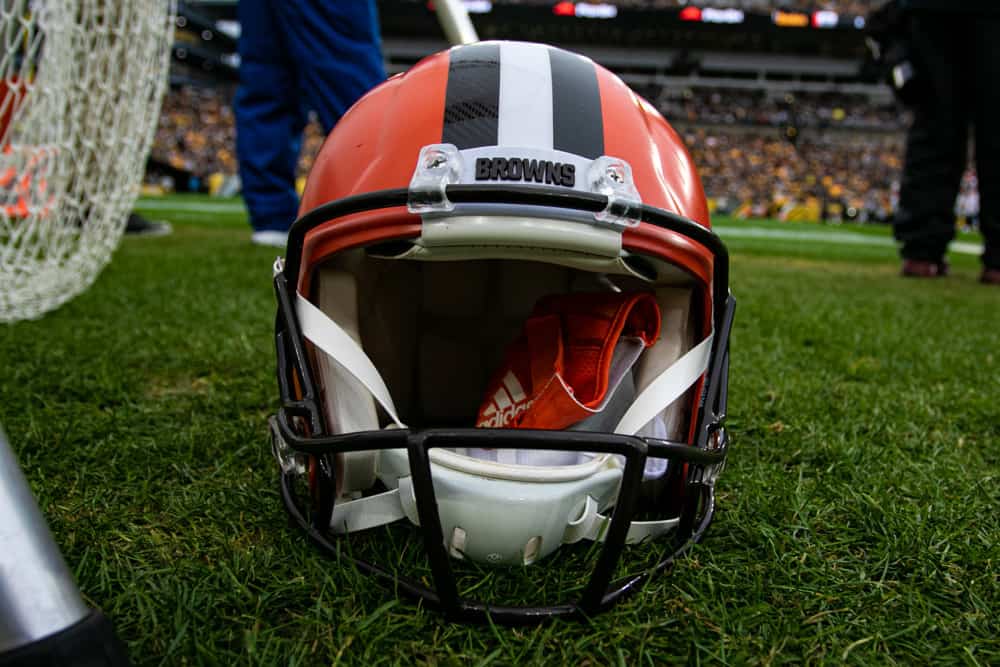 Life is hectic but good for former Cleveland Browns quarterbacks coach Kevin O'Connell.
In addition to preparing for the Super Bowl in his current role as the Los Angeles Rams offensive coordinator, O'Connell is expected to be named the new head coach of the Minnesota Vikings after the Super Bowl.
Rams OC Kevin O'Connell will be the next head coach of the Minnesota Vikings but can't officially sign until after the Super Bowl, per @RapSheet pic.twitter.com/rtcHw9o10O

— PFF (@PFF) February 3, 2022
O'Connell is only 36 years old but has been around the NFL as either a player (quarterback) or coach since 2008.
O'Connell's Resume
Player
He was drafted by the New England Patriots in the third round of the 2008 NFL Draft with the 94th overall pick.
O'Connell threw four passes in his NFL career all during his rookie season with the Patriots.
Following that, he moved around mainly in a practice squad capacity between the Detroit Lions, New York Jets, Miami Dolphins, and San Diego Chargers before closing out his playing career in 2012.
Coach
The Browns gave him his first coaching opportunity, but he stayed only one season.
There were Browns players who thought Kevin O'Connell was a superstar in the making when he was with the team

— Pete Smith (@_PeteSmith_) February 3, 2022
He then moved on to San Francisco and Washington before landing in Los Angeles in 2020.
Worked With New Vikings GM In San Francisco
Turns out the Minnesota and Cleveland ties keep getting deeper.
In addition to the Browns hiring Coach Kevin Stefanski from the Vikings in 2020, the Vikings hired former Browns VP of Operations Kwesi Adofo-Mensah just last week as the team's new general manager.
Adofo-Mensah and O'Connell crossed paths while both worked for the 49ers in 2016.
At that time, Adofo-Mensah was the manager of football research and development, and O'Connell was designated to special projects.
O'Connell also was quarterbacks coach for current Vikings quarterback Kirk Cousins when both were in Washington in 2017.
Expected new #Vikings coach Kevin O'Connell was San Francisco special projects assistant in 2016 when Kwesi Adofo-Mensah was in the 49ers front office. O'Connell was Washington's quarterbacks coach in 2017 in Kirk Cousins' final season with the team.

— Chris Tomasson (@christomasson) February 3, 2022
Top Priority For O'Connell Right Now Is The Super Bowl
O'Connell's immediate focus is on getting the Rams offense ready for the Super Bowl.
Oddsmakers have the Rams as four-point favorites to win the Super Bowl over the Cincinnati Bengals in the Rams' home stadium on February 13.