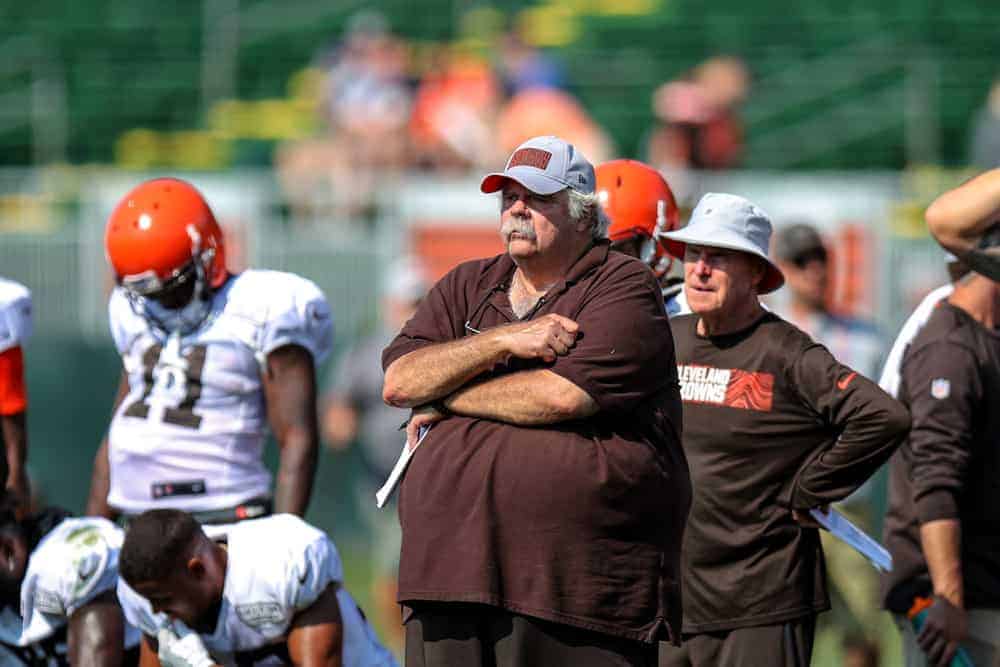 The Brown's continued offensive struggles have left many wondering just what is going on this year with quarterback Baker Mayfield.
In the second half of last season, the entire offense took the league by storm with Mayfield looking like he was ready to be the next great superstar.
But, through five games this year, Mayfield has not looked anything near like he looked a year ago.
Mayfield currently leads the league with 8 interceptions and is only completing 55.9 percent of his passes.
He also has been sacked 16 times in 5 games.
Mayfield is also holding onto the ball longer than last year and has looked uncomfortable in the pocket for most of the year.
On what was supposed to be his strength, he is also having accuracy issues this season.
General Manager John Dorsey hired Freddie Kitchens as head coach with the expectation that Mayfield would thrive in the same offense and continue to build on the chemistry that saw the Brown's be among the league leaders in offensive production.
So, why has Mayfield looked like a different quarterback in 2019 compared to the one we saw last season?
It is fair to look at who is working in the quarterback room with him.
Kitchens assigned Ryan Lindley as the new quarterback coach when he was hired.
Lindley has only been coaching since the start of the 2017 season and it looks like he may be struggling to adjust to his newer role.
Even though Lindley is not calling plays, he is responsible for helping Mayfield make adjustments and execute.
Being elevated to quarterbacks coach after only 2 seasons could be too quick of a rise for him.  Even though he was a quarterback in the NFL, he most likely doesn't have all the knowledge and experience to help a quarterback work on technique that translates to success on the field.
Perhaps Mayfield needs a more seasoned and experienced coach to excel his growth.
Ken Zampese provided this last year on Hue Jackson's staff.  He has coached quarterbacks in the NFL for 14 years and has plenty of experience in other areas as well.
Former offensive line coach Bob Wylie has been critical of John Dorsey and the Brown's since he was relieved of his duties from Hue Jackson's staff.
In a rant, Wylie claimed that it was Ken Zampese and not Freddie Kitchens who was the real architect behind the offense.  Wylie also said that Dorsey made the wrong hire in Freddie Kitchens and should have hired Gregg Williams.  He said Dorsey hired Kitchens because Mayfield liked him.
Wylie on Kitchens being hired:
"That shocked me because Gregg Williams turned the team around. In the second half of the season, that's his work that got it to where it is. My own personal feeling is Gregg was too strong a candidate for the seat,'' Wylie said on the show via Mary Kay Cabot of Cleveland.com. "I don't think Dorsey wanted to go head-to-head with Gregg like he had to do with Andy Reid in Kansas City, so he kind of filtered Gregg out of the picture and he kept the search going."
Wylie also never bought into the preseason hype of the Browns when he was asked to predict the AFC North standings in 2019.  He picked the Steelers to win the division.
Bob Wylie is picking the Steelers to win the division. He adds he is concerned about all these expectations on the Browns. He believes they have to take it one step at a time. He also expressed some concerns in Freddie Kitchen. #Browns

— Dianna (@diannaESPN) July 31, 2019
Although Wylie's comments about Zampese are not all likely true, there likely is some credence with Zampese.
If Mayfield continues to struggle into the season, it could appear evident that Zampese had more of an impact on Mayfield in his rookie season than many realized.