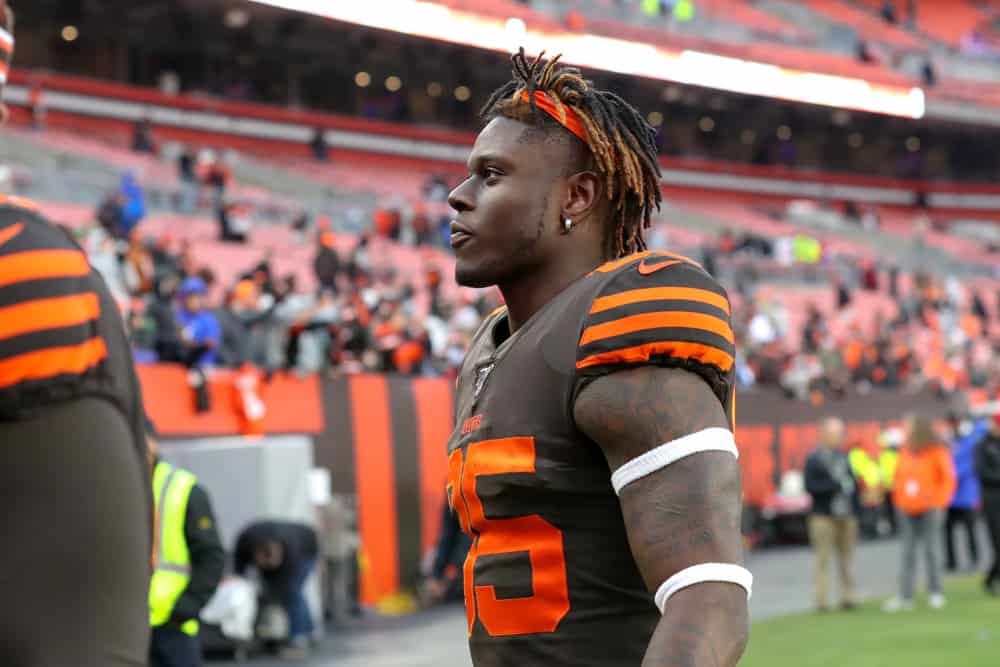 General manager Andrew Berry told Drew Rosenhaus he has no intention of trading his client, David Njoku.
John Dorsey said the same thing to Rosenhaus about Duke Johnson last season.
And Johnson was a Houston Texan before Opening Day.
Now Njoku says he is okay staying with the Cleveland Browns this season.
I'm all in Cleveland. Time to work.

— Chief David Njoku (@David_Njoku80) August 1, 2020
But one could argue Njoku is still not a lock to make this season´s roster.
Despite picking up his fifth-year option, Berry and Kevin Stefanski know Njoku is a work in progress.
For one thing, the tight end needs to be a much better blocker.
If Njoku continues to show an aversion to contact, Stefanski might look for other options.
Kevin Stefanski eager to work with David Njoku after trade request https://t.co/rMIEq22nEv pic.twitter.com/T09FGg25oO

— Fantasy Sports News (@fantasysportsso) July 31, 2020
Steven Carlson is an above-average blocker who showed good hands in limited opportunities last season.
Harrison Bryant is a rookie with above-average hands.
While NFL blocking skills take time to develop, a strong willingness to engage can win an active roster spot.
Pharoah Brown provides superior blocking prowess and is a near-lock as the fourth tight end.
With Austin Hooper in the tight end one position, Cleveland´s active gameday tight ends could exclude Njoku.
So if Cleveland eventually becomes willing to trade Njoku, who could they replace him with?
If the answer is not already on their roster, here are some other possibilities.
The Only Straight-Up Trade Option: Darren Fells 
Rosenhaus wants David Njoku to cash in on his next contract.
Finding a team in search of a top receiving tight end is his best bet to accomplishing that goal.
But teams looking for tight end help are unlikely to offer a viable starter in return.
Green Bay has 37-year-old Marcedes Lewis and a pack of youngsters with 21 NFL receptions among them.
New England drafted a pair of rookies they hope makes Matt LaCosse expendable.
Turning the turnover into a touchdown!@DarrenFells | #HOUvsKC pic.twitter.com/VRfBP7nCOU

— Houston Texans (@HoustonTexans) January 12, 2020
Berry´s best bet for a tight end-for-tight end trade might be the same team Dorsey dealt with in 2019.
Other writers poke fun at Houston´s Bill O´Brien by suggesting the Browns could land Deshaun Jackson for Njoku.
But there is a better chance O´Brien throws Darren Fells into a deal with a draft pick.
The former basketball player is a proven blocker who validated his pass-catching ability in the last few seasons.
If that doesn´t work, Cleveland can trade Njoku for draft picks and seek other options at tight end.
Best Trade Option: Cameron Brate 
The most obvious trade partner is the Tampa Bay Buccaneers.
With Tom Brady and Rob Gronkowski headlining the Buc´s roster, OJ Howard´s availability has been a hot topic.
But a more attractive target for Cleveland might be Cameron Brate.
Come for the Touchdowns, stay for the SPIKE

Back in 2020, Red Zone ~Specialist~ Cameron Brate! #GoBucs pic.twitter.com/8Z1m0yLFkW

— Ashlie (@EMT_Ashlie) March 22, 2020
Brate fits the great-blocker-who-catches model of Stefanski´s second tight ends.
Jameis Winston was more likely to look for Brate than Howard in third-down and Red Zone plays for a reason.
Brate possesses a knack for sneaking free in tight spots, and can also go up and get a ball.
His trade price should be lower because Brate´s salary is higher despite his current TE-3 status.
Brate can ably hold down the fort while Harrison Bryant and Steven Carlson develop over the next two seasons.
Safest Free Agent: Jeff Heuerman 
John Elway and the Denver Broncos might receive some worthy offers for their back-up tight ends.
But they didn´t wait long enough to see what Jeff Heuerman might have brought.
Heuerman does not have a statistics page that jumps out at anyone.
This version of Jeff Heuerman is starting tight end material. Love to see him split out wide more on offense. #Broncos pic.twitter.com/fUjU4A4XjZ

— 𝐂𝐚𝐦𝐞𝐫𝐨𝐧 𝐏𝐚𝐫𝐤𝐞𝐫ᴾᴼ (@CameronParkerPO) January 4, 2017
Certainly not enough for the Broncos to absorb his $3.875 million salary-cap hit to sit behind Noah Fant.
But it puts the youngest available free agent tight end into a weak market.
Heuerman is a proven and willing blocker and showed flashes as a receiver over the years.
Despite an unstable quarterback situation, Heuerman improved his catch percentage to 70.percent in 2019.
He could be someone who shines in a limited, but important role for Stefanski.
Riskiest, but Highest Upside Free Agent: Jordan Reed
Jordan Reed missed all of the 2019 season and 17 more games over the previous three.
He only recently received medical clearance after his latest concussion.
But he wants to strap on his helmet and return to the NFL this year.
Birthday boy Jordan Reed. #HTTR pic.twitter.com/o5OshovJn4

— Washington Football Team (@WashingtonNFL) July 3, 2017
Washington released the veteran after the season as part of a complete overhaul.
When healthy, Reed provides an excellent receiving option, able to go up and take the ball away from defenders.
He has always been a willing blocker for the Redskins.
Reason dictates the oft-injured talent should take a cheap, one-year, prove-it deal to see if he can stay on the field.
But every team with a hint of need at tight end is rumored to be interested, which could bump his offers up a bit.
Other Available Short-Term Options  
Delanie Walker still provides a receiving threat defenses would have to worry about at the age of 36.
But he missed 24 out of 32 games over the last two seasons.
San Francisco and New England are the latest teams rumored to be considering the senior free agent veteran.
It might be too much to expect Walker´s ankles to hold up under a heavy blocking load in Stefanski´s offense.
And it might not be a good locker room fit, either.
Delanie Walker politely calling the Browns TRASH pic.twitter.com/RwKeTbzohr

— Barstool Sports (@barstoolsports) September 8, 2019
Charles Clay has never been flashy, but he provides another good blocker with proven pass-catching ability.
Although his role has diminished in the last two seasons, he could give the Browns some solid veteran help.
Likewise, Ed Dickson would give Stefanski a veteran blocker and room presence with a receiving pedigree.
Any of these three could hold a spot for a season and help groom the younger Browns tight ends.
It is worth noting the 2021 draft offers a slew of interesting receiving tight end options, as well.
But it is unclear how this college season will play out and how that affects the draft.