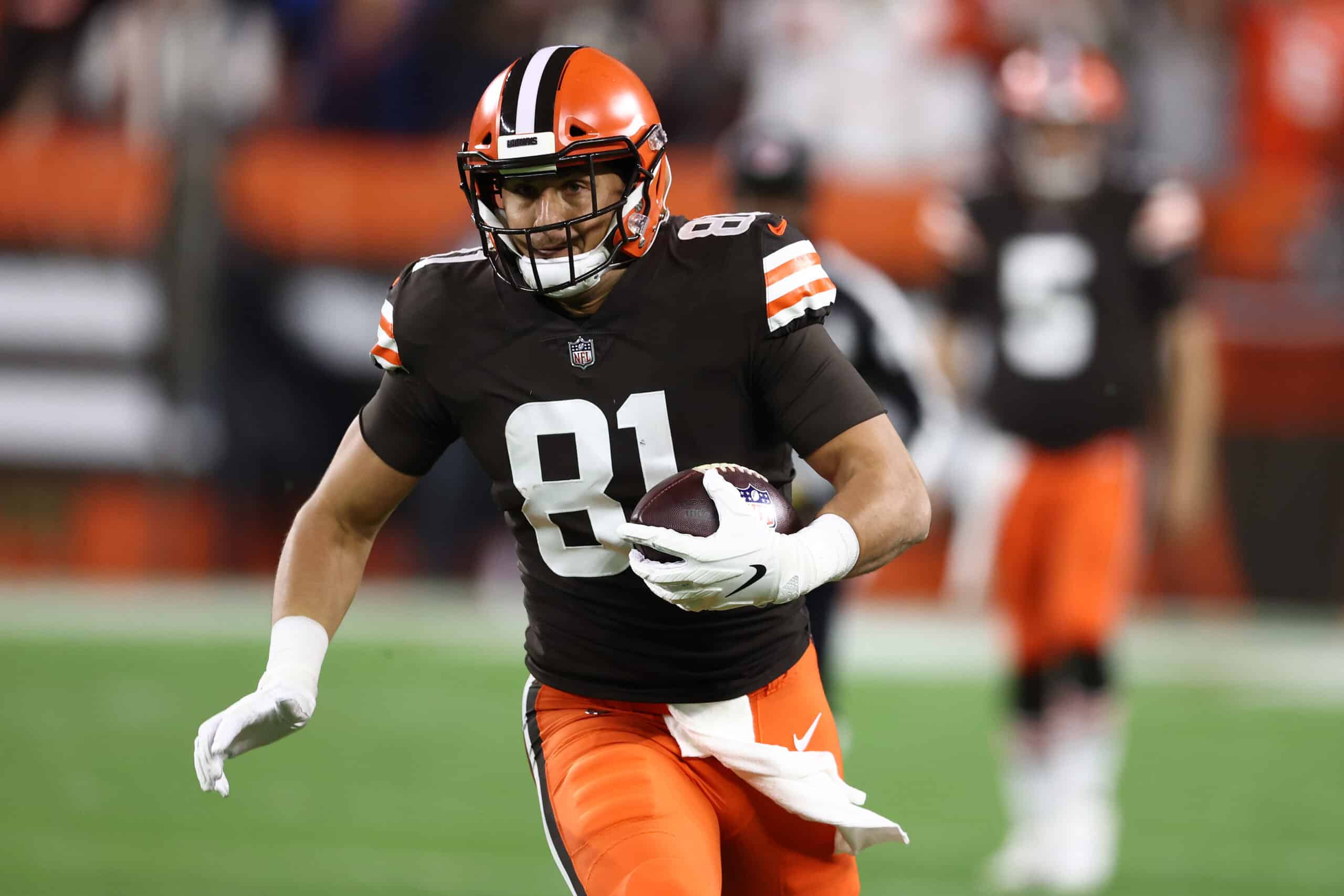 The Cleveland Browns seem to be facing a non-stop barrage of personnel decisions this offseason.
They have a number of players that are at the end of their contracts or near the end and are set to make a large sum of money.
One of these players is Austin Hooper.
Hooper came to the Browns at the start of the 2020 season as a big free-agent signing from the Atlanta Falcons.
During his time in Atlanta, Hooper made a pro bowl and was one of Matt Ryan's favorite Red Zone targets.
His final season with the Falcons was his best as he collected 75 catches for 787 yards and 6 touchdowns.
Hooper made the pro bowl in back-to-back years and was looking like the next Travis Kelce.
Unfortunately, he's failed to live up to the hype that he garnered in Atlanta.
While his struggles are certainly due in part to poor quarterback play from Baker Mayfield and the fact that he doesn't get targeted enough, Hooper has also had several costly drops during his two years with Cleveland.
Hooper is now entering the third year of his contract and is set to make a base salary of $9,500,000 in 2022.
Were the Browns to simply cut Hooper, they would save the $9.5 million in cap space.
However, should they be so swift to part ways with a two-time pro bowler?
Browns Austin Hooper's Guaranteed Money has run out. If Browns release prior to June 1, save $2M against the cap. Post June 1 Cut saves $9.75M. If he remains on the roster, he'll make $9.5M in 2022.

On the open market, he probably gets 1-$4M

I'd be shocked if Hooper isn't Cut https://t.co/vfqWkUgp80

— Chad Forbes (@NFLDraftBites) February 19, 2022
What are the Options? 
Simply put, the Browns have several options when it comes to Hooper.
Firstly, they can cut Hooper which would save them just under $10 million in cap space if they cut him post-June 1st.
They could then use this money to pursue other players or retain current ones.
There's lots of speculation that the Browns are going to end up choosing between Austin Hooper and David Njoku.
Njoku is a free agent and if the Browns wish to resign him, they'll likely have to cough up a salary similar to what Hooper is due to make.
That's a lot of money for two tight ends, which means that Cleveland will most likely end up choosing between the two.
The second option that the Browns have is to trade Hooper, which they haven't seemed anxious to do.
Hooper is still in his prime and was once considered one of the top young tight ends in football.
In the right system, Hooper could produce numbers similar to that of Mark Andrews or Zach Ertz.
However, to date, teams haven't been showing a lot of interest in Hooper, which could be telling considering his past success.
Finally, the Browns could decide to keep Hooper and use him as one of their featured targets.
#Browns have no plans for Austin Hooper this offseason and he will likely remain in Cleveland, per source.

— Vince Winters  (@VinceWintersRep) February 17, 2022
In his first two seasons with the Browns, Hooper has collected 84 catches for 780 yards and 7 touchdowns.
Those are basically the numbers he put up in his final season with the Falcons.
However, Hooper was only targeted 61 times in 2021, which means he caught the ball more than half the time it was thrown to him.
The struggles between Baker Mayfield and Hooper are similar to those of Baker and OBJ.
There seems to be little to no chemistry between the two, which will have to be remedied if Hooper's tenure turns into a successful one.
The only downside of keeping Hooper is that it likely means the departure of Njoku who will likely go off to become the next great tight end.
Regardless of what the Browns decide to do with Hooper, we probably won't know for sure until after June 1st.