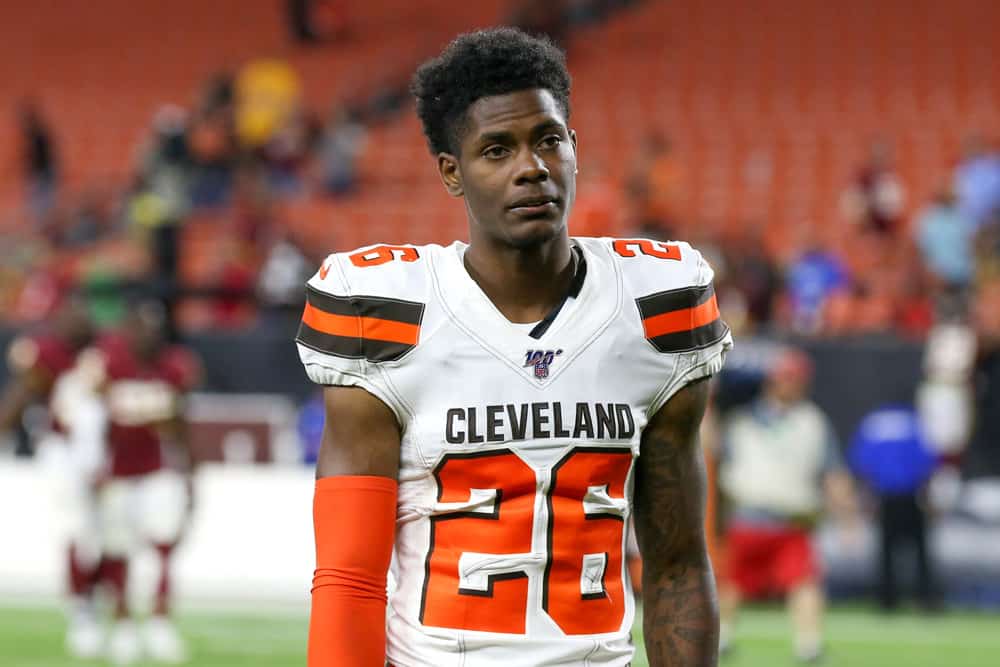 In 2019, the Cleveland Browns selected LSU defensive back Greedy Williams in the second round.
At the time, this selection was said to be a steal for someone who was projected to have top 10 talent.
However, since then the Browns have not been able to see much from Williams.
He played 12 games during his rookie season and has been sidelined all of the 2020 campaign.
It's unclear if Williams will be able to play at all this season after suffering a shoulder injury.
#Browns are placing CB Greedy Williams on Injured Reserve with a nerve injury in his shoulder. He hasn't played all season after suffering the injury in camp. Team hopes he can return this season.

— NFL Update (@MySportsUpdate) October 12, 2020
The 22-year-old defensive back has plenty of potential, but it's unclear if Williams is in their future plans.
The hope is that Williams can return at some point this season, but his timetable is unclear right now.
What's Wrong With Williams?
The Browns were hopeful that Williams and Denzel Ward could be a dynamic duo at defensive back.
Sadly, the two of them haven't been able to play together as much as the Browns would've liked.
Williams was not put in the best scheme last season and that's part of the reason why he struggled.
The talent is clearly there because he was a stud during his time in college.
Oh nice job, Browns.

Greedy Williams has the best pure cover skills of anybody in this draft. If you passed on him because of tackling, shame on you. pic.twitter.com/Ody9GFRGHW

— Sam Monson (@PFF_Sam) April 27, 2019
He was projected as one of the top defensive backs in his draft class.
Although, many teams decided to pass on him because there were concerns over his tackling ability.
Williams recorded 47 tackles last season, but his biggest problem has been the injuries.
Honestly, last season the Browns were using Williams wrong and that was part of the problem.
He is an elite man coverage defensive back, but was mainly playing zone coverage under then-coach Freddie Kitchens.
The hope was that Williams would improve when he switched to man coverage in a different scheme under new head coach Kevin Stefanski.
Should The Browns Trade Williams?
There is no doubting the athletic ability of Williams, but the concern is his health.
Williams has the potential to be an elite defensive back in the NFL.
He is a speedy and physical player that can match up with any wide receiver in the league.
Greedy Williams was hungry to get under that 4.4

(via @thecheckdown) pic.twitter.com/jGNR9ErIbT

— B/R Gridiron (@brgridiron) March 4, 2019
Sadly, it might be time for Cleveland to begin listening to offers on Williams.
The Browns could very well be without Williams for the entire 2020 season.
This team is desperate for help at defensive back and Williams has been unable to stay on the field.
It's never easy to give up on young talent like Williams.
However, the Browns might be able to get decent draft capital in return for a player who hasn't touched the field all season.
Cleveland shouldn't be in a rush to trade Williams, but listening to offers won't hurt.
There is a chance that Williams is never going to be the player Cleveland thought he was on draft day.
His days in Cleveland could very well be numbered if the organization believes they can find the right deal.
The future for Williams in Cleveland is uncertain, but the Browns are certainly hopeful that he can return to the field at some point this season.