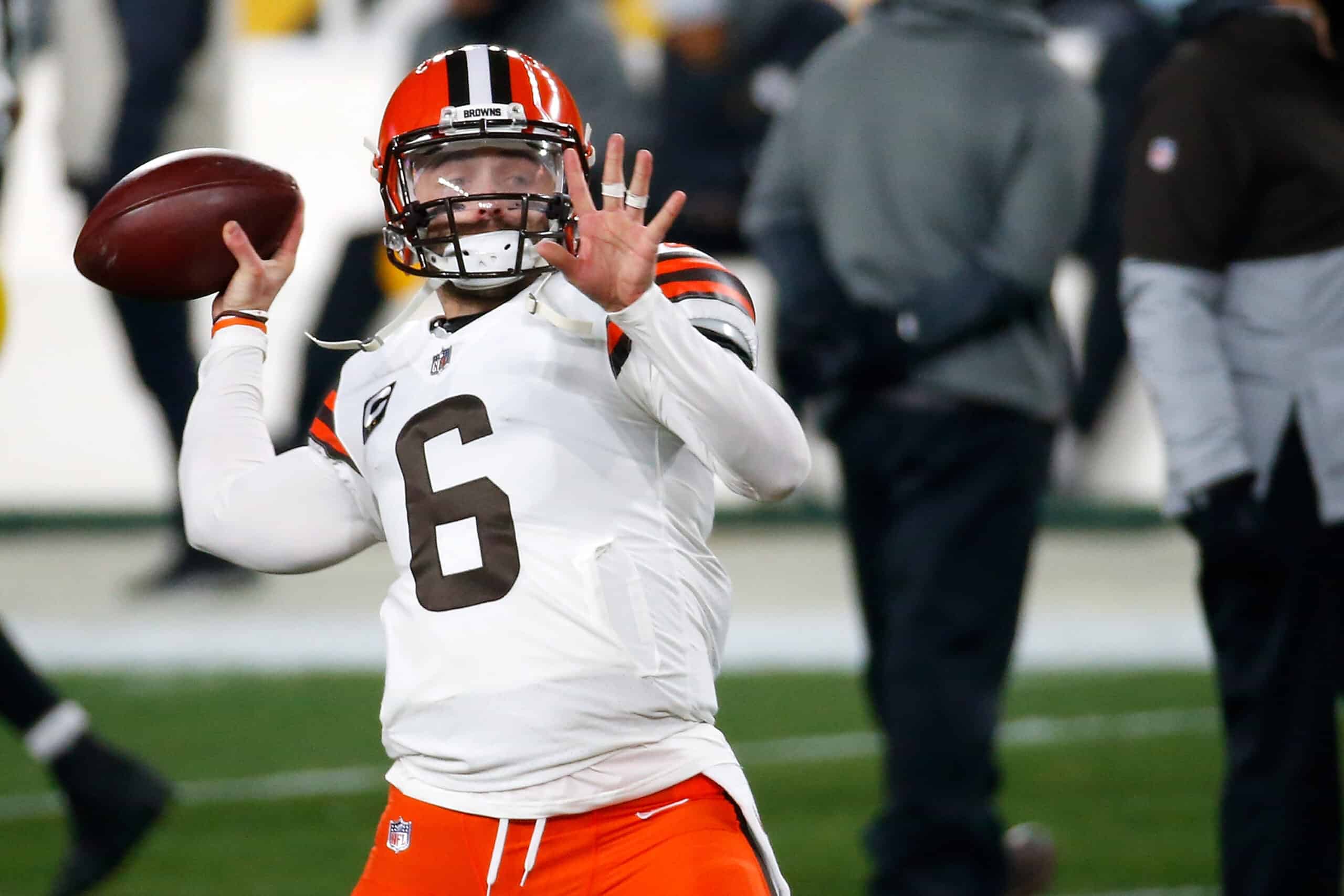 Cleveland Browns quarterback Baker Mayfield enters his fourth year in the NFL and with the Browns.
His skill set is known; he has a good arm and can be mobile if necessary.
Mayfield enters the second year with the same coaching staff and playbook, consistency he has not experienced before in his professional career.
With all of this said, where does he rank among his peer group of NFL quarterbacks?
Using the classifications of elite quarterbacks, great quarterbacks, and average quarterbacks, how does Mayfield measure up right now?
Elite Quarterbacks
Watch the two elite quarterbacks battle in the first "Madden NFL 22" gameplay trailer.
https://t.co/3YaHdmx2UD

— Maxim (@MaximMag) June 17, 2021
This is a party of four right now.
The obvious one is the defending Super Bowl MVP and Champion Tom Brady.
His opponent in that Super Bowl, Patrick Mahomes, is the youngest member of this elite group.
The other two are in their thirties.
They are Aaron Rodgers and Russell Wilson.
In addition to the statistics they have wracked up, each has won at least one Super Bowl.
Wilson is the only one of the four that has not been NFL MVP at least one time also.
If I had to rank the top-five QBs in the NFL

1-Pat Mahomes
2-Aaron Rodgers
3-Russell Wilson
4-Tom Brady
5-Deshaun Watson

— Neal Driscoll (@NealDriscoll) June 20, 2021
Great Quarterbacks
To be classified as a great quarterback, the player has not necessarily had postseason success yet.
However, he has carried his team (often without an adequate supporting cast) to achievements no one expected.
The following six are great.
What is exciting about this group is all are young and potentially have not peaked yet.
Who would you take for the next 10 years:

Josh Allen or Lamar Jackson? pic.twitter.com/LLak3GN0gG

— CBS Sports HQ (@CBSSportsHQ) May 26, 2021
Burrow and Herbert were so impressive in their rookie seasons that they leapfrogged over the average classification right into greatness.
Would You Rather…

Build your franchise around Justin Herbert or Joe Burrow? pic.twitter.com/SVGzuioo1b

— GMFB (@gmfb) June 18, 2021
They could potentially become elite quarterbacks given more time.
Average Quarterbacks
Being an average NFL quarterback is not a bad thing.
In the right system and on the right team, average quarterbacks achieve greater success than elite and great quarterbacks sometimes do.
An example of former quarterbacks in this scenario would be Dan Marino and Trent Dilfer.
Marino was elite, and Dilfer was average; however, Dilfer is a Super Bowl Champion.
Going back to the current list of average quarterbacks, this is where Baker Mayfield sits right now.
Mayfield is in good company in this group because Dak Prescott, Ben Roethlisberger, and Ryan Tannehill are also here.
Highest rate of positively graded throws this season:
1. Ryan Tannehill – 31%
2. Tom Brady – 29%
3. Deshaun Watson – 28%
4. Baker Mayfield – 27% pic.twitter.com/o1F9FXvkMU

— PFF (@PFF) February 5, 2021
Three of the four have the ability to jump into the classification of great quarterbacks given playoff successes and stringing together a consecutive number of good seasons, not just one here and there.
Those three are Mayfield, Prescott, and Tannehill.
Arguably, Roethlisberger was elite and great at different stages of his career but is now just average.
Baker's Star is Rising
He has been inconsistent in his first three seasons.
2020 was his best in terms of accuracy and throwing less interceptions.
85 days until Cleveland Browns football!pic.twitter.com/Jnd6aofgIK

— Browns Clock (T-78 days) (@BrownsClock) June 19, 2021
He may not tally the passing numbers of his elite or great peers, but that's okay.
Coach Stefanski and OC Alex Van Pelt's offense does not require him to do so.
It is clearly a run-first, pass second offense, with heavy use of short passes to tight ends.
Given time and more winning seasons, Baker can certainly be a great quarterback.
The more important point is that Baker is the right quarterback for the Browns in this offensive scheme.
His leadership, maturity, and abilities can lead this team to postseason success which is much more important than his individual ranking.