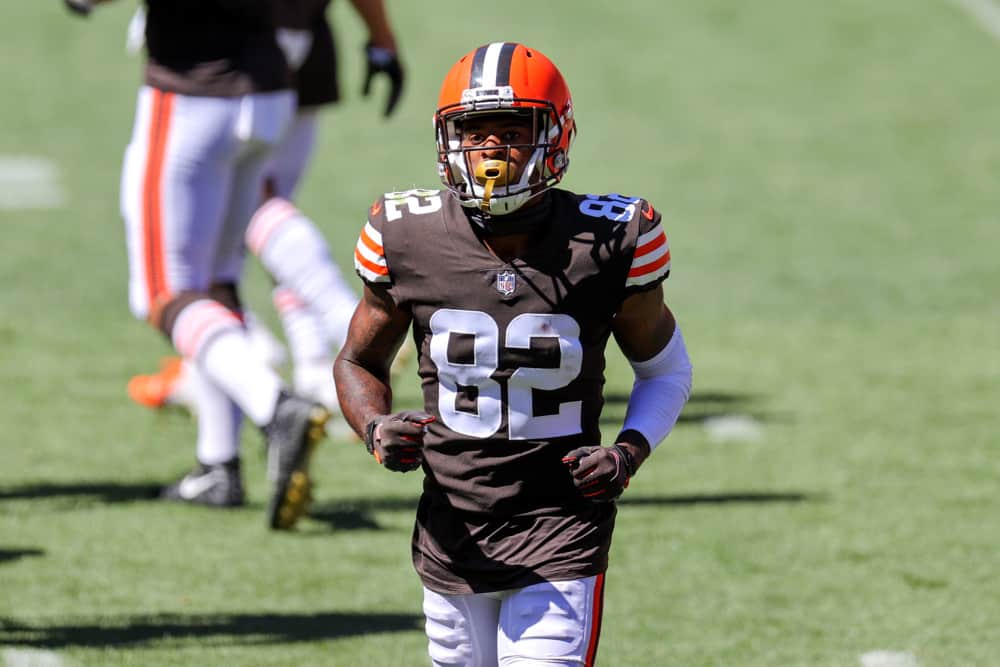 It was very unexpected to see Browns sixth-year wide receiver Rashard Higgins play just four snaps during Sunday's 33-29 loss to the Kansas City Chiefs:
Browns prioritizing speed with DPJ in on 84% of pass plays, Anthony Schwartz on 51% and Rashard Higgins only at 6%.

Schwartz looked a little raw, just as you'd expect from someone who turned 21 a week ago https://t.co/DKYpAnASHq

— Kevin Cole (@KevinColePFF) September 13, 2021
Baker Mayfield targeted nine different Browns on Sunday, and none of them were Higgins.
It is a shock that Kevin Stefanski did not want to get Higgins on the field for the Week 1 loss.
During the postseason, Higgins played more than 100 snaps over the course of the two games.
He had the following number of snaps played during the playoff run:
48-37 victory over the Steelers (wild card): 52 snaps, two receptions, and 28 yards
22-17 loss to the Chiefs (divisional round): 55 snaps, five receptions, 88 yards, and one fumble lost
However, without Higgins, Mayfield and the Browns accumulated the most offensive yards (457) among the first 30 NFL teams to play thus far this season.
Overall, he and the offense had a solid performance.
The 304 passing yards were the 10th-most of the 30 teams thus far.
According to Pro-Football-Reference, the Browns' 10.1 net yards per pass attempt were the third-most.
Unfortunately, Cleveland scored just seven points in the second half on Sunday.
So, can Higgins get into game action next week when the Browns return to FirstEnergy Stadium for their home opener?
Will Higgins See More Action in Week 2?
In games that Higgins has played, he has not seen that few offensive snaps since December 2019.
He saw more than 30 snaps in 11 of his 13 regular-season games played last year in addition to the aforementioned impressive number of snaps during the postseason.
Last year, the Browns defeated the Houston Texans, 10-7, in Week 10.
Higgins played 38 offensive snaps and caught three passes for 48 yards on four targets.
He has to hope that he is not in the doghouse because Week 2 should be the easiest game for the Browns for a while.
If Higgins is the team's fourth wide receiver going forward, it may not be easy for Higgins to perform well during the course of the 2021 season.
An interesting situation could be that Mayfield is not connecting with Donovan Peoples-Jones yet:
Browns WR routes on 33 dropbacks without Odell Beckham (knee) Sunday:

Jarvis Landry 29
Donovan Peoples-Jones 28
Anthony Schwartz 18
Rashard Higgins 2

DPJ with one target all afternoon.

— John Daigle (@notJDaigle) September 13, 2021
Jarvis Landry, Anthony Schwartz, and David Njoku led the team with five targets apiece.
If Mayfield continues to throw to them instead of Peoples-Jones, maybe Higgins can get on the field more in Week 2.
Peoples-Jones has the speed, but Higgins has the experience and pass-catching ability.
There is hope for Higgins in Week 2, but if he is not getting snaps against the Texans, he may only be an injury replacement this season.