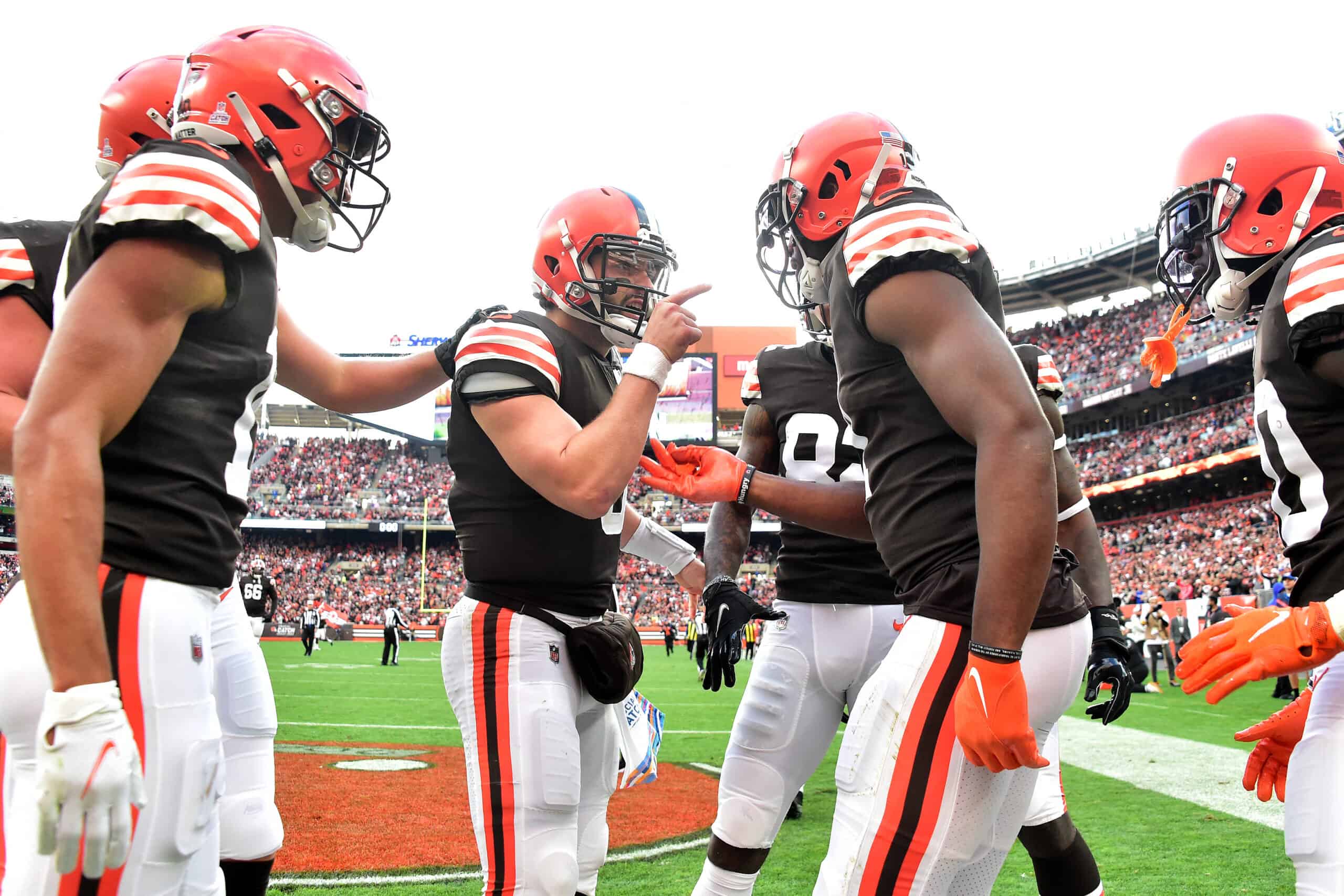 Whoever did whatever to whomever for whatever reason… it happened, and now it's over.
It's time for the Cleveland Browns to focus on winning football games and getting back into the playoff discussion.
Last place is not where they want to be, but a 4-4 record is far from a death knell.
So the offense has to divvy up the 70% of offensive snaps and 4-5 targets Odell Beckham used to handle.
#Browns wide receiver room warming up, continuing to prepare for the Bengals. pic.twitter.com/cp3e1LtBdE

— Camryn Justice (@camijustice) November 5, 2021
It doesn't sound like many targets, but it was the most of any wide receiver on the Browns.
And 4-5 more targets per game can thrust someone into a starring role if they play things right.
There isn't an urgency to create another OBJ as much as there is to provide an alternate target for Baker Mayfield.
So, which Browns player will benefit the most from OBJ's release?
Rashard Higgins 
This is not the first time the Browns had to cover their leading receiver for the second half of a season.
And last year, Rashard Higgins filled the biggest chunk of OBJ's role.
Higgins' receiving numbers (32/46/546/2 in 9 games post-OBJ) were pretty good on their own.
Rashard Higgins 🔥pic.twitter.com/LIZOYsSWFN

— PFF CLE Browns (@PFF_Browns) October 10, 2021
But he sure did have a flair for making important and splashy plays.
It seemed like every one of his catches was a big first down and/or bailed out a scrambling Mayfield.
By the time the season ended, Rashard Higgins had the highest DVOA for a wide receiver in the NFL.
David Njoku and Donovan Peoples-Jones 
David Njoku and Donovan Peoples-Jones have been Mayfield's most reliable receivers this year.
They both excel at making contested catches, which serves a quarterback who throws to spots well.
Peoples-Jones broke onto the scene late in his rookie season.
THE ROOKIE DONOVAN PEOPLES-JONES GAME WINNER🔥

— PFF College (@PFF_College) October 25, 2020
His game-winning touchdown against Cincinnati earned him Mayfield's trust.
Njoku had one monster game earlier this year which is mostly responsible for his TE-1 designation.
But Mayfield's two biggest targets have the team's best hands and should draw the bulk of Mayfield's attention.
Anthony Schwartz
Odell Beckham took Anthony Schwartz under his wing even before the preseason began.
They were not the only two who dreamed about them running down the sidelines and making safeties pick one.
He is the fastest guy on the field, but Schwartz has not learned to adjust to the ball very well.
Anthony Schwartz making PLAYS @AuburnFootball ⚡️⚡️⚡️

— PFF College (@PFF_College) September 12, 2021
But the plan was for Schwartz to be Baker Mayfield's best deep threat eventually.
Cleveland needs to accelerate Schwartz's development in the absence of Beckham.
If he can't step up, the also-speedy JoJo Natson can be called up to take a shot at the role.
Then There Is Everybody Else 
Ja'Marcus Bradley was protected on the practice squad this week and could be called up to fill OBJ's roster spot.
Demetric Felton, Kareem Hunt, Austin Hooper, and Harrison Bryant have well-defined and restrictive roles.
Jarvis Landry is already a favorite target but now has to deal with extra scrutiny of his efforts as OBJ's best friend.
Excellent point just made by @thetoddhaley: Baker Mayfield THRIVES on people doubting/denigrating/disrespecting him. You think the #Bengals will come out Sunday POed about last week's stinker? You can bet Baker and the #Browns will match that fire. #angryfootball #AFCNorth

— Aditi Kinkhabwala (@AKinkhabwala) November 5, 2021
Finally, of course, is Baker Mayfield who definitely looked more comfortable after OBJ's injury last season.
Mayfield never figured Beckham out and Beckham never understood how different Mayfield and Eli Manning are.
If Mayfield settles down without OBJ and picks up his game again, then every Cleveland Browns player will benefit.