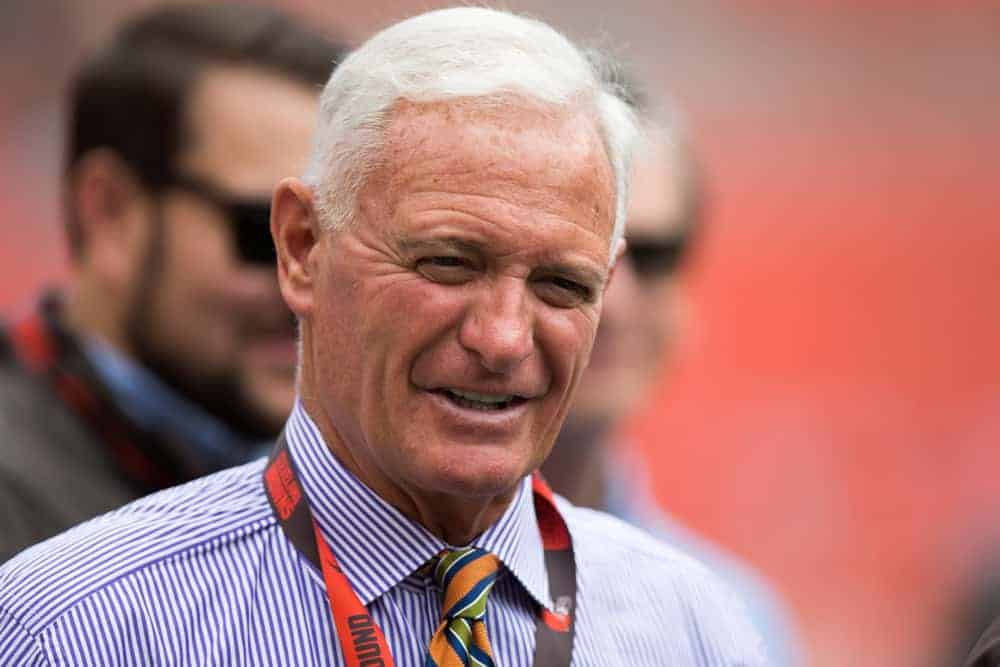 Who owns the Cleveland Browns?
The Cleveland Browns have had many owners throughout their history.
Jimmy Haslam is the current owner and someone who is often under a lot of scrutiny.
Examining his history with the team showcases some useful elements and some bad ones.
Jimmy Haslam's Business Empire
Jimmy Haslam's business success all started in 1958 when his father paid a mere $6,000 for a gas station in Virginia.
From here, their company – Pilot Flying J – has become one of the most successful truck stop companies in the world.
When Jimmy joined the board of directors in 1975 at the age of 20, the company's annual sales were already $50 million.
And in 2016, they were making as much as $19.6 billion per year.
It was with this money that Haslam purchased the Cleveland Browns in 2012.
The price of becoming the majority stakeholder – in essence, the owner – was around $990 million. By 2019, his share had increased to more than $1.6 billion.
The popularity of the team with the local Cleveland football fans ensured that this investment was a wise one for the intelligent and shrewd businessman.
Haslam's fortune increased even more in 2017 when Warren Buffett's Berkshire Hathway purchased 39 percent of Pilot for $2.7 billion and played to get another 41 percent by 2023.
This extra money has made Haslam a wealthy man, in spite of some legal troubles and difficulties with the Browns that have made many fans very upset over the last few years.
Fraud Allegations for Pilot Flying J
In 2013, charges were brought up against Pilot Flying J for committing fraud against its many customers.
The case centered on an investigation into a failure to pay rebates to trucking customers, rebates that these customers earned by paying money and visiting Pilot Flying J stuck stops.
The company was raided during this period, as were the homes of many employees.
Throughout the case, 14 members of the sales team pleaded guilty in this scheme claiming that these practices had started rather small and became more widespread over the years.
Four other members claimed that they were innocent and were later brought to trial.
To avoid further prosecution, the company settled on a $92 million penalty to the government and a class-action lawsuit for $85 million.
Throughout this case, many expected Haslam would eventually be brought to trial.
However, he was never charged for any crimes and has continually expressed his innocence in the case.
And further investigations seemed to confirm his lack of involvement in the scheme.
However, this case left a bad taste in the mouth of many Browns fans, who later experienced issues with Haslam as a team owner.
Difficulties as an Owner
Although owners like Arthur McBride and Randy Lerner had been reasonably hands-off with their team,
Haslam was more involved with the operation.
Though not quite as intensively interested as Art Modell was during his heyday as a coach, Haslam liked to have his say on the team.
Though this sometimes resulted in good things for the team, other decisions were not as popular.
For example, the team was without a coach in 2015 and needed to hire someone fast.
Most of the Browns' higher-ups were interested in Sean McDermott.
At the time, McDermott was a respected defensive coordinator who had helped turn the Carolina Panthers into a powerful team, one that reached the Super Bowl in 2015.
However, Haslam believed that Hue Jackson was the best choice and hired him over the complaints and recommendations of the rest of the team.
The lengthy fight that ensured was a very dysfunctional one and reminiscent of the 2014 draft.
The Browns – who had struggled to maintain a high-level quarterback – definitely needed somebody that they could trust as the position.
As a result, team manager Ray Farmer traded up to pick infamous QB Johnny Manziel because he knew Haslam wanted the player, rather than taking his preference in wide receiver Brandin Cooks.
Both decisions proved to be bad ones.
Manziel was an immediate distraction for the Browns, as he often behaved erratically and was known for his wild partying behavior.
During his first year, he struggled to adapt to the Browns offensive scheme and his "playmaking" hustle that made him successful in college was revealed to be a result of impatience and an inability to read defensive schemes.
He was off the team by 2016.
And while Hue Jackson lasted longer than Manziel, his success was also limited.
The Browns went 1-15 in his first year, 0-16 the next, and 2-5-1 in his third before he was fired.
Though it is unfair to put all the blame on Jackson, as the team still lacked a quality quarterback, it was clear that he was not the right coach for the position.
His 3-36-1 record is the worst ever for an NFL head coach.