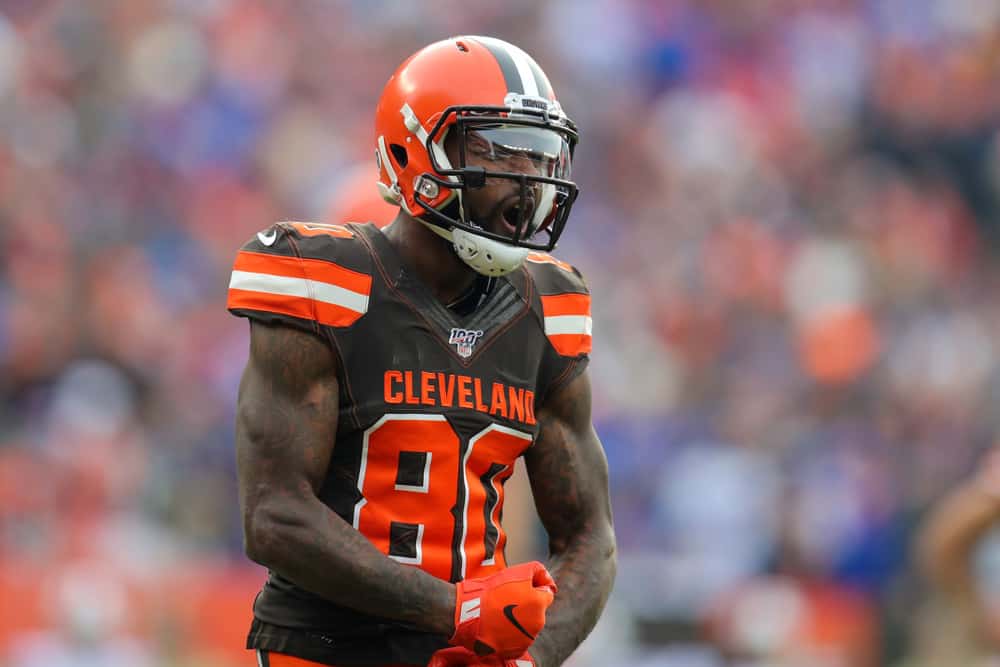 In 2018, the Cleveland Browns made a statement when they acquired Pro Bowl wide receiver Jarvis Landry.
Briefly after acquiring Landry, the Browns gave him a five-year deal worth $75.5 million.
The 27-year-old receiver made the Pro Bowl three times with the Miami Dolphins before landing in Cleveland.
The expectations were fairly high for Landry because of the contract and his past performances in the league.
Thus far, he has been able to live up to those lofty expectations through two seasons in Cleveland.
Landry has made the Pro Bowl fives times out of his first six seasons in the NFL.
However, will Landry's Pro Bowl streak come to an end in 2020?
Landry in 2019
He became the first Browns receiver to make the Pro Bowl in consecutive years since Paul Warfield in 1969-70.
Landry hauled in 83 receptions, 1,174 receiving yards, and six touchdowns through 16 games last season.
He finished 18th in receptions and 10th in receiving yards among NFL receivers in 2019.
It was the fifth season in a row that Landry has finished with 970-plus yards on the year.
The stats were clearly there for Landry despite playing in Freddie Kitchens' dysfunctional offense.
Landry was seen screaming at Kitchens and quarterbacks coach Ryan Lindley on the sidelines towards the end of the season.
In February, Landry underwent surgery to repair a hip issue that was bothering him throughout the season last year.
Will He Return For Week 1?
Landry was given a timetable of roughly 6-8 months of recovery time after surgery.
He mentioned earlier in the offseason that he was already a little bit ahead of schedule.
Landry went on the say he's unsure when he'll be back on the field, but is hopeful to be back around August.
It doesn't sound like he has any regrets about having the surgery this offseason.
Jarvis Landry said he's "absolutely" glad he had the hip surgery after debating whether to have it before the Pro Bowl. Added, "I did not want to be part of the reason for the team not having success" this season

— Jake Trotter (@Jake_Trotter) May 20, 2020
Landry made no promises about being ready in time for the Week 1 matchup with the Baltimore Ravens.
However, Landry has not missed a game throughout his six-year NFL career.
He's played all 96 games in his first six seasons, starting 87 of them.
There is no doubt that Landry is going to do everything in his power to get back on the field in time for the regular season.
Will Landry Make The Pro Bowl Again?
The quick answer is yes because Landry is one of the most underrated receivers in the league.
Although, it might not be an easy task under Kevin Stefanski's zone-blocking scheme.
It's basically a scheme centered around play-action and heavily utilizing the tight end and run game.
It worked well for the Minnesota Vikings last season as Stefanski helped lead them to the playoffs.
It's worth noting, Vikings' slot and outside receiver Adam Thielen struggled to produce in his scheme.
He hauled in 30 receptions, 418 yards, but missed six games due to a hamstring issue.
Thielen was projected 48 catches for 669 yards if he played a full 16-game season.
Those are not Pro Bowl caliber numbers, but that doesn't guarantee Landry will follow in his footsteps.
Landry has not given Browns fans any reason to doubt him thus far.
JARVIS LANDRY … WOW 😮

(via @thecheckdown) pic.twitter.com/OU3aTJzx2V

— SportsCenter (@SportsCenter) December 29, 2019
He has continued to put up incredible numbers despite the multiple issues on offense.
Quarterback Baker Mayfield finished with the second to last passer rating in the NFL.
Landry and Mayfield weren't on the same page at all last season.
In fact, eight of Mayfield's 21 interceptions were on passes that were intended for Landry.
Despite the adversity, Landry has managed to remain successful and should be well on his way to another Pro Bowl in 2020.