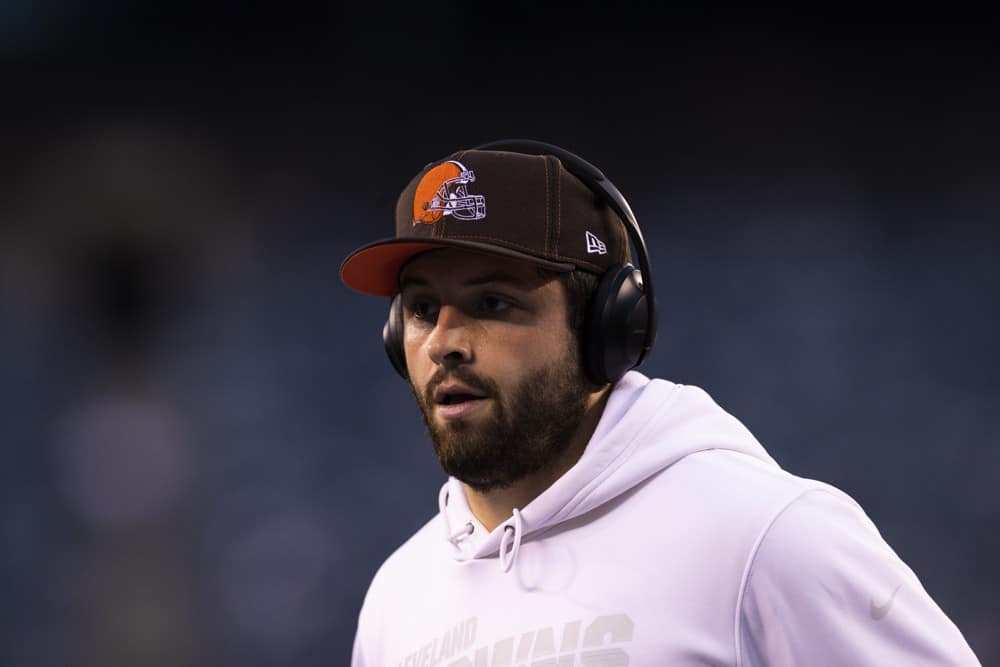 Three out of four AFC North quarterbacks probably feel a little less enthusiastic.
But count Baker Mayfield among the fans happy about Myles Garrett´s record-setting contract extension.
Well deserved!!! Let's get it @MylesLGarrett https://t.co/Mrxkvy2CjE

— Baker Mayfield (@bakermayfield) July 14, 2020
The Cleveland Browns quarterback might be the only NFL quarterback Garrett doesn´t terrorize for the next 7 years.
Garrett became the third member of the 2017 draft class to set a new contract standard for their position.
Patrick Mahomes and Christian McCaffrey inked new deals heading into their fourth seasons, too.
The top 10 picks of the 2017 draft has now produced three record-setting extensions:
1. Myles Garrett: 5-$125M (highest defensive player AAV ever)
8. Christian McCaffrey: 4-$64M (highest RB new money AAV ever)
10. Patrick Mahomes: 10-$450M (largest sports contract ever)

— Field Yates (@FieldYates) July 14, 2020
All three will play out their rookie deals in 2020 before their first big raise in 2021.
Garrett´s fifth-year option is worth a little over $15 million.
His new extension locks him up through 2026, saving Mayfield from Garrett-induced nightmares for a while.
Details Pending 
Garrett´s signing is imminent, but details are few.
The widely-reported dollar total is $125 million over five years.
According to Ian Rappaport, $50 million is fully guaranteed with another $50 million in injury guarantees.
Details on the extension for the #Browns and Myles Garrett: In his rather large 5-year, $125M extension, there are $100M in total guarantees and $50M fully guaranteed at signing. He's now under contract 2026. https://t.co/873RKFYdbk

— Ian Rapoport (@RapSheet) July 14, 2020
How much of that is spread over the five years after a signing bonus matters little to Garrett.
It is a nice raise from his $30.41 million rookie deal.
Garrett played up to the hype of his first-round selection and $20 million signing bonus.
Since he entered the league, Garrett boasts the fourth-highest sack-per-game average.
Damn I be eatin' pic.twitter.com/QrNruWt8Q5

— ♛Chandler Jones (@chanjones55) July 14, 2020
Garrett was also named the "top disruptor" of 2019.
That is a measure of pass plays with either a sack, hit, or hurry.
The defensive force averaged a sack-per-game and was on pace to shatter the team record through Week 10.
His nationally televised meltdown moment is Garrett´s only career blemish.
His helmet swing was enough to make at least one Pittsburgh fan irate about his contract extension.
Myles Garrett commits a heinous act on the field. So what do the Browns do? Let's reward him with a contract extension. Record-setting $. Way to go Myles! You really earned it!Thanks for blowing up our season in 2019. Here's a big pay day. Classic Browns!

— Andrew Fillipponi (@ThePoniExpress) July 14, 2020
But Garrett paid a price for his mistake, losing the rest of the season and over a million dollars of salary.
His off-field benevolence continued unabated, including a visit to dig water wells in Africa.
Why Else Is Mayfield Happy?
Jimmy and Dee Haslam haven´t been shy about spending money.
But that money hasn´t always gone to their players.
Cleveland let linebackers Joe Schobert and Christian Kirksey go in free agency this offseason.
While they reportedly don´t fit the linebacker vision of the latest Browns defensive scheme, an unwillingness to match their free agency value couldn´t be ignored.
But Garrett´s extension shows Andrew Berry can break the bank for franchise players.
That serves as motivation for Mayfield´s 2020 performance as much as Patrick Mahomes´ extension.
The Browns decide whether or not to pick up Mayfield´s fifth-year extension after the season.
Dare he dream of a hefty payday in his future, too?
Working Kevin Stefanski´s Mayfield-tailored game plan into a playoff run wouldn´t hurt that cause.