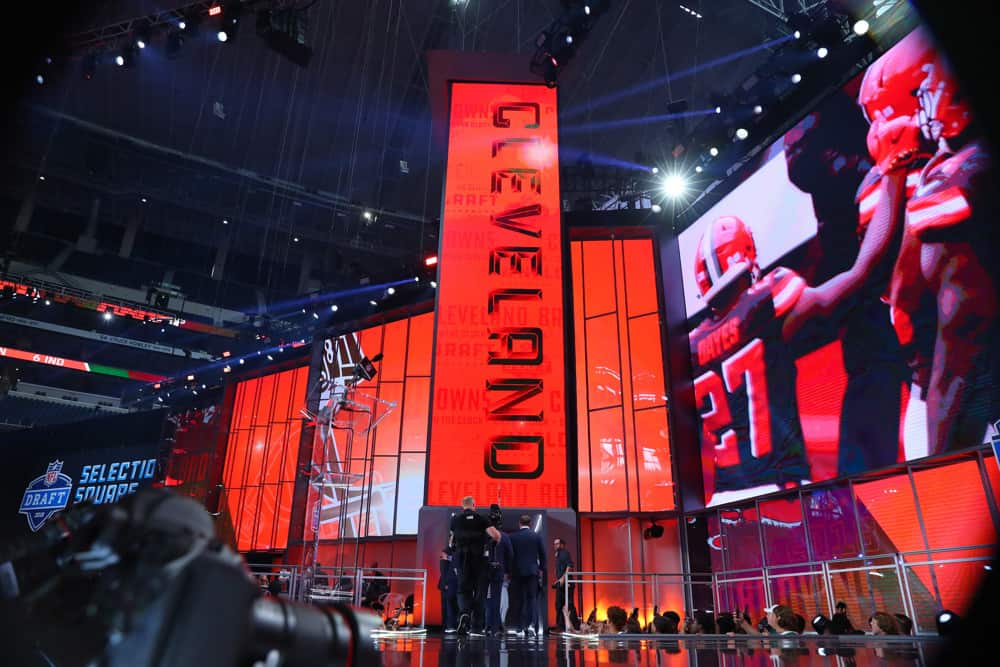 There are lots of changes happening in and around the 2023 Cleveland Browns.
Jim Schwartz promises his players a more aggressive and intuitive defense.
Head coach Kevin Stefanski is crafting a wide-open pass-first attack for Deshaun Watson.
And GM Andrew Berry even invested in some special teams mavens for his new coordinator, Bubba Ventrone.
🗣 Picks are made in three days

📺: 2023 #NFLDraft — Starts Thursday at 8pm ET on NFLN/ESPN/ABC
📱: Stream on NFL+ pic.twitter.com/LhTLmiWaES

— NFL (@NFL) April 24, 2023
Stefanski's offense will feature some new skill position combinations.
And even though the defense has been fortified, several players hope for a new start in Schwartz's scheme.
But not everybody will survive the preseason and win a roster spot with the 2023 Browns.
In fact, by the end of this weekend's NFL draft, a couple of veteran players could be traded.
Harrison Bryant  
When Harrison Bryant joined the Browns, he found himself slotted behind David Njoku and Austin Hooper.
But Bryant pushed himself into a 3-way tight-end rotation and contributed right away.
After his promising rookie season, Bryant remained a reliable receiver and blocker.
But even when Hooper left, Bryant's role didn't expand much.
Back-to-back games with TDs for Harrison Bryant 🎁 pic.twitter.com/ttmtNjnHAj

— PFF CLE Browns (@PFF_Browns) December 25, 2021
Njoku was the top dawg in 2022, leaving fewer than 3 targets per game for Bryant.
And when Berry signed Jordan Akins this offseason, those targets seemed threatened.
Akins is a former teammate of Deshaun Watson, something that might be overblown.
But their similar skill sets allow Berry to dangle the young, seasoned tight end as trade bait.
Anthony Schwartz
Anthony Schwartz was a surprisingly early pick in the Browns' 2021 draft class.
Berry and Kevin Stefanski had visions of the world-class sprinter breaking past defenders all day.
Unfortunately, running speed is only half the equation for a wide receiver.
And Schwartz hasn't yet mastered catching the deep ball at full tilt.
ANTHONY SCHWARTZ FIRST CAREER TD 🙌 pic.twitter.com/s1ot29wWfk

— PFF CLE Browns (@PFF_Browns) December 26, 2021
With Elijah Moore and Jakeem Grant on the roster, Schwartz's speed is not as important as it might be.
But it could be more important on another team looking for a speedy returner or receiver.
Somewhere there is a receivers coach willing to take on the challenge of fixing Schwartz's hands.
And hopefully, they can convince a GM to part with a third-day pick for the chance.
Who's Not Getting Traded On Draft Day?
This season could be unique in the Berry/Stefanski era in that several of their draft picks are at risk.
But that doesn't mean those players have enough value to bring a return in a trade.
Players like Jacob Phillips or Jordan Elliott could find new employers if released, but not in a trade.
Demetric Felton might have enough moves on video to warrant some attention.
Demetric Felton's spin move is disgusting 🤢
pic.twitter.com/4MkZbXyGRt

— PFF (@PFF) September 19, 2021
But Berry probably won't deal him until he gets a fair chance to win the RB-3 role.
Unless Berry decides to move a special teams player, he doesn't have many other chips.
Veteran wide receivers could be attractive, but Cleveland won't part with any this early.
And Berry seems committed to giving Stefanski and Watson an intact starting offensive line.