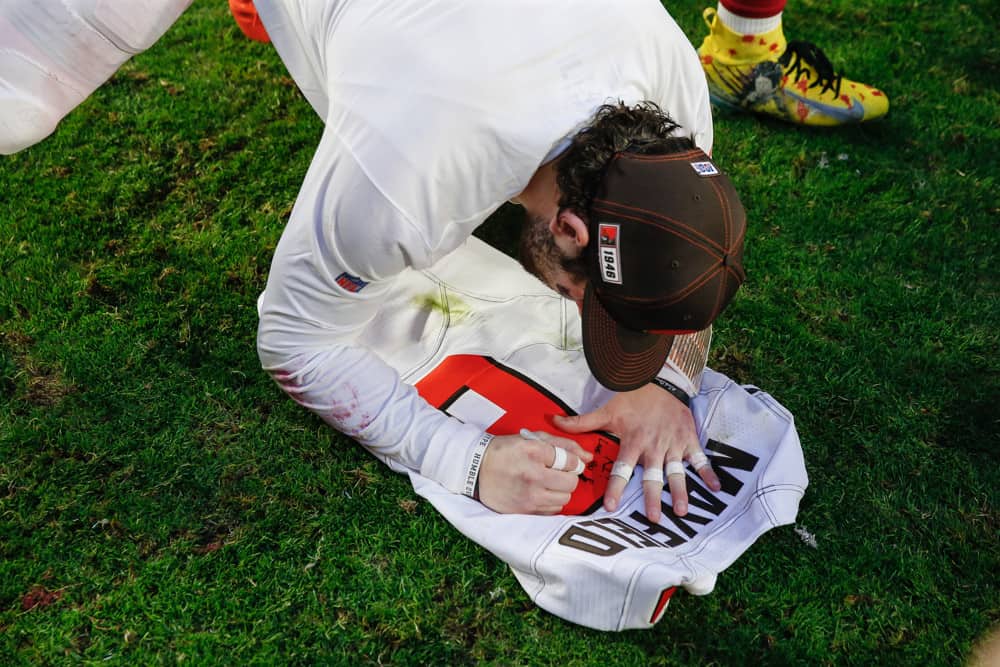 The NFL Players Association has released the Top 50 Player Sales List, which highlights the players with the most officially licensed merchandise sold throughout the year.
Surprisingly, the Cleveland Browns have claimed not one, but two of the top 10 spots on the list.
The Browns were given high expectations going into the 2019 season, but failed to capitalize.
They missed the playoffs once again, but that hasn't stopped their fans from supporting their team.
Which Browns players made the list, and did anyone get snubbed?
1. Baker Mayfield
The third-year quarterback out of Oklahoma landed fifth in jerseys sales from last season.
According to a list the @NFLPA released today, #Ravens QB Lamar Jackson ranked third in the NFL in 2019 in licensed product sales (things like jerseys and other gear). Here's the Top 5:

1) Patrick Mahomes
2) Tom Brady
3) Lamar Jackson
4) Ezekiel Elliott
5) Baker Mayfield

— Aaron Kasinitz (@AaronKazreports) April 17, 2020

After a surprisingly strong rookie campaign, it's not shocking that Baker Mayfield is one of the most popular players in Cleveland.
The 25-year-old quarterback fell back down to Earth in 2019, but his poor play didn't seem to damage his jersey sales.
In 2019, Mayfield threw for 3,827 passing yards, with 22 touchdowns and 21 interceptions.
Those 21 picks were the second-most in the NFL behind Tampa Bay Buccaneers quarterback Jameis Winston who threw 30 interceptions.
There is hope that Mayfield will be able to bounce back under new head coach Kevin Stefanski.
Clearly Browns fans have not given up on Mayfield as he surpassed both quarterback Aaron Rodgers and defensive end Khalil Mack in jersey sales last year.
There has been a revolving door of quarterbacks in Cleveland for quite some time, so it's nice to see the fans and the organization supporting Mayfield.
He has plenty of potential, but it's time for him to put his rough 2019 season behind him and take a step forward next season.
2. Odell Beckham Jr.
It's not too surprising to see three-time Pro Bowl wide receiver Odell Beckham Jr. landing 7th on this list.
Beckham is the former 12th overall pick from the 2014 NFL Draft.
The star receiver out of LSU has been hyped by fans and the media ever since he stepped foot in the NFL.
He was traded from the New York Giants to the Browns in 2019 and it didn't take long for his jersey sales to rise.
Let the Odell Beckham Jr. jersey sales begin…#NFL #Browns pic.twitter.com/UhBQb6F2NB

— SBR Sports Picks (@SBRSportsPicks) March 13, 2019
Beckham finished seventh on the list, but it's somewhat surprising that Mayfield actually finished ahead of OBJ in sales from last season.
Beckham's first season on the Browns did not quite live up to expectations, but it wasn't a complete disaster.
He finished with 74 receptions, 1,035 receiving yards, and four touchdowns through 16 games with the Browns last season.
That isn't a bad year on paper, but it's not the 90 receptions and 10 plus touchdowns that fans are used to seeing from Beckham.
It was his first year in the system and the Browns offense struggled to move the ball under head coach Freddie Kitchens.
There is a new head coach in town, so things should be looking up for Beckham in 2020.
Who Else Made the List?
Sadly, only Mayfield and Beckham made the top 50 list, but that is a bit surprising.
Somehow running back Nick Chubb didn't crack the list, but there's always next year.
Kansas City Chiefs quarterback Patrick Mahomes topped the "GOAT" Tom Brady for first in jersey sales.
Brady finished second in jersey sales for the first time in three years.
Young star quarterback Lamar Jackson landed on the third spot in sales.
Dallas Cowboys workhorse running back Ezekiel Elliott finished fourth for sales last season.
Mayfield rounded out the top five and edged veteran quarterback Aaron Rodgers who placed sixth.
Both Mayfield and Beckham have high expectations for next season, but there's hope they can both bounce back nicely under a new head coach.