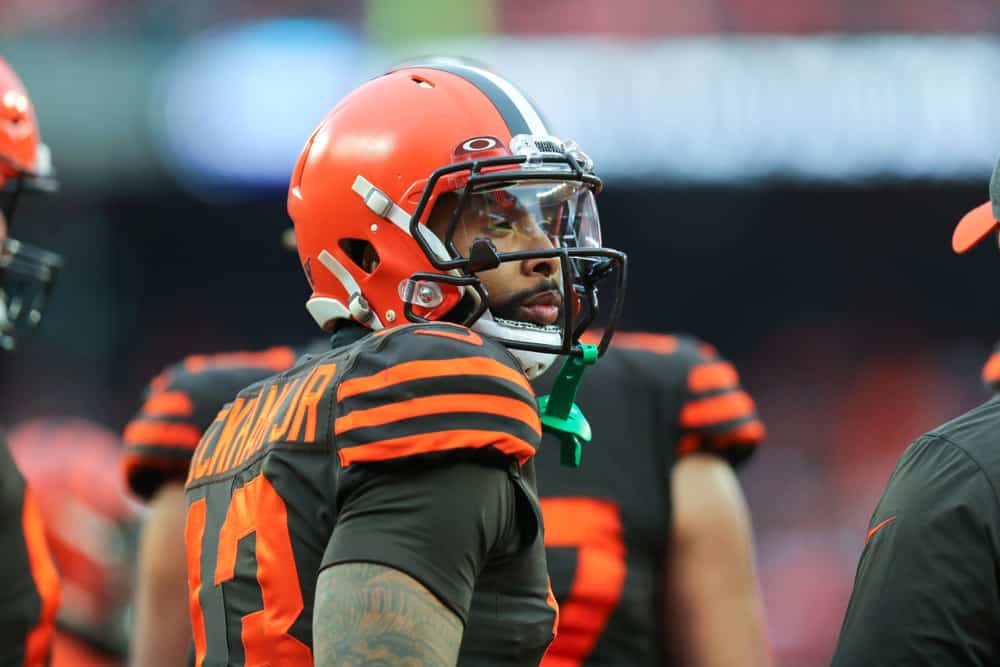 The NFL trade deadline came and went for the Cleveland Browns with a whole lot of buzz, but no actual action.
There was a ton of speculation all day and for weeks leading up to the deadline that the Browns would try to part ways with star wide receiver, Odell Beckham Jr.
There's talk that the Browns were close to a deal with the New Orleans Saints to trade Beckham to them, but the sides couldn't agree to a deal.
The big hangup for the New Orleans Saints and presumably for other teams in need of a wide receiver is the status of Beckham's contract.
In 2018, Beckham signed a 5-year, $90 million dollar contract with the New York Giants, which the Cleveland Browns inherited when they traded for him in 2019.
Beckham still has two and a half years left on his contract and is set to become a free agent in 2024.
The trade deadline has passed, but there's still a chance that the Browns could release Beckham, which would make him available to other teams.
Two of the teams who have shown interest in signing Beckham, if he were to be released, are the New Orleans Saints and the Oakland Raiders.
Sources: #Saints and #Raiders have displayed interest in Odell Beckham, Jr., who has currently cut contact with HC Kevin Stefanski. The #Browns could still release him, allowing him to then sign elsewhere. Even after his excused missed practice, I'm told OBJ plans to play Sunday.

— Jordan Schultz (@Schultz_Report) November 3, 2021
1. Las Vegas Raiders 
The Raiders unexpectedly found themselves in need of a wide receiver when Henry Ruggs III, their star wideout, was released by the team.
The release came in response to the charges that Ruggs was drinking and driving when he accidentally killed a young woman and her dog in a tragic accident.
With Ruggs gone from the Raiders and the NFL, the Raiders are left in desperate need of a receiver.
They weren't strong at that position to begin with, but are even more desperate now.
Most of the Raiders receiving production comes from star tight end, Darren Waller, with Ruggs filling in the gaps where he could.
Ruggs was having the best year of his young career as he had collected 24 receptions for 469 yards and 2 touchdowns.
With his loss in production and Waller getting tons of attention from defenses, the Raiders could greatly benefit from a receiver with Beckham's potential.
2. New Orleans Saints 
The New Orleans Saints also received disturbing news this week when they learned that their star wide receiver, Michael Thomas, would not be able to make his long-awaited return from an ankle injury this year.
#Saints WR Michael Thomas is OUT for the season. Won't play this year at all.pic.twitter.com/GTfF8licji

— Dov Kleiman (@NFL_DovKleiman) November 3, 2021
This news came on the heels of learning that starting quarterback, Jameis Winston, is finished for the year with an ACL injury.
With a second-string quarterback at the helm and the Saints having the second-worst passing offense in football, the news that Thomas won't be back this year is a huge blow.
The Saints have only four active, healthy wide receivers on their roster, and adding a guy like Beckham to their ranks could be the move that puts them over the top.
The fact that they expressed interest in trading for him seems to imply that they would be more than willing to sign him, were he to become a free agent.
What's the Holdup?
As with most things in the NFL, it's all coming down to money.
Odell is owed $8.05 million for the rest of 2021 and $13.75 million in 2022/2023.
If the Browns were to cut Beckham and a team were to pick him up before clearing waivers, they would owe him $8.05 for the remainder of the season.
Were Beckham to clear waivers and become a free agent, any team could sign him to a contract of their choosing.
This scenario is the most likely outcome for Beckham due to the fact that the season is halfway over and he's had a bad couple of years, putting doubt in his abilities at receiver.
For any of this to happen, however, the Browns must first come to the decision to give Beckham his release.