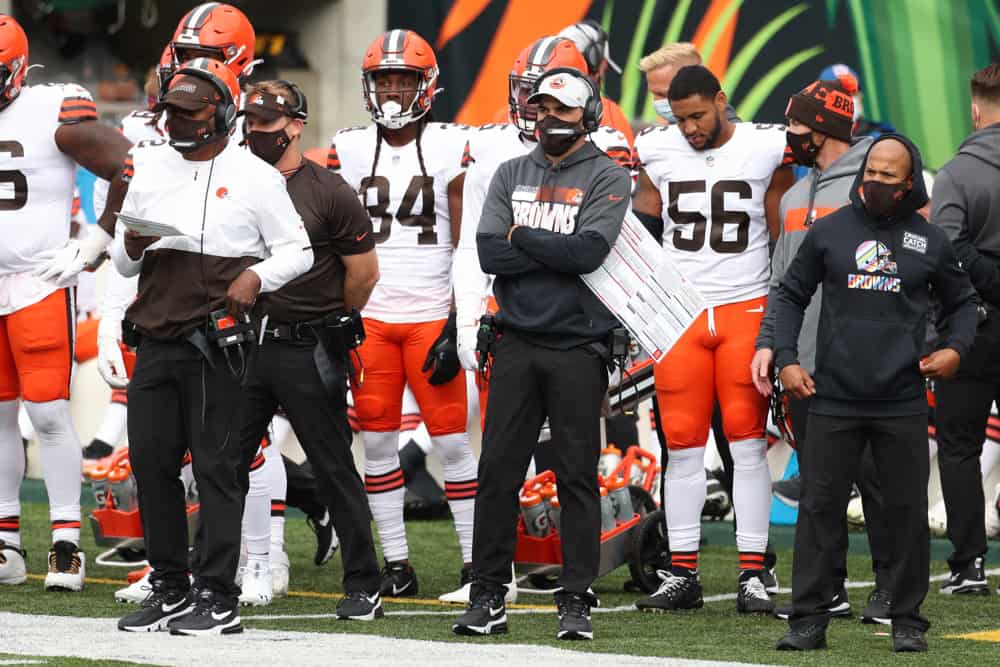 Kevin Stefanski and Andrew Berry deserve a lot of credit for turning around the Cleveland Browns.
And they get that credit on a regular basis from fans, coaches, and players alike.
But the Browns dynamic duo will be the first to share the kudos with the people working around them.
When Stefanski accepted his Coach of the Year award, he said it reflected on his assistants as much as on him.
THAT'S OUR COACH. 😤

Kevin Stefanski is the 2020 Coach of the Year! pic.twitter.com/EtY4p6ByrF

— Cleveland Browns (@Browns) February 7, 2021
And his words were more than a canned statement or cliche.
The Browns front office and the entire coaching staff stayed out of the limelight during the entire 2020 season.
That is just one more indication of the improved culture and message prevailing in Berea.
Fans saw some assistant coaching names bandied about, but always in positive references.
#Browns Head Coach Kevin Stefanski on @BullandFox: Winning Coach of the Year "is just a reflection on the team; we hate how it ended, that's not going to change, now we have to get better" https://t.co/JZiM10eWII pic.twitter.com/FEOUPN9QIM

— 92.3 The Fan (@923TheFan) January 21, 2021
Callie Brownson adeptly stepped in on a game day to cover unexpected absences, twice.
Bill Callahan's top-rated offensive line never missed a beat regardless of who played where.
And there was Mike Priefer's Wild Card victory standing in for Stefanski.
But here are 3 other assistant coaches who deserve more credit for the Browns 2020 success.
1. Passing Coordinator/Wide Receivers Coach Chad O'Shea 
Baker Mayfield was one of the NFL's top-rated passers over the second half of 2020.
But who was catching the ball?
Despite his mediocre stats, the loss of Odell Beckham Jr altered the passing game.
And even though he stayed on the field, Jarvis Landry was an achy mess for much of the year.
O'Shea helped Rashard Higgins bounce back from his lost 2019 campaign.
THE ROOKIE DONOVAN PEOPLES-JONES GAME WINNER🔥

— PFF College (@PFF_College) October 25, 2020
And he made Khadarel Hodge a reliable option.
Then Hodge went down, and O'Shea was left with late-round draft pick Donovan Peoples-Jones.
The well-traveled Marvin Hall and UDFA Ja'Marcus Bradley filled out the roster.
Hardly household names to back up Landry and Higgins, but each had a fair share of moments.
And O'Shea was the guy charged with making them ready and up to the task for Mayfield.
2. Offensive Coordinator Alex Van Pelt 
All season long, discussion about the Browns offense revolved around Kevin Stefanski.
We looked to Stefanski's history in Minnesota for clues about what to expect.
And after the 38-6 opening weekend debacle versus the Ravens, we were worried.
Mostly, we were worried about Baker Mayfield and his ability to adapt to yet another offensive scheme.
And while that scheme bore Stefanski's imprimatur, it was up to Alex Van Pelt to get Mayfield up to snuff.
Haters will say its fake. @bakermayfield continues to grind and get better! pic.twitter.com/KRvNG8FJXV

— jarodgray (@jarodgray) May 25, 2021
Offensive-minded coaches tend to pay more attention to the offensive side of the ball.
But they have other things to worry about, and Van Pelt made sure the offense didn't suffer when Stefanski was distracted.
Turning Mayfield into a top passer as the season wore on is his most obvious accomplishment.
But Van Pelt also had to align the efforts of the various position coaches with Stefanski's vision.
And his adept play-calling in the 2020 Wild Card game did nothing to diminish his value to the team.
3. Defensive Line Coach, Chris Kiffin 
Myles Garrett and Olivier Vernon straddling Sheldon Richardson and Larry Ogunjobi certainly seemed promising.
But Vernon got off to a slow start, finally rounding into form just as Garrett went down with Covid-19.
Garrett never fully recovered and while Ogunjobi played hard, he wasn't leaping off the highlight reels.
Sheldon Richardson was his usual solid self, even as his supporting cast had its ups and downs.
And the players ready to reinforce the effort weren't threatening anyone else's Pro Bowl aspirations.
UDFA Porter Gustin and second-year player Joe Jackson provided solid play in relief of Garrett and Vernon.
PORTER GUSTIN ARE YOU SERIOUSpic.twitter.com/x5cBklpH04

— PFF (@PFF) January 11, 2021
Rookie Jordan Elliott didn't rack up stats, but he didn't give up much alongside veteran Adrian Clayborn in relief, either.
While the line was not quite as dominant as fans might have hoped, Kiffin kept them from being a liability.
His assortment of young and old linemen more than held their own, and they did it with no help from behind.
Joe Woods needed all hands on deck in a battered secondary and all but abandoned any blitz package.
Cleveland's defense still managed to finish in the middle of the pack, largely because of Kiffin's hard-fighting line.
And All The Others, Too
As well-intended as this article is, it does some injustice to the other assistant coaches working with the Browns.
That includes the assistants to the coaches named above and all the other role players around Berea.
Cleveland's performance staff under director Larry Jackson deserve a shout-out, too.
Despite a couple of high-profile injuries, the Browns suffered fewer games lost than most teams.
News & Notes: Stefanski 'really proud' of coaching staff, expects stability to benefit team in 2021

📰 » https://t.co/by8MtLsTiU pic.twitter.com/j8B2mVyI1z

— Cleveland Browns (@Browns) January 19, 2021
And keeping Jarvis Landry on the field was an effort in itself.
Stefanski was quick to laud his assistants and support staff as fellow recipients of his COTY award.
Just as Andrew Berry constantly cites his scouts and the rest of his player assessment staff for his performance.
It is another sign of good management, not just to give credit where it is due.
But also to surround the main players with all the right people.