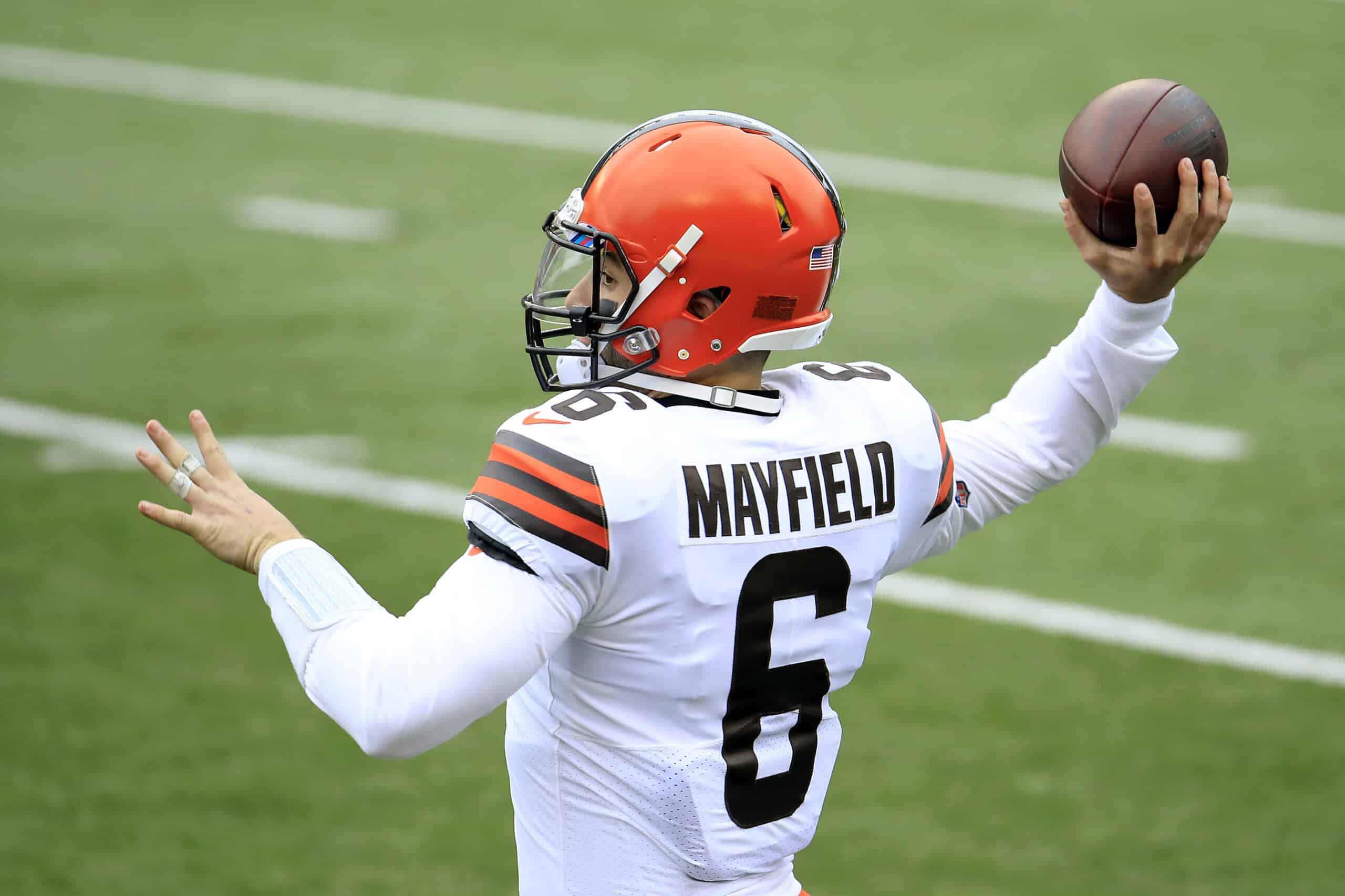 Baker Mayfield famously predicted he could turn the 1-31 Cleveland Browns around.
And you can give credit to Andrew Berry, Kevin Stefanski, or the cadre of skill players if you want.
But 11-5 and a playoff victory in his third season means Mayfield lived up to his end of the deal.
The @Browns look to close in on a playoff berth tonight against the Giants.@BakerMayfield was asked about the possibility of joining Cleveland at the NFL Draft combine in 2018, he said he was the guy to turn the franchise around. pic.twitter.com/O2MySrBkL6

— Sunday Night Football on NBC (@SNFonNBC) December 20, 2020
One would think handing their star quarterback a long-term extension is a no-brainer.
But nothing in Baker Mayfield's universe is as easy as it seems.
There are a fair amount of Baker-Bashers questioning whether to re-sign him at all.
At the very least, they want to see another season of improvement and playoff football before committing.
Stop 👏 disrespecting 👏 Baker 👏 Mayfield 👏@danorlovsky7 doesn't want to hear it.

"Baker Mayfield resurrected the worst franchise in sports in America!" pic.twitter.com/KjWXEwNdmW

— Get Up (@GetUpESPN) June 30, 2021
But Berry and Stefanski are among the Baker-Backers, calling Mayfield the Browns' franchise quarterback.
There is little doubt the team wants Mayfield to be part of a pending Browns dynasty.
And if that is the case, here are 3 benefits of paying Mayfield now versus waiting.
1. Setting the Market Always Better Than Reacting
If Mayfield was the only quarterback in his situation, it might make sense to hold off on a new deal.
Unfortunately, fellow 2018 NFL Draft Class quarterbacks Lamar Jackson and Josh Allen will force Berry's hand.
The trio is expected to open negotiations at the $35 million mark, the level of a 4th highest paid QB.
But some experts expect Mayfield's price to drop, or ultimately not match the other two average salaries.
They feel teams should pay more for an exciting athlete like Jackson, or a more-polished passer in Allen.
This is pretty amazing. And no… it doesn't mean @bakermayfield is the next Dan Marino. Or the next Drew Brees. But if you think he's just some game manager who can never be a true franchise QB, you need to do some more thinking. #Browns pic.twitter.com/PssmZBO6RX

— Ed Greenberger (@EdGreenberger) June 30, 2021
Mayfield is described as the shorter, less athletic, less polished option of the three.
However… he is just as likely to lead his team to a Super Bowl this year as the others.
And an analytics approach is based on results more than potential and personal skill sets.
Should Jackson or Allen sign for more than the $35 million per year, Mayfield's negotiating bar rises.
Setting the opening price could lessen the impact of a franchise contract for Cleveland.
2. Play to Baker Mayfield's Psyche 
Mayfield has said he is not in any rush to sign an extension.
He knows if negotiations extend into the season, every big performance enhances his position.
But the Browns know their quarterback also likes to be appreciated.
It is hard to imagine a scenario in which there is no debate or controversy around Mayfield.
But handing an early extension to their quarterback would go a long way in exhibiting the team's faith in the man.
Baker Mayfield is the best Browns QB in franchise history through 3 seasons.

Browns rank 1st 3 seasons*
75 pass TD 1st
11,115 pass yds 1st
89.1 pass rating 2nd
61.9 comp% 2nd
23 wins 2nd

*Min. 300 pass att pic.twitter.com/ISY7bQiBpB

— CBS Sports HQ (@CBSSportsHQ) January 29, 2021
Neither side has tipped their hand about years or dollar amounts.
But anything in the predicted range makes Mayfield the 4th highest-paid quarterback for the moment.
And despite the popular sound bite about not worrying about contracts, a deal allows Mayfield to focus.
Mayfield wants to "own" this offense, if not the whole team and all of Browns Nation.
Signing him ahead of not just Jackson and Allen, but also Nick Chubb and Wyatt Teller– validates his status.
3. Sending a Message To Players and Fans 
Cleveland's football team has been in a constant state of chaos and reorganization since 1999.
Victories aside, the prevailing emotion of Browns fans after the 2020 season might be relief.
It is hard to believe one season brought such a sense of stability, direction, and promise.
Cleveland can win with Mayfield at quarterback, regardless of what "ifs" and "because's" one uses to agree.
Nothing would disrupt Cleveland's calm more explosively than implying Mayfield is not the franchise.
Baker Mayfield's first career playoff start:

🔸21-34
🔸263 yards
🔸3 TDs pic.twitter.com/VbyWd6pDFN

— PFF (@PFF) January 11, 2021
And nothing would validate the plan and cement that calming continuity better than extending their leader early.
Such stability, coupled with continued success, could make or break lasting success.
Coaches and players can build on existing playbooks and communication.
The best free agents and draft picks want to join stable and successful organizations.
And Cleveland Browns fans will be rewarded for sticking by the team during those leaner times.