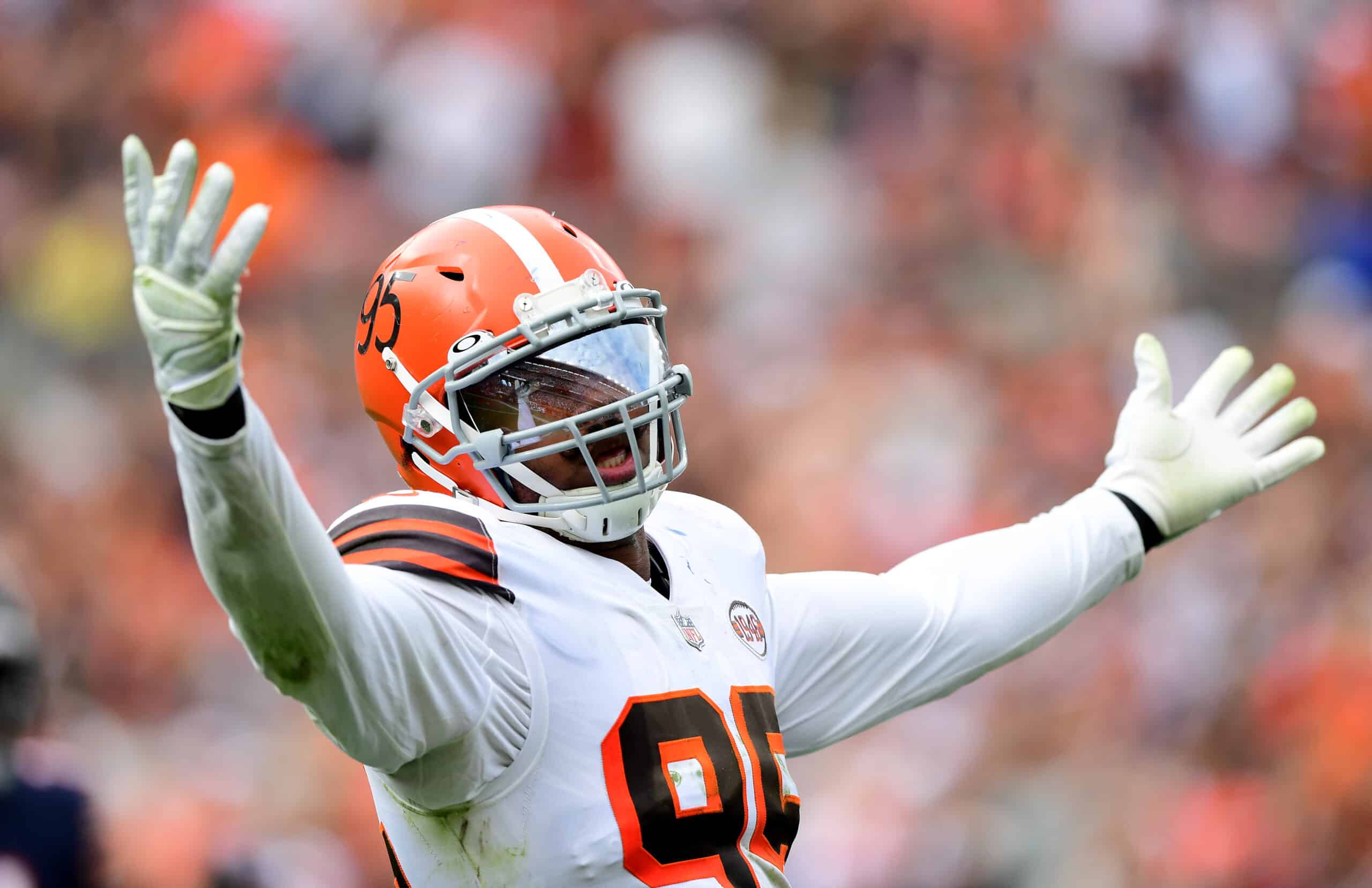 Cleveland Browns defensive end Myles Garrett had another successful season.
He loaded up on individual honors including another trip to the Pro Bowl and a first-team All-Pro selection.
Garrett also broke the Browns franchise single-season sack record in 2021.
Of course, Garrett would happily give all of those awards back for a chance to bring a Super Bowl championship back to Cleveland.
He spoke about this desire to achieve the ultimate team honor recently.
"Nothing matters if we don't make the playoffs. DPOY is nice, but I want to be remembered for bringing Super Bowls here. I know Bake does and everybody else does… The city will remember a Super Bowl. I win DPOY and we don't win anything, our names won't go down."
Let's hope that happens in 2022, but in the meantime, here are Myles Garrett's three best plays in 2021.
1. Browns Vs. Bears – Week 3
Garrett's best individual game was of course in Week 3.
Against the Chicago Bears, he set the franchise record by recording 4.5 sacks on the day.
It was an amazing game to watch Garrett break free and find his way to Justin Fields.
This was the rookie Fields' first NFL start, and one of the most notorious recent Buckeyes did not have the fans or Garrett on his side.
Any one of Garrett's sacks on this day could make the list; pick and choose.
#Browns  Top 5 Plays of 2021‼️#1️⃣: Myles Garrett sets a Franchise-Record with 4.5 Sacks in a Week 3 Win vs the #Bears. 🦖#NFL @Flash_Garrett pic.twitter.com/HZERLJz7aX

— The Hottest Take (@Hottest_TakePod) December 13, 2021
2. Browns Vs. Ravens – Week 12
The fine line between holding as part of the game and holding as a penalty was an issue with fans watching Garrett this season.
To them, it felt like he was constantly being held, and the refs were not calling the penalties.
Holding doesn't apply when it's Myles Garrett it appears #Browns

— Brad Stainbrook (@BrownsByBrad) October 22, 2021
Myles Garrett leads NFL in missed holding calls.

Per my eyes

— Browns Country (@TheFanDomeShow) October 22, 2021
Here is an example of how Garrett miraculously got out of the grips of four Ravens players to register a sack on backup quarterback Tyler Huntley.
Is Myles Garrett good? Vs 4 Ravens for a sack. pic.twitter.com/QspwSyWy8v

— Bob Sturm (@SportsSturm) December 24, 2021
3. Browns Vs. Ravens – Week 14
The historic strip sack that sealed @Flash_Garrett joining the #99Club. pic.twitter.com/Wl9myC9MEH

— Cleveland Browns (@Browns) December 16, 2021
In Week 14 against the Ravens, Garrett broke the franchise single-season sack record.
How did he get that magical number 15 sack?
He did it in true Garrett fashion with a strip-sack of Huntley, a fumble recovery, and by running the ball into the end zone for his first NFL touchdown.
What's Ahead For Garrett In 2022?
Garrett finished the season with 16 sacks, 33 solo tackles, and 33 quarterback hits.
The next record in his sights is the Browns franchise all time sack leader.
He gets the record in 2022 with just 4 sacks.
With just 4 more sacks, Myles Garrett will surpass Clay Matthews as the Browns all time leader.

Myles is on pace to set the new Browns sack record at just 26 years old. pic.twitter.com/XS7rebcwB3

— Nick Karns (@karnsies817) January 14, 2022
Matthews earned the record of 62 sacks in 232 games.
Garrett is at 58.5 sacks after 68 games.
He has also been very clear that he wants Jadeveon Clowney to come back.
Browns' Myles Garrett said he's already begun recruiting Jadeveon Clowney to remain in Cleveland. "The guy's hitting his stride. He has a lot of football left."

— Ben Axelrod (@BenAxelrod) January 7, 2022
That partnership has worked well to motivate both players.
Clowney is a free agent so time will tell if Garrett gets his wish for him to return to Cleveland in 2022.