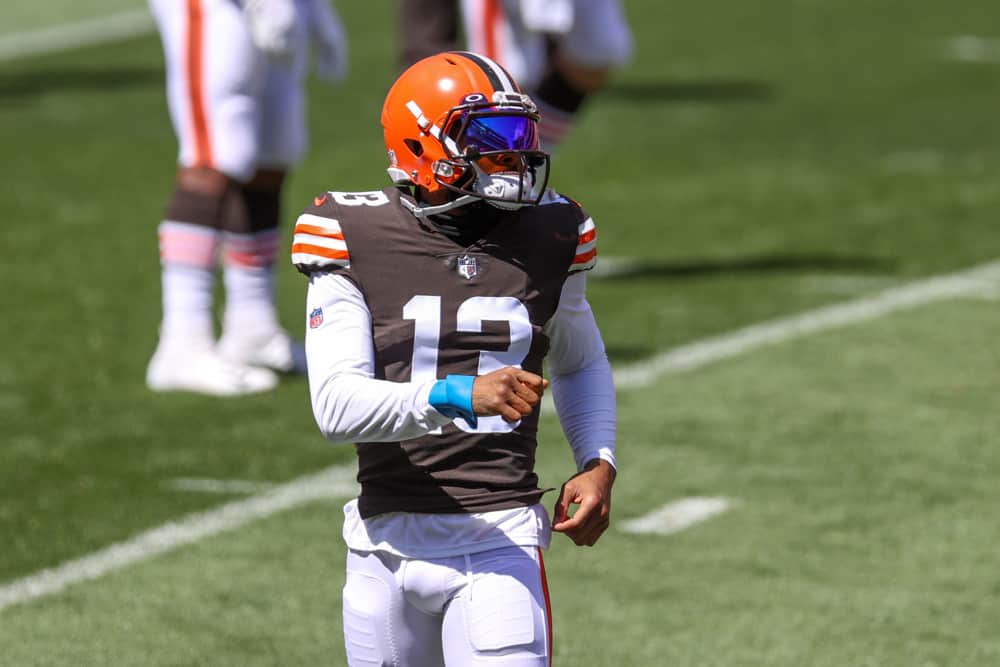 Sadly, the Cleveland Browns are going to be shorthanded on offense for their Week 8 matchup against the Las Vegas Raiders.
Last week, star wide receiver Odell Beckham Jr. suffered a knee injury while attempting to make a tackle on an interception.
He exited the game and it was later confirmed that Beckham tore his ACL.
Odell Beckham Jr. says he suffered a torn ACL against the Bengals and is out for the season, per @JosinaAnderson pic.twitter.com/RE9q9RnkVu

— Bleacher Report (@BleacherReport) October 26, 2020
This is a big blow to the Browns offense who is already without running back Nick Chubb.
Despite that, quarterback Baker Mayfield was able to rally the team to victory last week versus the Cincinnati Bengals.
Obviously, Beckham is done for the season, so the Browns will need other players to step up in his absence.
Beckham's Message
It's difficult to stay positive after suffering a season-ending injury like Beckham did on Sunday.
However, Beckham is trying to make the best of the situation he's been handed.
The 27-year-old receiver posted a message on his Instagram to thank everyone for checking on him.
#Browns Odell Beckham Jr. posted this on IG today. Best wishes out to OBJ: pic.twitter.com/cbRITb9wxE

— Mary Kay Cabot (@MaryKayCabot) October 30, 2020
"I just wanna thank you all for checkin on me," Beckham said. "This is tough, really f—ing tough. I really don't have many words right now definitely not the right ones at least.

"I couldn't tell u why this happened, this one doesn't make much sense, it's not for me to question, but I believe God truly has a plan and is using me for it. Ton of emotions flowing.. just taking some ME time, some time to heal. Thank u all for the Luv… be back soon"
Beckham has made some questionable decisions in the past, but no one deserves what happened to him.
He plays the game hard and the right way, which is something you want out of every player.
It's a shame that this happened, but Beckham won't let this bring him down.
He's going to continue fighting and hopefully be back on the field next season.
What's Next For Cleveland?
Luckily, the Browns have put themselves in good playoff position through the first seven games of the season.
Browns fans are certainly excited to see their team 5-2 heading into Week 8.
It won't be an easy task beating the Raiders without OBJ or Chubb on offense.
However, Mayfield was able to throw five touchdowns in the victory over the Bengals last week.
Hopefully, he can carry some of the momentum into this game versus the Raiders.
The Browns will need players like Rashard Higgins and Harrison Bryant to step up without Beckham available.
There is hope that Beckham could return by the beginning of training camp next season.
The recovery time for an ACL injury is normally nine to 12 months, but each person heals differently.
Browns fans can be hopeful that Beckham is back in uniform by the start of the 2021 season.