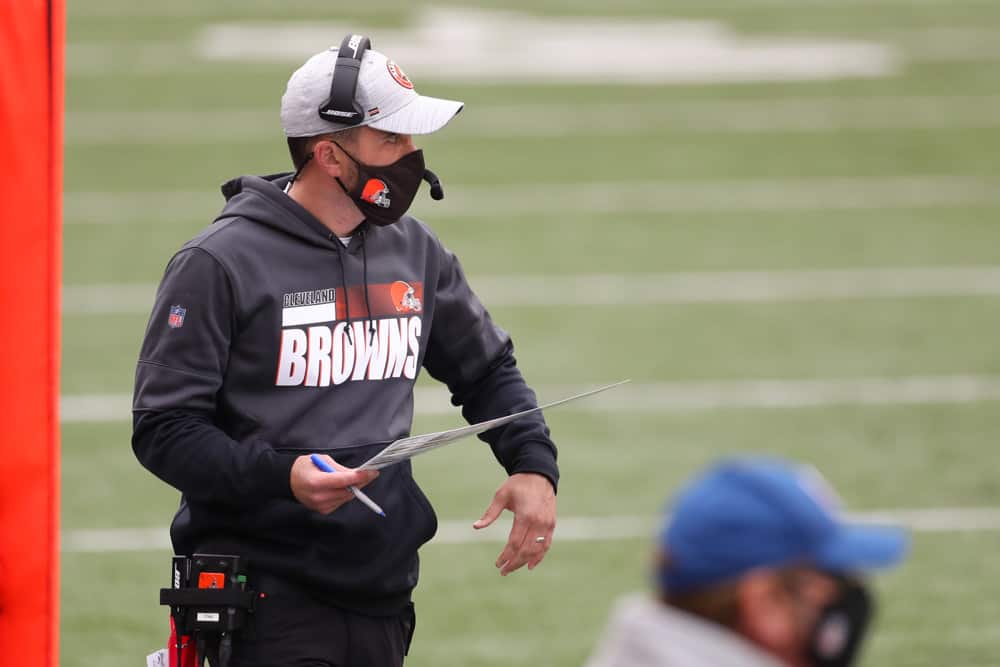 Cleveland Browns head coach Kevin Stefanski enters his second season with the Browns and as an NFL head coach.
His rookie season exceeded all expectations with an 11-5 regular season record, one playoff win, and winning NFL Coach of the Year.
Those would be stellar accomplishments any season but were even more so during a pandemic.
This means the bar is set pretty high for what Stefanski can accomplish in his second year at the helm.
Here are three bold predictions for Stefanski in 2021.
1. Relinquishes Play Calling To Alex Van Pelt
Many would say this is not really a bold prediction.
Stefanski talked about allowing offensive coordinator AVP to call plays last year; however, there was no preseason to try it out.
AVP ultimately got his chance to be play caller when Stefanski was home with COVID-19 in the Browns wildcard playoff win against Pittsburgh.
#Browns interim coach Mike Priefer goes 1-0… Interim play-caller Alex Van Pelt helps his team score more than 40 points… An O-line without a coach & a taped-together unit hangs tough…

And Cleveland gets another playoff game, which Kevin Stefanski actually gets to coach. ✅

— Ian Rapoport (@RapSheet) January 11, 2021
This would be bold because Stefanski is measured and likes to be in control, but it would bold because it would add a measure of unpredictability for opponents to prepare for this season.
His fingerprint would still be imprinted on the offense, but relinquishing play calling would allow him to focus on all of the new defensive players on the roster in 2021 and keeping this young team's heads down and on task especially if the season opens with an upset win over the Kansas City Chiefs.
2. Leads Browns To Victory In The AFC Championship Game
Updated Vegas Odds:

2021 AFC Champions

Chiefs- 11/4
Bills- 23/4
Ravens- 11/1#Browns– 12/1

— Matt Fontana (@MattFontana83) February 9, 2021
Stefanski will need to keep this young team focused to pull off this feat.
The AFC is loaded with talented teams including the defending AFC Champion Kansas City Chiefs and the rising Buffalo Bills to name just two possible contenders.
Don't forget about Justin Herbert and the Los Angeles Chargers also who could be vying for the Super Bowl in their home stadium.
The Browns have not reached the AFC Championship game since 1989.
They previously appeared in the 1986 and 1987 AFC Championship games; all three games were lost to the Denver Broncos.
The Browns have the talent to accomplish this, but it will not be an easy task.
3. Repeats As NFL Coach of the Year
Congrats to the @NFL Coach of the Year

The @Browns Kevin Stefanski#NFLHonors pic.twitter.com/DWYCvXEJyq

— ESPN Cleveland (@ESPNCleveland) February 7, 2021
A lot of coaching legends have won NFL Coach of the Year, but only one has won the award in consecutive years.
Many would assume Bill Belichick would be the one who did it, but that is not correct.
Washington Redskins Coach Joe Gibbs won back-to-back Coach of the Year honors in 1982 and 1983.
With that being said, Stefanski would definitely be a tough one to vote against if the Browns won the AFC Championship.
Conclusion
Stefanski makes it pretty clear that he is not motivated by individual honors.
He is all about the team so his primary goal is to win a Super Bowl Championship as the head coach of the Cleveland Browns.
That would be the boldest prediction to make, and it certainly is possible.
It just may not happen in 2021.
This is still a young team that is gelling and learning together.
2022 could be a different story altogether.