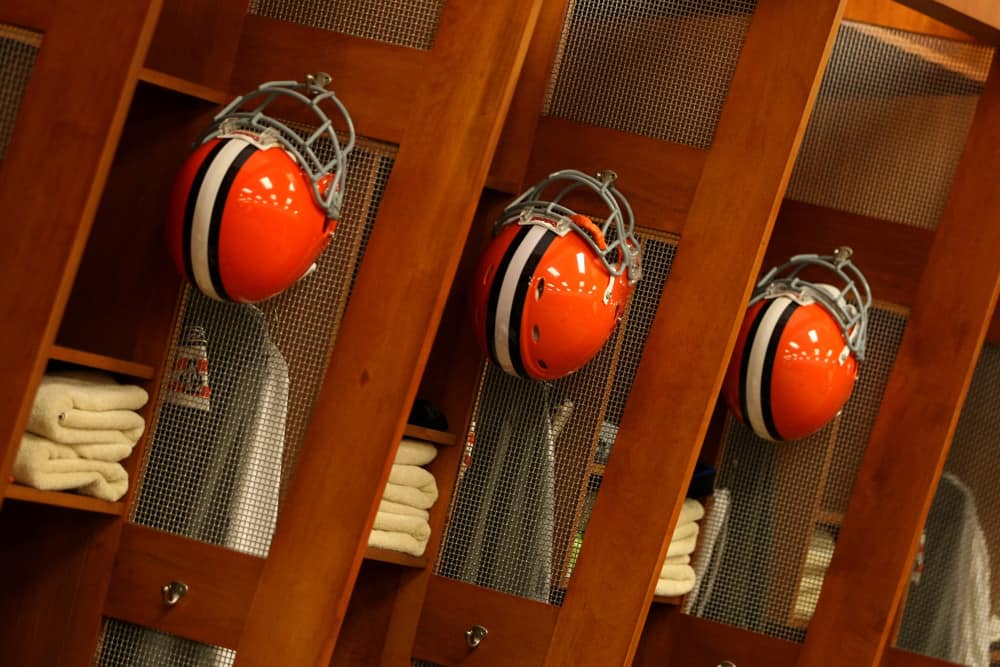 In 2020, fans were able to watch both quarterback Baker Mayfield and right guard Wyatt Teller blossom with breakout campaigns.
Every year there seems to be a few players that surprise everyone and play extortionary well.
That being said, the Cleveland Browns have a lot to look forward to heading into the 2021 campaign.
They have a stacked roster that only got better during the offseason with the help of general manager Andrew Berry.
However, not everyone played well last season despite a solid 11-5 record and a playoff run.
There are still a couple of players who both fans and the organization are hopeful can turn it around in 2021.
3. David Njoku
The Browns will not give up on the David Njoku experiment.
The 24-year-old is a former first-round pick of the organization from the 2017 NFL Draft.
He put together a decent rookie campaign, followed by a strong sophomore year in Cleveland.
However, in 2019 injuries limited him to four games and he has never been quite the same.
Since the 2019 campaign, Njoku has recorded 24 receptions, 254 yards, and three touchdowns.
It has been a rocky few years for Njoku with trade rumors following him every step of the way.
Despite that, it appears both Njoku and the Browns organization are reportedly in a good place heading into the 2021 season.
The Browns seemed to have weathered the storm with tight end David Njoku, who requested a trade last summer. I'm told per source that Njoku is in a good place with the franchise.

— Jeremy Fowler (@JFowlerESPN) May 24, 2021
The Browns did accept Njoku's fifth-year option for the 2021 season, so he'll be on the roster heading into training camp.
However, he'll have to earn his playing time with Austin Hooper and likely second-year tight end Harrison Bryant above him on the depth chart.
There is no doubting that Njoku is talented, but things have not gone his way lately.
Hopefully, he can be fully healthy and can contribute in what could possibly be his last year in Cleveland.
2. Greedy Williams
In 2019, the Browns thought they found a possible lockdown defensive back to play alongside Denzel Ward in the form of LSU-product Greedy Williams.
Sadly, Williams hasn't been on the field enough for the Browns to actually get an idea of what he can contribute to the organization.
His rookie campaign was a dud with 47 tackles and two passes defended in 12 games.
To be fair, then-head Freddie Kitchens used Williams in a zone coverage scheme, which doesn't play to Williams' strengths.
During his time in college, Williams was arguably the best man-to-man coverage defensive back in the nation.
Evaluating man-to-man corners is one of my favorites. It's easy to fall in love with #LSU CB Greedy Williams. When he's locked in, his technique is fun to watch. pic.twitter.com/5zNhMcPtbf

— Jordan Reid (@Jordan_Reid) November 30, 2018
The organization still has high hopes for the young defensive back, but aren't going all-in on him.
In fact, Cleveland used their first-round selection in 2021 to draft Northwestern defensive back Greg Newsome II.
He is someone who can give Williams some competition heading into camp and possibly even jump him on the depth chart.
The 2021 season needs to be positive for Williams in order for him to likely stay relevant in the Browns' plans going forward.
1. Odell Beckham Jr.
The Browns gave up quite a lot when they acquired wide receiver Odell Beckham Jr. from the New York Giants.
To be fair, Beckham is a three-time Pro Bowl receiver who has the ability to be one of the best in the entire league.
Sadly, he hasn't been able to produce the same type of numbers since he left New York.
Both Beckham and quarterback Baker Mayfield have not been on the same page.
The disconnection on the field is obvious and the two of them need to figure it out in 2021.
Fans were unable to see much of Beckham in 2021 since he suffered an ACL tear mid-season.
#Browns expected bad news on WR Odell Beckham Jr's knee injury, and they got it. It is a torn ACL as @JosinaAnderson said. Another frustrating season is over.

— Ian Rapoport (@RapSheet) October 26, 2020
The organization believes he'll be fully healthy heading into the 2021 season, which is great news.
However, Beckham has quite a lot to prove since his numbers have regressed over the years.
The Browns are a Super Bowl caliber team that needs OBJ to step up and be a leader on offense.
Another dud campaign could lead to the Browns seeking outside help in order to find the promised land.