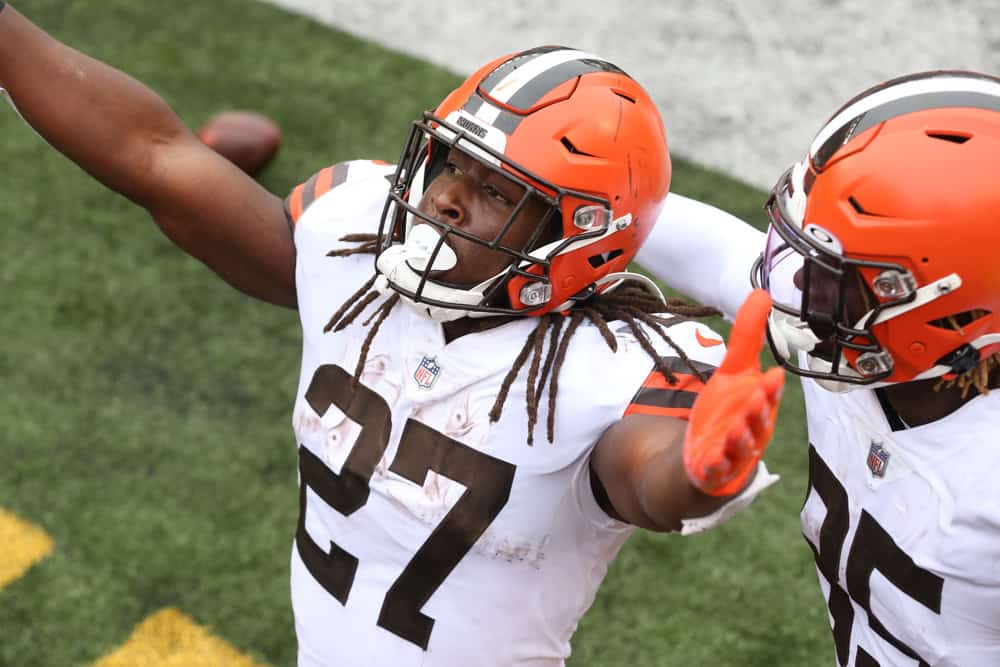 The 2021 Cleveland Browns team is full of high hopes and expectations.
There are so many offensive playmakers that it is hard to predict who will be the ones who have career best seasons in 2021.
Running back Kareem Hunt is primed and due for a breakout year while still sharing the load with Nick Chubb.
RB Rankings ahead of the 2021 season

🗣️@PFF_Sam pic.twitter.com/XyE2jqoOpr

— PFF (@PFF) May 18, 2021
Here are three bold predictions for Kareem Hunt in 2021.
3. Achieves Personal Best TD Record
One of the best parts of Hunt's game is his versatility.
He is as daunting to defenses as a receiver as he is a runner.
The Browns backfield doesn't get talked about enough.

Nick Chubb had 12 TDs in only 12 games. 4th most in the NFL.

Kareem Hunt had 5 rec TDs The most for a RB in the NFL.

All while splitting the backfield. pic.twitter.com/blanIpgm5Q

— Nick Karns (@karnsies817) May 16, 2021
Hunt had a career best 14 touchdowns in 2017 when he was with the Chiefs.
Seven were rushing, and seven were receiving.
The Browns offense has a lot of star power, but Hunt is a steady performer in big situations.
In addition, he is hard to tackle so he will be counted on to grind out the clock and to make more big plays this season.
For this reason, Hunt will have more than 14 touchdowns in 2021.
2. AFC Player Of The Week
Everyone knows that Kareem Hunt left Kansas City for reasons that had nothing to do with football.
Though he likes and admires his former teammates and coaches, he would like nothing more than to be a key component in a Week 1 road win over the Chiefs.
Compounding that, he would love to be named AFC Player of the Week following that Week 1 win.
I am not prepared to be that bold with the Hunt predictions in 2021.
However, I do predict he will earn AFC Player of the Week honors during the season; it is just more likely to happen after a conference matchup against the Steelers or Bengals.
1. Named To Pro Bowl
Hunt was only named to the Pro Bowl one time in his career.
That was during the 2017 season.
I will double up on my bold predictions by saying that both Kareem Hunt and Nick Chubb will be named to the Pro Bowl this season.
If the Browns are contenders in 2021, it will be the running game that is going on all cylinders to get them there.
This means that both Hunt and Chubb will be top performers.
Starting to look at the "explosive plays" from the 2020 NFL season.

• Receptions of 20+ yards
• Rushes of 15+ yards #Browns ranked No.3 in explosive play rushes (30).

Lot of gap schemes — plus outside zone — with Nick Chubb & Kareem Hunt. @NFLMatchup pic.twitter.com/i7Lee1sPuK

— Matt Bowen (@MattBowen41) May 21, 2021
Conclusion
Coach Stefanski and offensive coordinator Alex Van Pelt, now in their second season, know what their offensive weapons are capable of, and I think there will be more plays for Kareem Hunt this season.
Because so many are focused on Jarvis Landry, OBJ, Rashard Higgins, David Njoku, Austin Hooper, and company, this is the year for Hunt to shine.
He is an Ohio native and has talked in the past about how happy he is being at home and playing for the Browns.
Though he is contracted through the 2022 season, it is likely that Hunt wants to stay in Cleveland a lot longer than that.
After signing his two-year deal in 2020, Hunt said.
"I'm happy I'm home. I really just want to go out there and win and do everything in my power to bring a championship to Cleveland. I've got my family here and everybody who I love and care about."
2021 could be Hunt's best year yet.