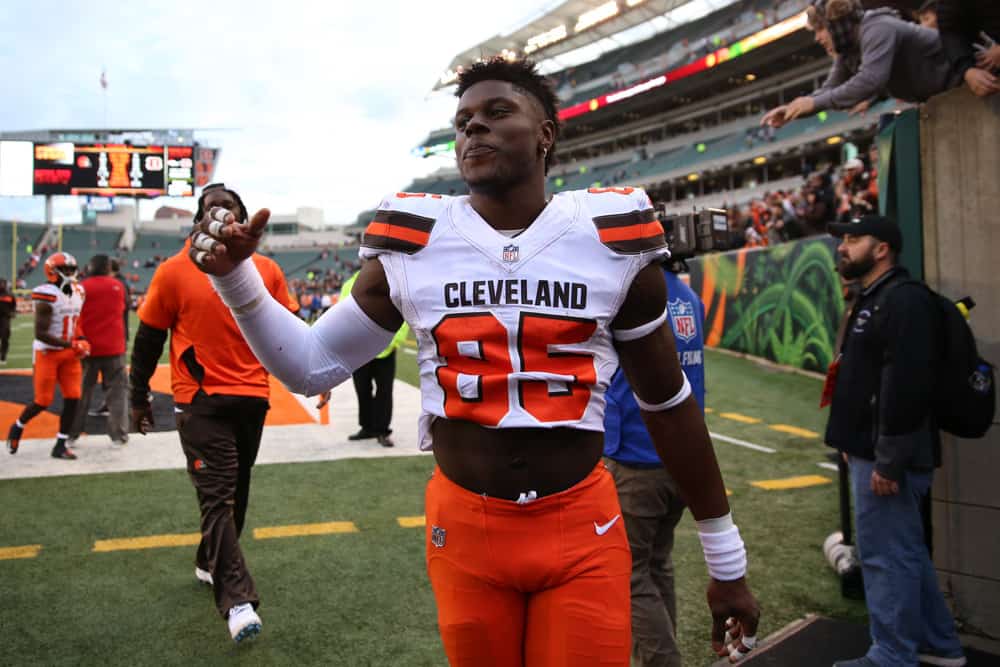 Tight-end David Njoku plays for the playoff-caliber, division title threatening, Super Bowl-contending Cleveland Browns.
And it appears no degree of rumors, demands, or new agents will change that heading into the 2021 season.
That is a good thing for the Browns because Njoku is very good.
The CHIEF 💥 @David_Njoku80 | #Browns pic.twitter.com/9B95TQiy3Q

— MoreForYouCleveland (@MoreForYou_CLE) April 16, 2021
Along with Austin Hooper and Harrison Bryant, Njoku completes a rare triumvirate of real TE receiving threats.
He also worked hard last year to improve his blocking prowess with noticeable results.
And it is safe to say the Browns have an even better David Njoku this year than they had entering the 2020 season.
But just in case, Njoku joined "Tight End University", a training session set up by his NFL peers.
George Kittle, Greg Olsen & Travis Kelce teamed up to create a TE summit (@te_university) in Nashville.

TEs joining (so far): Darren Waller, TJ Hockenson, Kyle Pitts, Mark Andrews, Mike Gesicki, Robert Tonyan, Noah Fant, Zach Ertz, Cole Kmet, Jonnu Smith, Eric Ebron, David Njoku

— NFL Update (@MySportsUpdate) May 19, 2021
It is unclear what kind of sessions are planned, but it's always good to mingle with the best of your position group.
Despite his trade requests and an occasional cryptic tweet, Njoku has been nothing less than a great teammate.
His hard work continues to pay off for himself and the team.
Here are 3 bold predictions for Cleveland Browns tight end David Njoku.
1. Njoku Doubles His Combined TDs and First Downs
Time will tell how closely the 2021 Browns offense resembles Kevin Stefanski's first-year attack.
Cleveland's young head coach alluded to a more explosive effort early in the offseason.
While all three of the tight ends boast similar abilities, David Njoku's snap count lagged.
Highest-graded players from Browns vs. Chiefs:
1. Tyrann Mathieu – 90.5
2. David Njoku – 87.2
3. Travis Kelce – 82.9
4. J.C. Tretter – 82.1 pic.twitter.com/aATId3p7HM

— PFF (@PFF) January 18, 2021
Hooper (75%) is likely to lead the team again if for no other reason than to justify his salary.
But Njoku (39%) should even up, if not pass, Harrison Bryant (56%) in snap percentage.
We don't know what affected the decisions last year, but the trade demands certainly didn't help.
Njoku more or less declared a stop to rumors and demands in March when his salary guarantee kicked in.
Greg Olsen scored his 60th TD. Jimmy Graham caught one. David Njoku is the only person who scored for the Browns today. Don't let anyone tell you Miami isnt #TEU pic.twitter.com/HEWLipQqwF

— Art (@CaneFilms) September 13, 2020
He continues to be a model teammate but also showed he is a better all-around player.
Factoring in the defense's expected contribution to more plays and better field position, Njoku will get more chances.
With even just 50% of the snap count, Njoku can easily double up on last year's 2 touchdowns and 13 first downs.
And that would give him close to a top-tier player rating in most analytical standards.
2. Njoku Still Leads The NFL in Trade Mentions 
Sometimes, players find they have little control over things they wish would go away.
The fact is, Cleveland has 3 very good tight ends on their roster.
And that is one or two more than most teams in the NFL.
#Browns TE David Njoku on Instagram: "I ain't goin nowhere!!!!" pic.twitter.com/mIrTNhB5kQ

— Brad Stainbrook (@BrownsByBrad) May 17, 2021
Hooper is a highly-paid free agent pick up and Bryant is a 2nd-year drafted player with lots of potential.
And David Njoku is a pending free agent with an aggressive player agent.
More than a few coaches would take Njoku ahead of either of his tight-end teammates.
And there are probably 31, possibly 32, who would want him more than Tim Tebow.
Baker Mayfield to TE David Njoku for 6. 6 plays, 61 yards on the drive. PAT is good. #Titans  15, #Browns  13. pic.twitter.com/WVu4eZnLTY

— 92.3 The Fan (@923TheFan) September 8, 2019
There is a market for impactful tight ends, and Drew Rosenhaus is already exploring it.
Sportswriters and commentators won't resist pushing the "get something for him" angle of the matter.
But Njoku will also lead the NFL in front office trade denials and celebrate Cleveland's success in February.
In fact…
3. Njoku Re-signs or Extends With The Browns 
Andrew Berry and his personnel team have proven masterful at working the salary cap.
Some critics will take them to task for paying a third tight end amid the weight of multiple expiring contracts.
Cleveland has to re-sign Nick Chubb, Denzel Ward, Wyatt Teller, and Baker Mayfield soon.
How the heck did David Njoku get in the end zone here!?!? pic.twitter.com/eOjqBIl7nP

— CBS Sports (@CBSSports) November 25, 2018
They will, and they will still find room for 49 other players somehow.
Harrison Bryant's rookie contract remains a bargain for at least the following two seasons.
Njoku might get an extra million dollars or another season from any of the Browns' rivals.
But $5-6 million for a well-rounded, veteran tight end in a typical Stefanski offense is worth the investment.
All In pic.twitter.com/A7rUNFm9s9

— Chief David Njoku (@David_Njoku80) April 2, 2021
And just like an extra tackle or capable second quarterback, it could be a bargain in the face of injury.
Of course, Njoku has to want to be a Cleveland Brown, and convince his agent of the same.
And that is just one more reason a deep run in the postseason will pay off for Cleveland and Njoku.