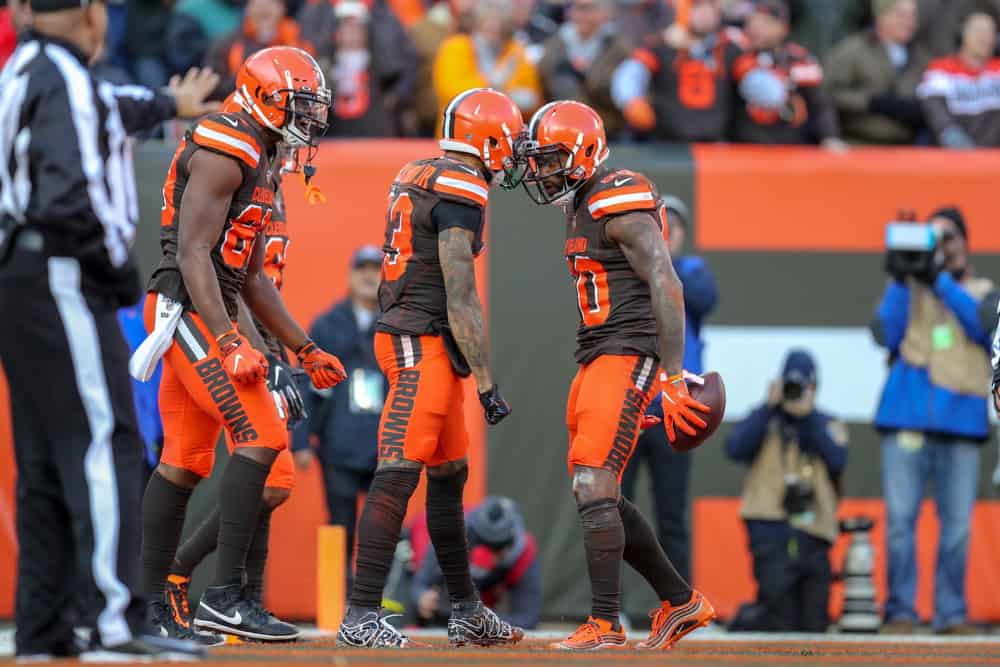 Pro Football Focus continues a series of preseason position ratings this week with a top-32 wide receivers list.
Author Anthony Treash relies mostly on PFF's advanced database to score the NFL's top pass catchers.
So far, the Cleveland Browns are well-represented in the analyst group's preseason rankings.
6. A.J Brown
15. D.K. Metcalf
17. Terry McLaurin
31. Deebo Samuel@PFF_Anthony ranks the 32 best WRs entering the 2021 NFL season⤵️https://t.co/y26tmL6T5E

— PFF (@PFF) May 20, 2021
And the wide receiver group is no exception with a pair of Baker Mayfield's targets in the mix.
Treash gave Odell Beckham Jr. the nod as Cleveland's best wide receiver.
But Jarvis Landry is just 3 spots behind his friend and teammate on the PFF scale.
The Browns veterans landed at numbers 18 and 21, although they are trending in different directions.
PFF's Wide Receiver Rankings: The 32 best WRs entering the 2021 NFL season

#21- JARVIS LANDRY, CLEVELAND BROWNS
Landry has notched an 80.0-plus receiving grade in each of the past two seasons, forming a two-year mark that ranks 15th among qualifying wide receivers…

— BrownsFreak51 (@BrownsFreak51) May 21, 2021
Cleveland is one of 8 teams to place at least 2 players on the list.
Tampa Bay is the only team with 3, with Mike Evans, Chris Godwin, and Antonio Brown earning the honors.
There are 9 teams with no players on the list, including the Pittsburgh Steelers and Baltimore Colts.
Tyler Boyd of Cincinnati squeezed into the 32nd spot.
Odell Beckham Jr. at Number 18 
Just a couple of seasons ago, Odell Beckham Jr. occupied the fourth spot on PFF's wide receiver list.
But things have not gone as expected in Cleveland.
In fact, Treash spends almost the entire section on Beckham explaining how wrongs things went.
The author is willing to forgive anything that happened during the Freddie Kitchens season.
ODELL BECKHAM JR.!!!

THE MAN HAS ARRIVED!!! pic.twitter.com/r5dQTtYlbB

— Cleveland Sports Talk (@CLEsportsTalk) September 18, 2020
But he acknowledged Beckham's contributions were still diminished under Kevin Stefanski.
When Beckham suffered his season-ending knee injury, he sported a 73.7 receiving grade.
That number is good, but not exactly Beckham-esque.
Over his first 5 seasons, including one in which he played only 4 games, OBJ had the 5th highest WAR.
Beckham's Wins Above Replacement generated in Cleveland barely breaks the top 50.
But Treash ends his narrative by expressing hope that OBJ will turn things back around in 2021.
Jarvis Landry at Number 21 
Jarvis Landry has had some different results in Cleveland.
When he came over from the Miami Dolphins before the 2018 season, Landry was a pure slot receiver.
But over the past two years, he has lined up on the outside more than in any season before.
Stefanski has good reason to continue that trend, too.
During the 2019-20 time period, Landry posted the 6th-best PFF receiving grade on outside plays.
JARVIS. LANDRY.

📺: https://t.co/NyBDmNclTK pic.twitter.com/DESCrHfqWx

— Cleveland Browns (@Browns) January 11, 2021
Overall, Landry boasts PFF's 15th highest receiving grade over the last 32 games.
Another receiving skill that Landry has improved on is single-coverage plays.
Over the 2017-18 seasons, Landry scored in the 22nd percentile in one-on-one situations.
Since then, Landry can point to a 90th-percentile ranking.
With all the weapons Stefanski can put on the field, expect Landry to find more man-to-man opportunities.
So Many Questions About The Rankings 
Ranking player groups opens an analyst to criticism and bias allegations.
Steelers' social media is aghast at the exclusion of their entire receiving corps.
Debate is open on whether Landry should already rank ahead of Beckham in this year's list.
Although Browns fans should remember they have yet to see a vintage Beckham season.
There are no rookies on the list and only one second-year player (Justin Jefferson).
The only team with a QB and TWO running backs in PFF's latest rankings 👀

🥇@Browns 🥇 pic.twitter.com/Es0rpHzRN1

— PFF (@PFF) May 19, 2021
This probably attests more to the cumulative nature of PFF rankings than to any miscalculation.
Treash mentions CeeDee Lamb, Tee Higgins, and Brandon Aiyuk among others sure to break in soon.
He also predicts several 2021 rookies will displace veterans in the near future.
But for now, Browns fans can add Landry and Beckham to the players recognized as the best among their peers.
They join Baker Mayfield (10), Nick Chubb (4), and Kareem Hunt (11) in PFF's rankings so far.