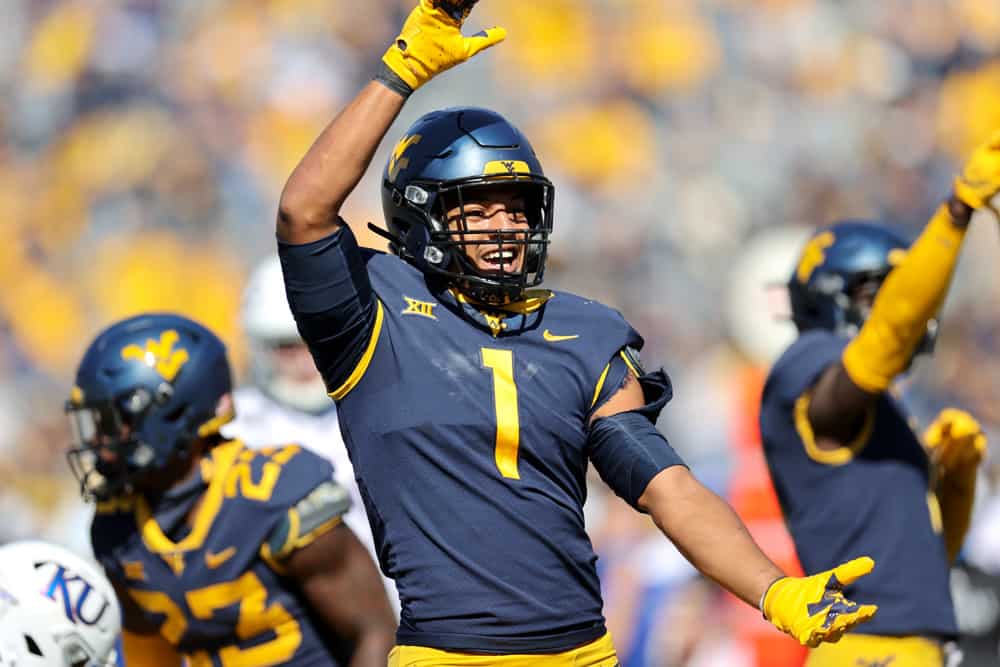 Cleveland Browns general manager Andrew Berry continued his excellent drafting again this year.
Last season, Cleveland landed tackle Jedrick Wills with the No. 10 overall selection.
This time around the Browns had a much lower pick due to their success during the 2020 season.
Despite that, Berry was able to land some highly-graded prospects on draft day.
That being said, there are likely going to be lofty expectations for some of these rookies heading into the 2021 campaign.
1. Greg Newsome Beats Out Greedy
Cleveland used the No. 26 overall pick to select Northwestern defensive back Greg Newsome II.
The young corner was limited to three games in 2020, but that didn't hurt his draft stock.
He remains one of the better graded defensive backs coming out of the draft class.
Northwestern CB Greg Newsome's coverage stats in his final four collegiate games:

1 Completion on 11 Targets, 7 yards, 1 INT, 4 PBUs

— Mike Renner (@PFF_Mike) April 28, 2021
That being said, it sounds like Newsome has a chance at being the No. 2 defensive back from Day 1.
Both superstar corner Denzel Ward and newly signed slot corner Troy Hill have basically already locked up starting roles.
That leaves, Newsome and Greedy Williams to fight for the final starting spot on the Browns defense.
Williams missed all of the 2020 season due to a nerve issue in his shoulder.
The organizations believes he'll be ready to play during training camp, so we'll see.
His professional career has not gone as planned since being drafted in the second round by Cleveland.
In 2019, Williams was frequently exploited and hasn't touched the field since then.
There is a chance that Newsome comes right out of the gate and secures the No. 2 spot.
2. JOK Gets 70-Plus Tackles
The Browns traded up in the second round in order to select Notre Dame linebacker Jeremiah Owusu-Koramoah.
He was projected as one of the better linebackers coming into the draft, but almost fell into the third round.
It appears the reason he fell on draft day was because of a heart condition.
Jeremiah Owusu-Koramoah had a heart issue that came up late in the process and was a concern for most teams, which is why he fell out of the first round and to pick No. 52 with Cleveland, per sources. Doctors ultimately cleared Owusu-Koramoah but it did contribute to him falling.

— Adam Schefter (@AdamSchefter) May 3, 2021
Despite the recent report, the Browns believe Owuso-Koramoah will be fully healthy coming into the 2021 season.
He'll be competing in what has quickly become a crowded linebacker group.
Both Sione Takitaki and recently signed Anthony Walker should be named starters right away.
It wouldn't be shocking to see JOK beat out Jacob Phillips, Malcolm Smith, and Mack Wilson for the other starting linebacker spot.
The Browns used a high draft pick on Owusu-Koramoah, so he's expected to be a significant part of their defense.
That being said, it should be possible for him to record 70 or more tackles during his rookie campaign.
He finished with 80 and 62 tackles during his two seasons at the college level.
It won't be easy to secure playing time at linebacker, but don't be shocked if Owusu-Koramoah quickly climbs up the depth chart.
3. Tony Fields II Shines Like A Diamond
There are always a handful of hidden gems in every draft class.
This year, West Virginia linebacker Tony Fields II might be one of those players.
He was taken in the fifth round by Cleveland, but produced strong numbers while in college.
In 2020, Fields recorded 88 tackles, four tackles for loss, and one sack in nine games.
Those 88 tackles were the lowest number he recorded throughout his four seasons in college.
Perfect way to showcase the energy Tony Fields II plays with in two plays. Starts at edge on both plays and tracks the ball all the way across the field. Love his hustle and effort. pic.twitter.com/0xC7OZFbch

— Zach Hicks (@ZachHicks2) March 10, 2021
As already mentioned, the Browns are certainly loaded at linebacker.
However, it wouldn't be shocking to see Fields prove himself during training camp.
He is currently listed as a third string player heading into the season.
It shouldn't surprise anyone if Fields becomes a part-time or rotational player early in his career.
Honestly, Fields has starter potential, assuming he can iron out a few holes in his game.