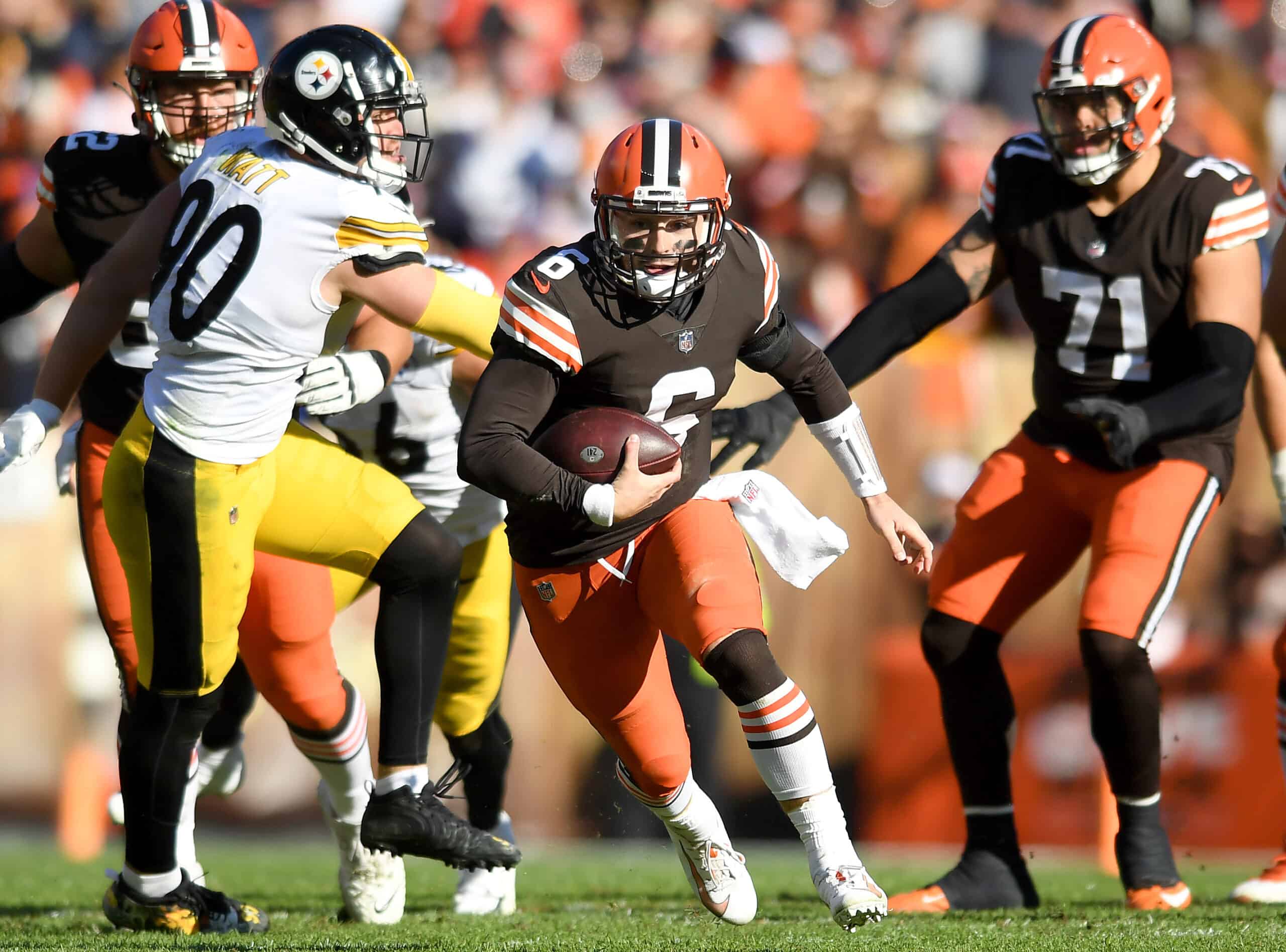 Everything is on the line for the Cleveland Browns and the Pittsburgh Steelers Monday night.
Playoff implications could still be in play for both teams.
If the Bengals and Ravens lose their games on Sunday- and they are both underdogs- this is an elimination game.
#Browns now have a 13.5% chance to make the playoffs and a 12.7% chance to win the AFC North, per ESPN FPI

— Jake Trotter (@Jake_Trotter) December 27, 2021
Nine wins could take the AFC North Division title, and the Steelers and Browns have 7.
That means even if the Browns are eliminated before Monday, they can still knock Pittsburgh out of the race.
And if that is not enough excitement for fans, this is likely Ben Roethlisberger's last career home game.
BREAKING; Ben Roethlisberger said today that Monday night's game against the Cleveland Browns is likely his final game at Heinz Field, his first public indication he will retire after the season.

— Gerry Dulac (@gerrydulac) December 30, 2021
Roethlisberger is talking retirement, and that is going to make for a loud and emotional stadium.
Throw in Roethlisberger's 17-6 MNF record, (7-1 at home), and the Browns have a tall task in front of them.
Here are 3 bold predictions for the Browns-Steelers game on Monday Night.
1. Hardest-Hitting Game of the Season 
Neither of these defenses has quite lived up to their preseason hype.
But in between some disastrous efforts, they've held opponents under 20 points an impressive 19 times.
Baker Mayfield comes off a shaky return from Covid and Roethlisberger seems less mobile each week.
And the pass rushers on both sides of the field can smell blood.
Myles Garrett AGAIN! 5 turnovers for the Steelers tonight pic.twitter.com/I5qCeALzr9

— uSTADIUM (@uSTADIUM) September 9, 2018
Each offense is loaded with receivers and backs who block as hard as their linemen, so some hitting is certain.
But this is going to be more than what fans are used to seeing because, well… these teams hate each other,
And if they are not going to win a division title, the next best thing is to take the other down with them.
Jadeveon Clowney and others are back to help a gimpy Myles Garrett get after Ben Roethlisberger.
But Pittsburgh's receivers and runners better be ready for some NFL-level brutality, too.
2. Lots of Dust Between Big Plays 
Pittsburgh and Cleveland want to run effectively to limit their vulnerabilities at quarterback.
And both defenses will be ready to squelch that plan as best they can.
But each team has big-play potential that comes through when they need it.
Fans can expect a lot of ugly run plays landing in the 0-to-2 yards range,
NICK CHUBB 🏠☎️

Browns strike first against the Steelers

(via @NFL) pic.twitter.com/1BRJq3DmKU

— FOX Sports: NFL (@NFLonFOX) January 3, 2021
Browns fans can consider those resting moments between a slew of 20-plus-yard gains for their runners.
Cleveland's defense is wary of Roethlisberger's receivers making a lot of yards out of nothing.
They'll have to do that a few times to keep Pittsburgh in this game.
And both quarterbacks will want to throw deep occasionally, to keep the defenses honest.
But this will be a tightly-played, defensive battle won by the team with the most (or best-timed) big plays.
3. Anthony Schwartz Is The Star Of The Game 
Anthony Schwartz scored his first NFL touchdown at Lambeau Field last week.
But it was more than a Christmas present from the football lords.
It was a sign of things to come for Browns fans.
Schwartz did not touch the ball often, with his 5-yard touchdown the only target he saw from Baker Mayfield.
Anthony Schwartz gets the first TD of his career!#CLEvsGB #Browns pic.twitter.com/XOKv9AMYKL

— SportsGrid (@SportsGrid) December 26, 2021
But he also ran twice around the end, picking up a pair of first downs with gains of 11 and 13 yards.
That is what fans might have hoped for from the speedy wideout when Andrew Berry drafted him.
And with Donovan Peoples-Jones struggling as the Browns WR-1, it makes Schwartz a weapon Monday.
Pittsburgh will remain concerned with DPJ and Jarvis Landry.
But Anthony Schwartz flirts with 100 total yards and scores a big touchdown in a Cleveland victory.