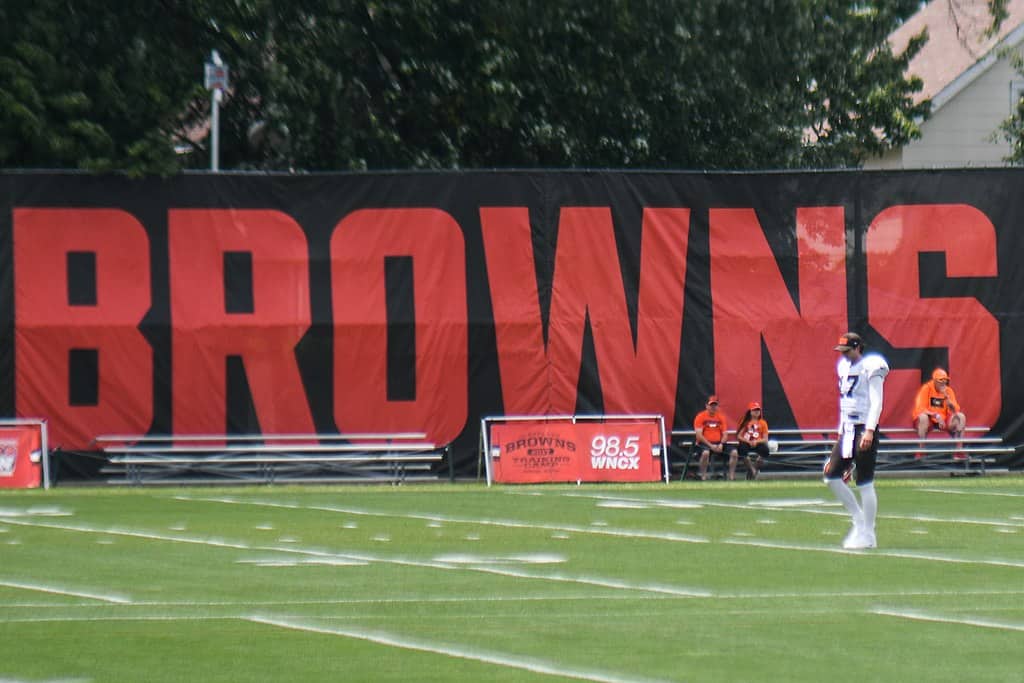 There is a great feeling in the air, and that great feeling is the Organized Team Activities in the NFL.
The Cleveland Browns' OTAs began on May 25, and there are the following three sessions of OTAs for them this year:
May 25 to 27
June 1 to 3
June 7 to 10
According to Mary Kay Cabot, the Browns have had a "good attendance" thus far at the optional workouts:
Good attendance for the #Browns in their first week of OTAs. Baker Mayfield and the offensive skill players will be in next week or for minicamp June 15-17 pic.twitter.com/Lem3BYTdtz

— Mary Kay Cabot (@MaryKayCabot) June 2, 2021
However, 35 players were not attending:
55 #Browns players are here at OTAs (mostly on defense) with 5 watching because of injuries. 35 are not here.

— Mary Kay Cabot (@MaryKayCabot) June 2, 2021
So, who should have been at OTAs this year?
Here are the top three players that should have made their way to the OTAs:
1. Jadeveon Clowney
Notable Browns defensive vets not at OTAs: J Clowney, T McKinley, J Johnson, T Hill, S Takitaki. Offensive vets expected next week.

— Tony Grossi (@TonyGrossi) June 2, 2021
Since the offensive veterans are expected to do some sort of training soon, we will focus on the defense here.
The first of the three important defensive newcomers to miss the OTAs is former overall No. 1 pick Jadeveon Clowney.
After beginning his career with the Houston Texans, he had one-year stints with the Seattle Seahawks and Tennessee Titans.
The 28-year-old defensive end played just eight games last season and did not record a sack.
With it being his first season in Cleveland, it would have been nice to see him at the OTAs.
The three-time Pro Bowler missed the Titans' 20-13 loss to the Baltimore Ravens in January, but he does have playoff experience.
As another defensive force for the Browns, fans have to hope he gets up to speed very quickly at mandatory minicamp, which is set for June 15 to 17.
2. John Johnson III
Entering his fifth year in the NFL, safety John Johnson III is ready to make an impact in the AFC.
The Boston College product is just 25 years old.
He should be able to beef up a Browns secondary that struggled to stay healthy last season.
He played all 1,024 snaps on defense for the Los Angeles Rams last season, so fans hope that he can stay healthy and be a consistent disruptor this year as well.
Pro Football Focus named him to its All-Pro Second Team last year after his 105-tackle performance.
The Browns finished in the bottom half in most defensive categories last year, so it would have been helpful to see Johnson at OTAs.
He will look to improve the Browns, especially in the following areas:
Points Allowed: Browns ranked 21st in NFL
Points Per Drive Allowed: 23rd
Yards Allowed: 17th
Yards Per Drive Allowed: 21st
Passing Yards Allowed: 22nd
Passing Touchdowns Allowed: 25th
Although there have been some mentions about character issues with Clowney in the past, Johnson does not seem to have those problems.
He should fit right in and vault the Browns defense to the next level.
3. Takkarist McKinley
Andrew Berry and company made another impressive defensive addition with outside linebacker "Takk" McKinley.
The 26th overall pick of the 2017 NFL draft signed a $6 million deal with the Browns in March.
The Atlanta Falcons, who traded up to get McKinley in the draft four years ago, released him after he played just four games played in 2021.
Last November, the Cincinnati Bengals and San Francisco 49ers were interested in McKinley.
They both claimed him, but he failed both of their physicals.
McKinley's skills, which have led to 17.5 sacks in 49 career NFL games, could be very helpful to the Browns in 2021.
It would be great to see him on a field soon to see how he is looking heading into the season after dealing with a groin injury last year.