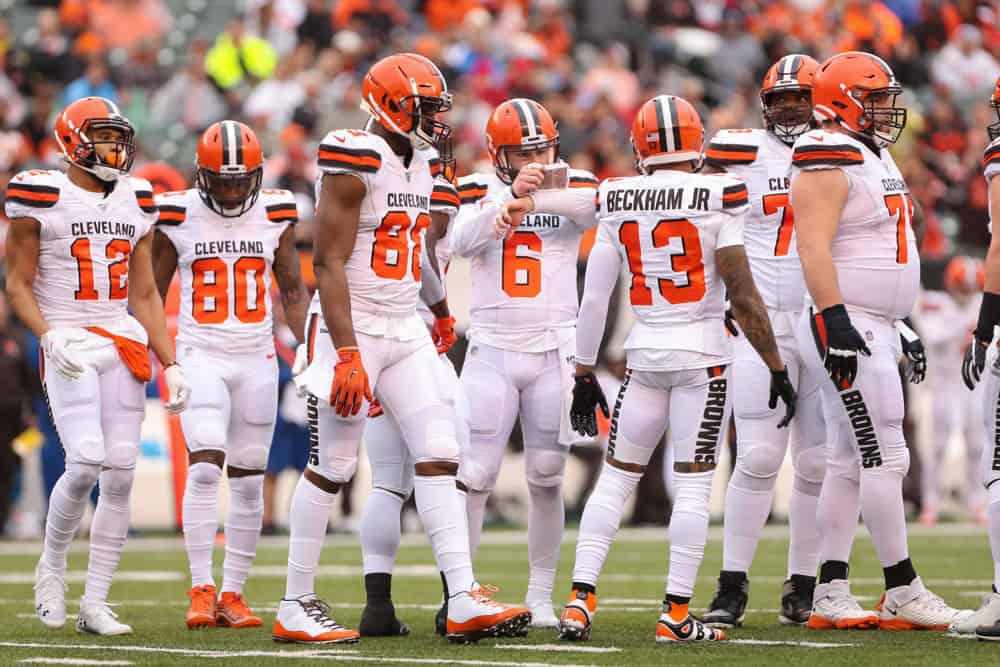 It's time to conduct the post mortem on the Cleveland Browns 2020 season.
Overall, the Browns had a great season, but there were underachievers.
You may disagree with the list, but consider it on its merits anyway.
Here are 3 Browns players that underachieved in 2020.
1. Austin Hooper, Tight End
Even I had to say, Hooper made a clutch catch in the Chiefs game to keep the Browns in it a little longer.
That catch came on 4th down, late in the 4th quarter.
This season-saving catch from Austin Hooper 🤯

(via @thecheckdown)pic.twitter.com/iNels878DP

— Bleacher Report (@BleacherReport) January 17, 2021
But to be honest, has Hooper really earned that big salary this year?
Yes, he had an appendectomy so he missed playing time.
And maybe he was heavily covered in other situations.
The Browns have depth at the tight end position, and it comes at a much lower price.
46 catches for 435 yards and 4 TDs during the regular season is pretty good.
Rookie Harrison Bryant also missed time but managed 24 receptions for 238 yards and 3 TDs.
David Njoku had 29 catches for 213 yards and 2 TDs.
The estimated pay differential per season is Hooper $10 million, Njoku $2.3 million, and Bryant $1 million.
(Note: Up front money is not calculated in the above numbers; this is just the total contract value divided by the quantity of years of the contract.)
2. Andrew Sendejo, Defensive Back
Everyone can agree on this selection.
You could argue that Sendejo had a bigger role than expected because of injuries, but he most definitely struggled.
Sendejo is 33 years old, and he has history working with defensive coordinator Joe Woods and Coach Stefanski in Minnesota.
At one point late in the season, Pro Football Reference assessed him with the worst passer rating allowed by a defender.
Worst passer rating allowed by a defender:
1. Andrew Sendejo – 150.5
2. Antoine Winfield Jr. – 145.3
3. Xavier Woods – 144.6
4. Ashtyn Davis – 142.5

Best:
1. Xavien Howard – 42.3
2. L'Jarius Sneed – 42.6
3. Matt Milano – 47.2
4. Bryce Callahan – 47.8

— ProFootballReference (@pfref) December 12, 2020
The silver lining in this story is that Sendejo was only signed to a 1 year $2.2 million dollar contract for the 2020 season.
Sendejo is a free agent decision that should not be difficult; it is practically a no-brainer.
Despite his prior connections to Stefanski and Woods, he will not be back with the Browns next season.
3. Odell Beckham Jr., Wide Receiver
Yes, he got injured in October so that impacted his numbers in 2020.
But it's time to take a brutally honest look at OBJ.
He is an amazing athlete and a great talent.
However, he is injury-prone, and they are not small injuries either.
Surgeries and lengthy rehab are involved.
Like with Hooper, the Browns are not getting the bang for their buck.
The Browns inherited the 5 year $90 million dollar contract from the New York Giants.
Within that current arrangement, he is with the Browns through the 2023 season.
Yes, he is a deep threat and his presence on the field usually invites double coverage, at least.
However, the Browns won without him and saw growth from the young guns including Donovan Peoples-Jones.
KhaDarel Hodge also shows promise early in his career.
Before OBJ arrived, Rashard Higgins was one of Baker Mayfield's favorite targets, and we saw that again after OBJ went out.
It's crazy but I think you have to re-sign Higgins, trade OBJ, and draft a speed wideout. Higgins is more important to Baker than OBJ

— Matty (@MattyMasCLE) January 18, 2021
There will be plenty of discussions across all NFL franchises this offseason.
The 2020 salary cap of $198.2 million will be decreased for 2021 due to the financial implications of the COVID-19 pandemic.
It is rumored to be anywhere from $175 million to a best case scenario of $195 million.
That will play a part in what each team does with some of its underperforming players, including the Cleveland Browns.