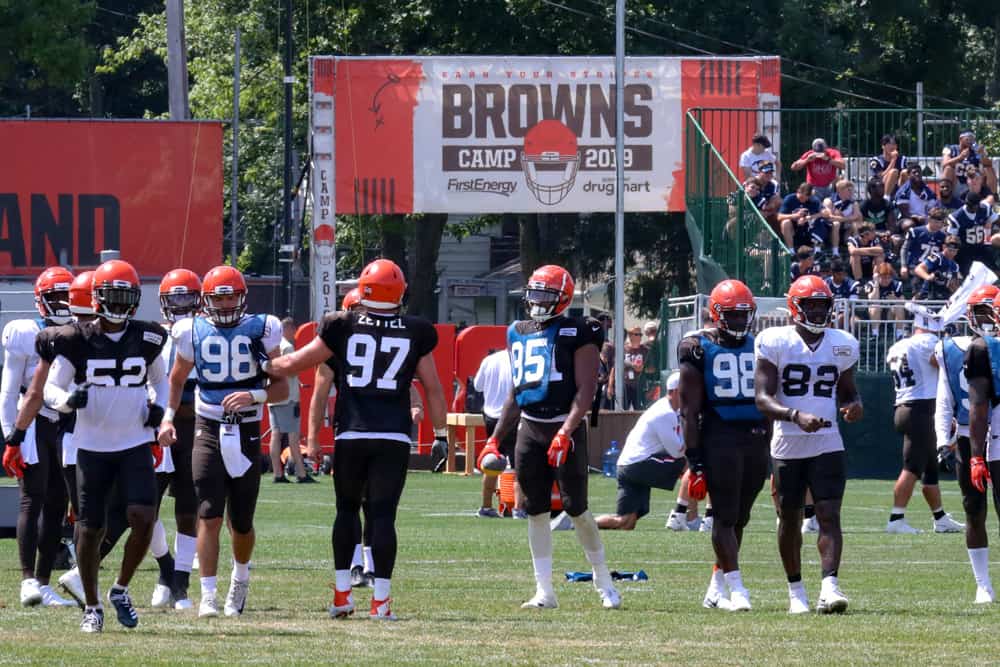 The Cleveland Browns are scheduled to begin full squad training camp on July 28, 2020.
A virtual offseason has limited face-to-face meetings and workouts.
An abbreviated preseason game schedule (from 4 games to 2) will push players on the fringes to work harder and prove themselves.
In particular, there are 3 young Cleveland Brown players whose 2020 hopes may be made or broken based on their training camp performances.
1. Pharaoh Brown – TE
At 26 years old, Pharaoh Brown is in his 4th NFL season and 3rd season with the Browns.
He signed a 1 year, $750,000 contract for the 2020 season.
His talent has largely been unproven due to injuries and personal issues.
Most notably, he suffered a traumatic knee injury while playing at Oregon in November 2014 that resulted in 3 surgeries.
It was later revealed that his leg nearly had to be amputated because he suffered from a stretched artery that caused internal bleeding and cut off blood flow to his shin.
Even if David Njoku is traded per his request, Brown is competing with Austin Hooper, Stephen Carlson, and Harrison Bryant among the TE ranks.
There's a reason the browns made Austin Hooper the highest paid TE in the game. Losing Njoku is irrelevant, one less guy u gotta worry about paying. Ideally you'd want TE2 to be a better tackler. Opens up a spot for the rookie or Pharaoh Brown

— Katelin (@KatelinKnowsCLE) July 3, 2020
However, Coach Stefanski is known for multiple TE plays and used multiple TEs at a league-high rate of 57% last season (with the Vikings) so if Pharaoh Brown scores the 3rd TE position on the roster, he will be heavily involved in the offense.
2. JoJo Natson – WR/Special Teams
Bruce Natson, nicknamed JoJo, comes to Cleveland via the Los Angeles Rams.
At 26 years of age, he has not taken an offensive snap since 2017 with the New York Jets.
Natson signed a 1 year, $1,000,000 contract with the Browns for the 2020 season.
Special teams is his forte; however, if he wants to play a part in the 2020 Browns offense with OBJ, Jarvis Landry, and Rashard Higgins, he needs to step it up at camp.
Natson is small by any standards at 5'7″ and 153 pounds, but he is quick.
He averaged 22 yards per kickoff and 8 yards per punt in 2019.
Those are solid numbers, but no barn burners by any stretch.
More importantly, Natson had solid hands last year and had no fumbles.
He also faces competition at both WR and special teams with 2020 NFL Draft selection (6th round, 187th overall) Donovan Peoples-Jones.
3. Donovan Olumba – CB
Donovan Olumba, released by the Dallas Cowboys in March 2020, is 24 years old.
He was an UDFA signed by the Cowboys in 2018 and signed a 1 year, $610,000 contract with the Browns for the 2020 season.
Olumba had a solid career at Portland State, but his draft stock was perceived to be low because of the competition he played against.
His size is an advantage at the cornerback position.
He is 6'2″ and 208 pounds.
The 4.62 second 40-yard dash he ran at his Pro Day tells the story; he is not as quick as his peers at the CB position.
Denzel Ward and Terrance Mitchell are expected to occupy the top 2 roster spots on the left side.
Olumba could make things interesting with a good performance at camp given that Donnie Lewis and Jameson Houston will also be vying for spots.
All 3 of these players are young and relatively unproven at their positions.
They need to perform well at training camp to earn roster spots amid stiff competition with veterans and rookies alike.