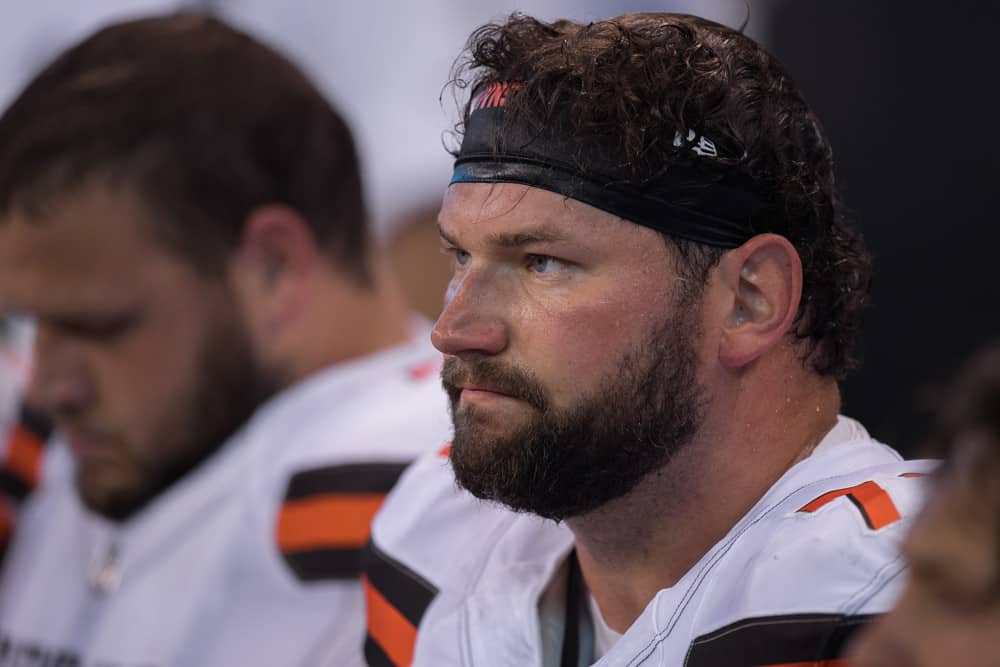 Cleveland Browns legend Joe Thomas has been a busy man since he left the NFL in 2017.
He is an analyst on NFL Network.
Recently, he performed very well in NBC's physically grueling "The Titan Games" TV show.
.@Matt1Chan is giving it his all, but @joethomas73 won't be giving up that easily! #TitanGames pic.twitter.com/LJrY1LHgdD

— The Titan Games (@nbctitangames) May 26, 2020
And he is mentoring Jedrick Wills so he can make a successful switch from right to left tackle.
But perhaps the most discussed part of Joe Thomas's post-NFL career is his physical transformation.
He is barely recognizable in side-by-side photos from his playing days.
Use the Retweet button as a round of applause for @joethomas73 incredible transformation. pic.twitter.com/JkquDuRRN4

— Andrew Hawkins (@Hawk) March 17, 2019
NFL "Diet"
To keep his playing weight over 300 pounds, Thomas ate every 2 hours.
His typical day of food consumption looked something like this:
Breakfast: 8 eggs, 3 pancakes, 4 sausage links, 4 pieces of bacon, and oatmeal with peanut butter
Snack: Protein shake
Lunch: Pasta, meatballs, cookies, and maybe salad as well as other delicacies that could be found in the team's cafeteria
Dinner: Entire Detroit-style pizza, 1 sleeve of Girl Scout cookies (Thin Mints), a bowl of ice cream
Snack: Protein shake
To most of us, this sounds like a dream diet, but it doesn't come without consequences.
Thomas would often wake in the middle of the night and consume Tums.
Heartburn was a nagging problem.
Pain and anti-inflammatory medications were necessities because of the stress the extra weight put on his body.
Standing for more than a few minutes was painful for him.
Post NFL Diet
Thomas admitted that the first 25 of the 60 pounds he shed came off pretty easily.
Facts: I think the first 25 fell off in a month, than I had to kick my butt to keep going. Swimming is the best from a cardio standpoint, and #keto w/ intermittent fasting is gold. I can eat 1500-2000 cals/day and feel full. https://t.co/HToJA3VVat

— Joe Thomas (@joethomas73) March 17, 2019
"You just don't eat until you feel like you're gonna throw up at every meal and all of a sudden the weight falls right off, " Thomas told NFL.com back in 2019.
Losing the other 35 pounds was a struggle.
He gave up carbs, breakfast, and has done intermittent fasting to get to 250 pounds.
Thomas also rides bike and practices yoga.
He says not only his body has transformed, but his skin is clearer.
Disturbing Trend
Joe Thomas is not alone in making a retirement transformation.
In fact, it could be called an unhealthy trend where guys are forced to carry more body weight to play in the NFL.
Other former offensive linemen talk about shedding the playing weight and becoming healthier in retirement.
The benefits of being a healthy weight are highly documented.
Stress on the joints and the internal organs is relieved.
Minimizing the risk of debilitating diseases like cancer, diabetes, Alzheimer's, and others occur when the weight is gone.
The playing diet could potentially encourage an eating disorder also.
This artificial weight gain is not studied or discussed nearly as much as CTE is.
While it may not be as devastating, it is still troublesome.
The NFL does address it as part of its Bridge to Success Program which helps players transition to retirement.
But it seems the issue will not resolve itself given the nature of the position.
As Thomas has said, "Being skinny as a lineman wouldn't be helpful, because you would have to create more force to stop those big guys.  Inertia becomes an issue. I'm a big, fat guy, you're running at me, you don't have to create as much force because I'm just heavier, fatter and have more mass."