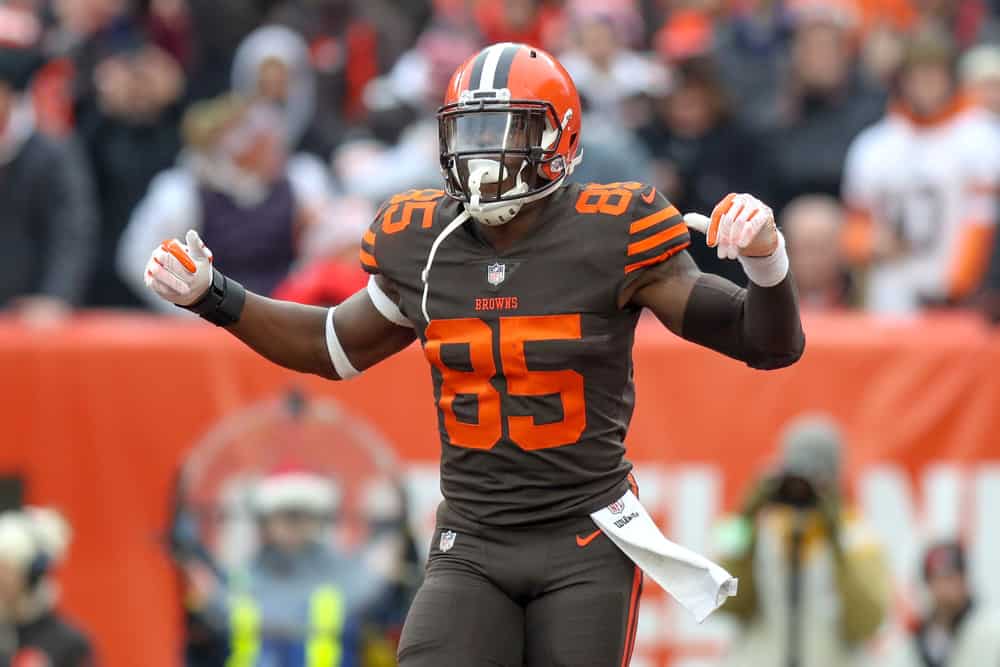 While Browns fans are getting excited for their Fourth of July holiday, Adam Schefter reported some unfortunate news regarding tight end David Njoku:
1/2 Browns' TE David Njoku and his agent Drew Rosenhaus asked today for the team to trade him. The Browns told Njoku they would like to keep him, but Rosenhaus told them he's intent on a trade. They want a trade before training camp.

— Adam Schefter (@AdamSchefter) July 3, 2020
2/2 About David Njoku's trade request today to the Browns, agent Drew Rosenhaus said: "It is in David's best interest to find a new team at this time."

— Adam Schefter (@AdamSchefter) July 3, 2020
With the Browns signing Austin Hooper during the offseason, Njoku was initially excited.
In the since-deleted tweet, Njoku was enthused about them pushing each other:
Nahhhh man cmon I love competition. We'll push each other and get better together🦾 https://t.co/nmAoz5cgl5

— Chief David Njoku (@David_Njoku80) March 16, 2020
However, about two and a half months later, the Browns' first-round selection in 2017 has changed his mind.
By deleting the tweet, Njoku is ready to move on from the Browns.
He is now demanding a trade before training camp begins.
Why Does Njoku Want Out of Cleveland?
While Njoku may have appeared ready to be a part of Baker Mayfield's large array of options, there are several reasons why he may have changed his mind.
The Browns said that they wanted Njoku for their long-term plans and exercised his fifth-year option, but Njoku and Rosenhaus may think that he can be featured more elsewhere.
Njoku, the Browns' No. 29 overall selection in the 2017 NFL Draft, caught four touchdowns in each of his first two professional seasons.
After playing all 16 games in 2017 and 2018, he played just four games and had just five receptions last year due to injuries.
Heading into 2020, the Browns were hoping for a bounceback season for the soon-to-be 24-year-old.
Kevin Stefanski had shown a track record of utilizing two-tight end sets:
Reminder that #Browns coach Kevin Stefanski employed two-plus tight ends more than any team in the NFL last season with the #Vikings.

Austin Hooper + David Njoku can coexist in Cleveland.https://t.co/CPDHqP434B https://t.co/R3N5L00G8Z

— Marc Sessler (@MarcSessler) March 16, 2020
Unfortunately, Njoku's camp does not see this coming to fruition.
By demanding a trade, the "Chief" thinks that he can build on his impressive sophomore season.
During his 2018 season, Njoku was one of the 10 most productive tight ends in terms of receiving.
He played 80 percent of the team's snaps on offense.
Njoku Does Not Feel He Can Perform as a Top Tight End with Austin Hooper on the Team
With the Browns bringing on Hooper for a record deal for a tight end, Njoku must have felt that he was not going to be able to produce in the 2020 Browns offense.
Mayfield was going to have a shiny new toy in Hooper and Njoku would be relegated to the bench in single tight end sets.
It is understandable for him to feel this way, and it is possible that Njoku and Rosenhaus had conversations with the Browns coaches about Njoku's potential snap count.
There may have been behind-the-scene conversations that mentioned how Njoku would have to be utilized less than if Hooper was not brought to Cleveland.
By deleting the aforementioned tweet, Njoku may have felt threatened by Hooper's presence.
There is a definite chance that if Hooper was not in Cleveland, then a healthy Njoku could have been a top 10 tight end for several years.
With the current situation for the Browns, they may be able to gain some draft picks or some help on defense with a trade of Njoku.
However, they may not be able to get that much value knowing that Njoku wants to be traded as soon as possible.
Did the Browns Draft Harrison Bryant Because They Thought They Might Part Ways with Njoku?
Meanwhile, the Browns have a new tight end that may be able to fill the shoes as the second tight end on the depth chart: Harrison Bryant.
In the fourth round of the 2020 NFL Draft, the Browns selected Bryant out of FAU.
Pro Football Focus rated him very highly:
Harrison Bryant's 2019 season was the most valuable among any NFL Draft eligible tight end. pic.twitter.com/U84oTVfEmq

— PFF College (@PFF_College) April 25, 2020
In addition, NFL.com's Lance Zierlein gave Bryant very high marks.
Zierlein compared Bryant to San Francisco 49ers two-time Pro Bowl tight end George Kittle.
If Bryant can even become half of what Kittle produces, then the Browns will be satisfied having Hooper and Bryant moving forward.