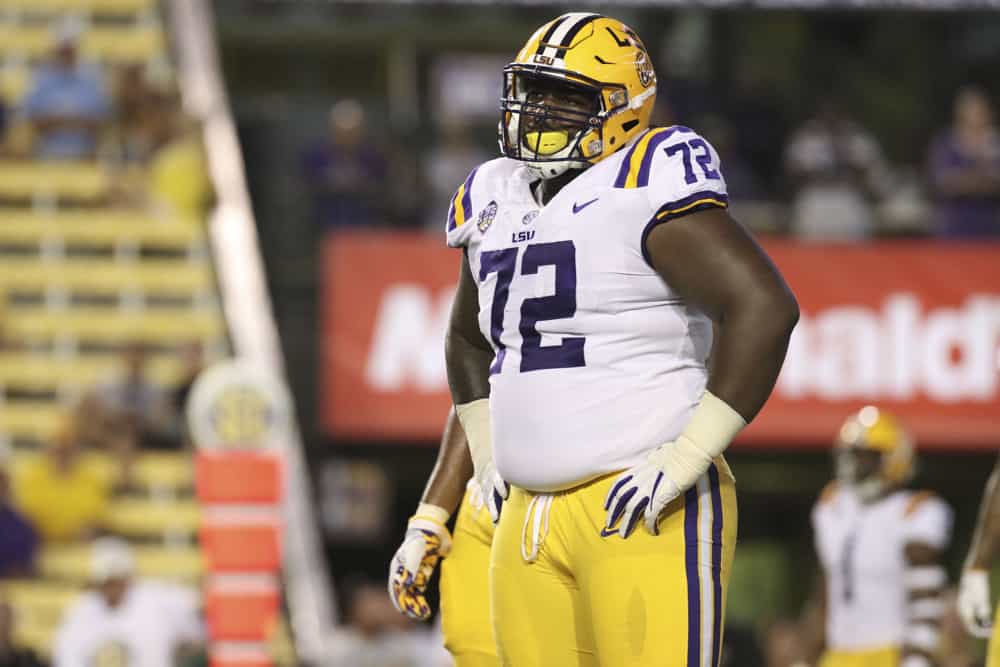 Earlier this week, the Cleveland Browns decided to cut veteran defensive tackle Sheldon Richardson.
It was an odd decision considering the Browns don't have much depth at the position.
The front office saved cap space from this move, but also created a hole on the defensive line.
Most of the impactful free agents have already signed this offseason.
That being said, the Browns are likely going to be forced to draft a replacement for Richardson.
Here are 3 defensive tackles they could draft to replace Richardson.
1. Christian Barmore, Alabama
It's no secret that Alabama defensive tackle Christian Barmore is a top tier prospect.
He is already drawing comparisons to Derrick Brown, which is a huge compliment.
Last season, the Carolina Panthers selected Brown with the No. 7 overall pick in the draft.
It's unlikely that Barmore gets taken that high, but that isn't a knock on his skill.
He's an explosive player with the size and burst to make a significant impact at the professional level.
DT1 doing DT1 things.

Christian Barmore is also a stud folks. pic.twitter.com/y0fCnAMDgi

— Boom or Bust: The Draft Show (@BoomOrBustDraft) January 1, 2021
Over the last two seasons, Barmore earned pass rushing grades of 88 or higher, according to Pro Football Focus.
There are not too many negatives in his game, which is why he'll likely be a first-round pick.
In 2020, Barmore recorded 37 tackles, 9.5 tackles for loss, and eight sacks in 11 games.
The biggest question is will Barmore will around when the Browns pick at No. 26?
He certainly made a name for himself with two strong seasons at Alabama.
Cleveland might be forced to trade up, assuming they want to target Barmore on draft day.
However, it might be worth it as Barmore could be a Day 1 starter for the Browns.
2. Tyler Shelvin, LSU
This is a draft class without too many top tier defensive tackles outside of Barmore.
However, one under-the-radar option for Cleveland could be LSU tackle Tyler Shelvin.
In 2019, he earned an 88.3 run-defense grade and helped LSU win a national championship.
Shelvin is arguably the best run-stopper in the entire draft class.
He has the quickness and burst that is quite unique for a player of his size.
Tyler Shelvin's NFL comp is a piece of concrete from the Vet pic.twitter.com/gLhVfaVwXg

— Ben Fennell (@BenFennell_NFL) January 25, 2021
The biggest problem is that Shelvin does weigh nearly 400 pounds, which is not going to fly at the professional level.
He will have a tough time finding success in the NFL being that size.
In 2019 Shelvin recorded 39 tackles and three tackles for loss in 13 games.
He is not going to be the type of player that shines on the stat sheet.
Honestly, opting out of the 2020 season is likely going to hurt him on draft day.
Despite that, Shelvin is an intriguing prospect who could make an impact at the professional level, assuming he is given the time to develop his game.
3. Osa Odighizuwa, UCLA
It's quite surprising that UCLA tackle Osa Odighizuwa isn't getting more attention.
He put together a quality four-year career in college, which is quite rare.
On paper, Odighizuwa is a bit undersized, which might hurt him on draft day.
Despite that, he recorded 120 tackles, 27.5 tackles for loss, and 11.5 sacks during his college career.
He graded well for an interior player in one-on-one matchups, but there is still some concern.
His game might not transition well to the professional level, which means he could be a bit of a developmental prospect.
There is a good chance that Odighizuwa could be an impactful player in the NFL, but is uncertain if he'll ever be a full-time starter.
At the end of the day, this draft class has raw DT prospects with decent upside, so Cleveland won't have an easy time replacing a player like Richardson right away.