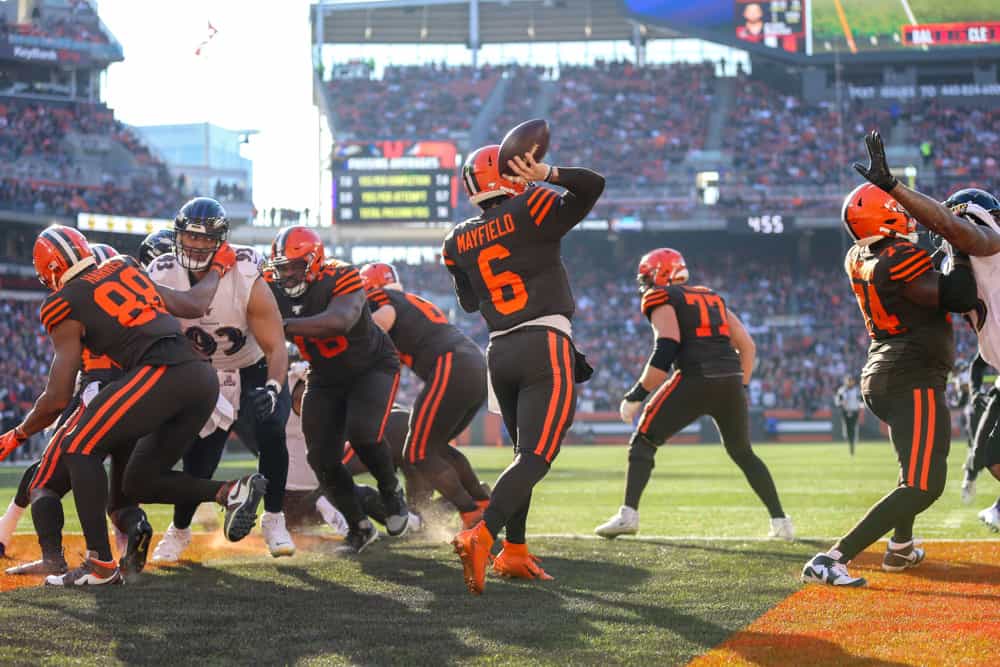 Starting the season off 1-0 will be a tall task for the Cleveland Browns.
The Browns begin their playoff aspirations against one of the AFC's top teams in the Baltimore Ravens.
To make matters worse, the game will be on the road.
In order to pull off the upset, the Ravens are 7.5-point favorites, the team will need to do the following.

1. Hold The Prime Rushers To Under 150 Yards
When I mean prime rushers, I am mainly talking about Lamar Jackson, Mark Ingram, and Gus Edwards.
Jackson, the reigning league MVP, was a monster last year.
.@Lj_era8 proved doubters wrong:

• First QB in NFL history to throw for 3,000 & rush for 1,000

• 43 total TDs (37 passing) – both were most in NFL

• 1,206 rush yds set new QB record

• 2019 Pro Bowl, All-Pro, MVP

2020 is filled with doubters again. He's ready.

(@Ravens) pic.twitter.com/eMGixQzQGs

— Sarah Ellison (@sgellison) September 8, 2020

If the Browns are going to truly stay in this game, their rush defense will have to be at least average.
Jackson is going to get his rushing yards but the question is how many?
Can the Browns keep Jackson under 100 yards?
Last year, the Browns were the 30th ranked rush defense (144.7 yards allowed per game) and the team has a new defensive coordinator.
There a lot of question marks and this will be the true first ultimate test.

2. Force Ravens Out On Third Down
Take a look at these crazy stats.
Want to know why the Ravens offense was so good in 2019?

Baltimore ranked in the top two in both third down conversion rate and fourth down conversion rate

Third down conversion rate: 47.1% (1st in NFL)
Fourth down conversion rate: 70.8% (2nd in NFL)

— Kevin Oestreicher (@koestreicher34) July 21, 2020
Again, it's no secret how dominant the Ravens were on offense.
When the Ravens were 20-yards or fewer away from the goal line, the Ravens scored a touchdown 67.2% of the time.
Realistically, the Browns are not going to hold the Ravens below 20 points.
However, holding the Ravens to at least 20 points would keep the team in the game if the defense can force the Ravens to punt.

3. A 300 and a 100
When the Browns defeated the Ravens 40-25 last year, there were two numbers that stuck out.
Baker Mayfield's 342 passing yards and Nick Chubb's 165 rushing yards and three touchdowns.
Final Score: Browns 40 | Ravens 25

– Baker Mayfield: 20/30 for 342 yards, 1 TD and 1 INT
– Nick Chubb: 20 carries for 165 yards and 3 TDs
– Jarvis Landry: 8 catches for 167 yards
– Joe Schobert 17 tackles, 1 QB hit and 1 sack

— Everything Cleveland (@EverythingCLE_) September 29, 2019
In order for the Browns' offense to keep pace, Mayfield is likely going to have to put up another 300-yard performance.
Jackson's ability as a dual-threat quarterback means that Mayfield has to keep pace someway.
Throwing the ball and completing at least 66% of his passes could keep pace with Jackson's potential night.
In the loss, the Ravens rushed for 173 yards, while Chubb put up a monster night.
The Browns are going to need a replicated effort with hopefully Kareem Hunt pitching in.