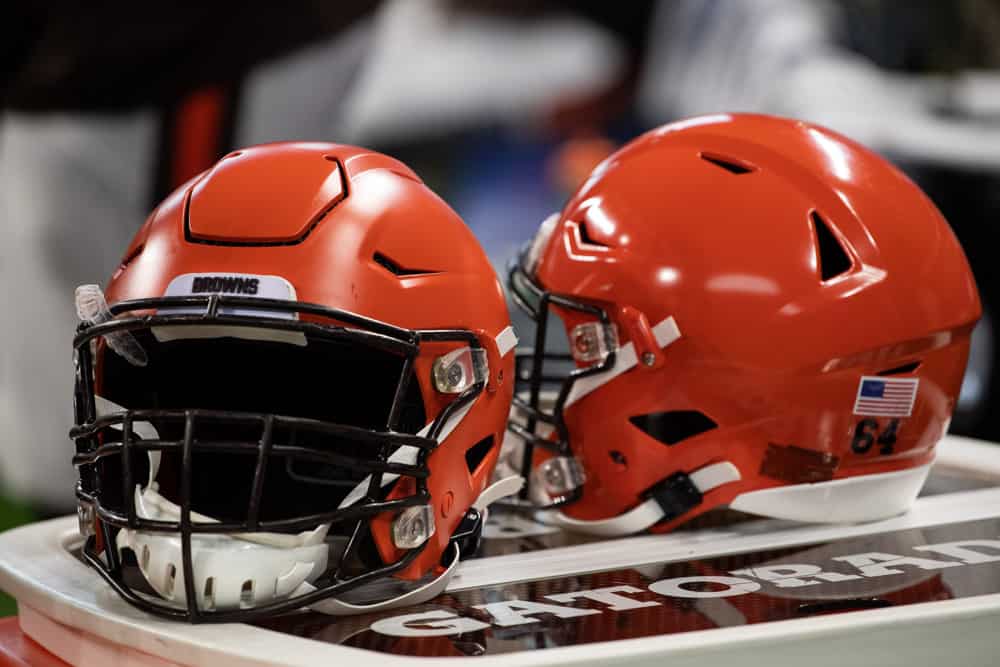 The Cleveland Browns are hopeful to keep their winning streak alive on Sunday.
They will have a tough matchup against the Indianapolis Colts in Week 5.
Both teams head into this contest with a 3-1 record on the season.
The Browns are coming off a big win against the Dallas Cowboys last week.
They'd love to carry that momentum into this game, but beating Indy won't be an easy task.
There are a few key matchups in this one that fans should look out for on Sunday.
3. Denzel Ward vs T.Y. Hilton
Indy is a little banged up at wide receiver right now, so that is good for Cleveland.
However, they still have four-time Pro Bowl receiver T.Y. Hilton who is healthy heading into Sunday.
The Browns secondary has struggled this season, so slowing down Hilton is key to getting the victory.
Cleveland is expected to put young stud defensive back Denzel Ward on Hilton.
Ward came up clutch for the Browns last week as he caught an interception at the goal line that secured the victory for Cleveland.
.@denzelward with the takeaway‼️

📺: @foxsports pic.twitter.com/LtAwf146xo

— Cleveland Browns (@Browns) October 4, 2020
One of the biggest threats on offense for the Colts is the speedster Hilton.
The 30-year-old receiver has been limited by injuries the last few seasons.
However, he is a dangerous weapon for the Colts offense when healthy.
Ward will be asked to step up and slow down the Colts most powerful weapon in the passing game.
2. Myles Garrett vs Colts O-Line
It's looking like the Browns made a brilliant decision by extending defensive end Myles Garrett this offseason.
The 24-year-old superstar pass rusher is putting up monster numbers early in the season.
Through four games, Garrett has five sacks, three fumbles forced, and two fumble recoveries.
His performance last week was a big reason why the Browns were able to defeat the Cowboys.
Myles Garrett is too smooth 🔄

(via @thecheckdown) pic.twitter.com/pXzHfdz8Gn

— ESPN (@espn) October 4, 2020
Garrett will now be asked to step up against the Colts elite offensive line.
This will be a tough challenge for Garrett, but he appears to be on another level this season.
The Browns are likely going to move Garrett around on the d-line in order to create mismatches for the Colts offensive line.
Getting pressure on quarterback Philip Rivers will be key to coming away with the victory.
This is likely the hardest task for Garrett this season, but he has looked nearly unstoppable so far.
1. Odell Beckham Jr. vs Xavier Rhodes
It'll be interesting to see which one of these two stars is going to take advantage on Sunday.
Last week, Odell Beckham Jr. was able to destroy the Cowboys with ease.
He finished with five receptions for 81 yards and caught two touchdowns.
That wasn't all, he also put the dagger in Dallas with a late-game reverse run for a touchdown.
ODELL BECKHAM JR.

📺: #CLEvsDAL on FOX
📱: NFL app // Yahoo Sports app: https://t.co/wvEEn0SFTV pic.twitter.com/A8P7Hx8E7H

— NFL (@NFL) October 4, 2020
The 27-year-old receiver is finally beginning to look like the superstar that the Browns wanted last season.
However, Beckham will have to work hard for his receptions against the Colts.
He'll be matched up against three-time Pro Bowl defensive back Xavier Rhodes.
Last season, Rhodes was one of the worst corners in the entire league.
Somehow, Rhodes has made a complete turnaround and looks like a superstar again.
The top five highest graded #Colts players on @PFF this season:

1. Mo Alie-Cox = 93.1
2. DeForest Buckner = 90.7
3. Xavier Rhodes = 82.0
4. Darius Leonard = 81.6
5. Philip Rivers = 77.0 pic.twitter.com/fHhkgB3mhR

— Locked On Colts Podcast (@LockedOnColts) October 7, 2020
The Browns desperately need a good performance out of Beckham, especially with running back Nick Chubb being sidelined on Sunday.
Beckham has shown he's capable of making big plays on offense, but now he'll need to do it against one of the better defensive backs in the league right now.