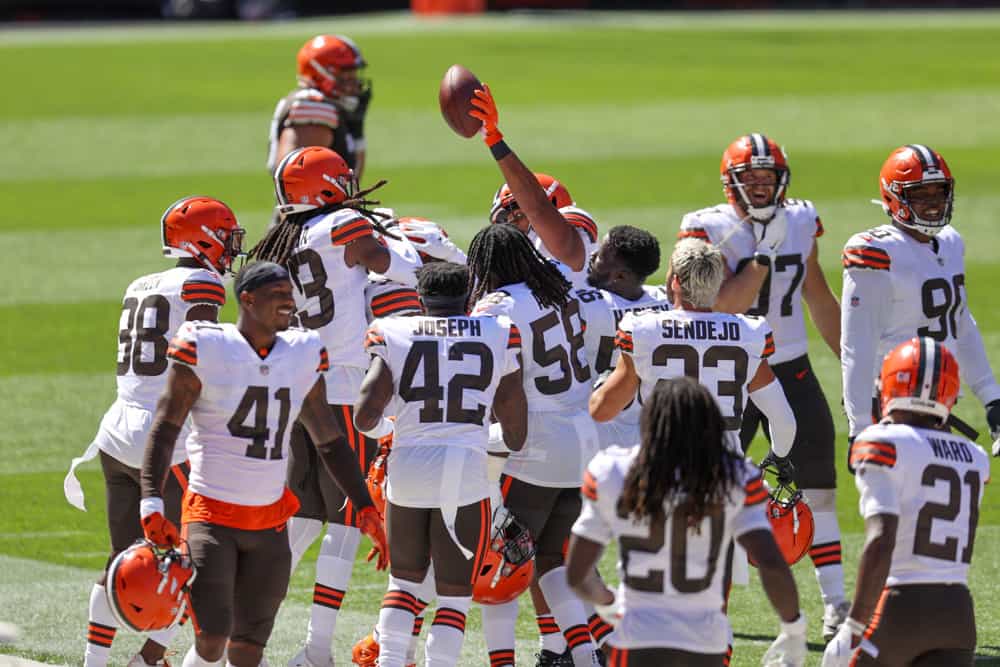 The Cleveland Browns are in good position after beating the Dallas Cowboys in Week 4.
They've pushed their record to 3-1 for the first time since 2004.
However, Cleveland will have a tough challenge against the Indianapolis Colts on Sunday.
Indy has a solid defense and one of the best offensive lines throughout the NFL.
The Browns are going to need big contributions from a few players if they want to pull off a victory in Week 5.
3. Myles Garrett
The 24-year-old superstar defensive end Myles Garrett is a problem for opposing offensive lines every week.
Through four games, Garrett has five sacks, three fumbles forced, and two fumble recoveries.
As mentioned before, the Colts have an elite offensive line, but stopping Garrett is never an easy task.
Myles Garrett's spin move before the sack 😤

(via @thecheckdown)pic.twitter.com/QypEuGatcK

— Bleacher Report (@BleacherReport) October 4, 2020
The Browns will need to get pressure on quarterback Philip Rivers in order to win this game.
Cleveland has a banged up secondary and they can't let Rivers have time in the pocket.
Obviously, that means everyone on the defensive line needs to step up.
However, Garrett has looked unstoppable at times this season, so he could end up having a huge game for Cleveland in this one.
Myles Garrett's spin move before the sack 😤

(via @thecheckdown)pic.twitter.com/QypEuGatcK

— Bleacher Report (@BleacherReport) October 4, 2020
The Colts might attempt to double Garrett in order to slow him down.
While that might work, it'll open up opportunities for other players to make plays on defense.
Regardless, Garrett is the kind of player that can change the outcome of a game with the way he plays.
2. Kareem Hunt 
The Browns are going to be without running back Nick Chubb for Sunday's game.
That means, Kareem Hunt will be asked to be the lead back until Chubb returns.
This is a big blow to the Browns offense, but Hunt should not be overlooked.
Highest graded Wk4 RBs ahead of MNF:

1. Dalvin Cook – 87.1
2. Antonio Gibson – 83.8
3. Kareem Hunt – 81.8
4. Latavius Murray – 80.7
5. Alvin Kamara – 80.4 pic.twitter.com/NB2svnX74U

— PFF (@PFF) October 5, 2020
This season, Hunt has 275 rushing yards on 50 attempts with three touchdowns through four games.
He has been a dangerous weapon in both the running and passing game for Cleveland.
The Colts pass defense is no joke, so the Browns might lean on the running game and short passes.
Hunt could very well be heavily utilized on Sunday, so he'll need to make a significant impact in order for Cleveland to pull off this win.
1. Odell Beckham Jr.
Superstar wide receiver Odell Beckham Jr. has a chance to have a huge game against the Colts.
Indy does have a strong pass defense, but stopping OBJ is never an easy task for any defense.
Last week, Beckham hauled in five receptions for 81 yards and two touchdowns in the victory over Dallas.
I'm sure Cowboys fans are sick of seeing OBJ, especially after he put the dagger in them with a ridiculous reverse run for a touchdown.
ODELL BECKHAM JR. ‼️

(via @NFL) pic.twitter.com/PCznRLQfUy

— SportsCenter (@SportsCenter) October 4, 2020
Beckham will likely be lined up with defensive back Xavier Rhodes on Sunday.
Last season, Rhodes was one of the worst corners in the entire NFL.
However, he has turned it around and been one of the better players on the Colts roster.
The top five highest graded #Colts players on @PFF this season:

1. Mo Alie-Cox = 93.1
2. DeForest Buckner = 90.7
3. Xavier Rhodes = 82.0
4. Darius Leonard = 81.6
5. Philip Rivers = 77.0 pic.twitter.com/fHhkgB3mhR

— Locked On Colts Podcast (@LockedOnColts) October 7, 2020
It'll be interesting to see how Beckham does versus Rhodes on Sunday.
The Browns need Beckham to continue being the superstar receiver they know he's capable of being each week.
Cleveland is without Chubb, so it's time for Beckham to step up and be a big time playmaker for the Browns.