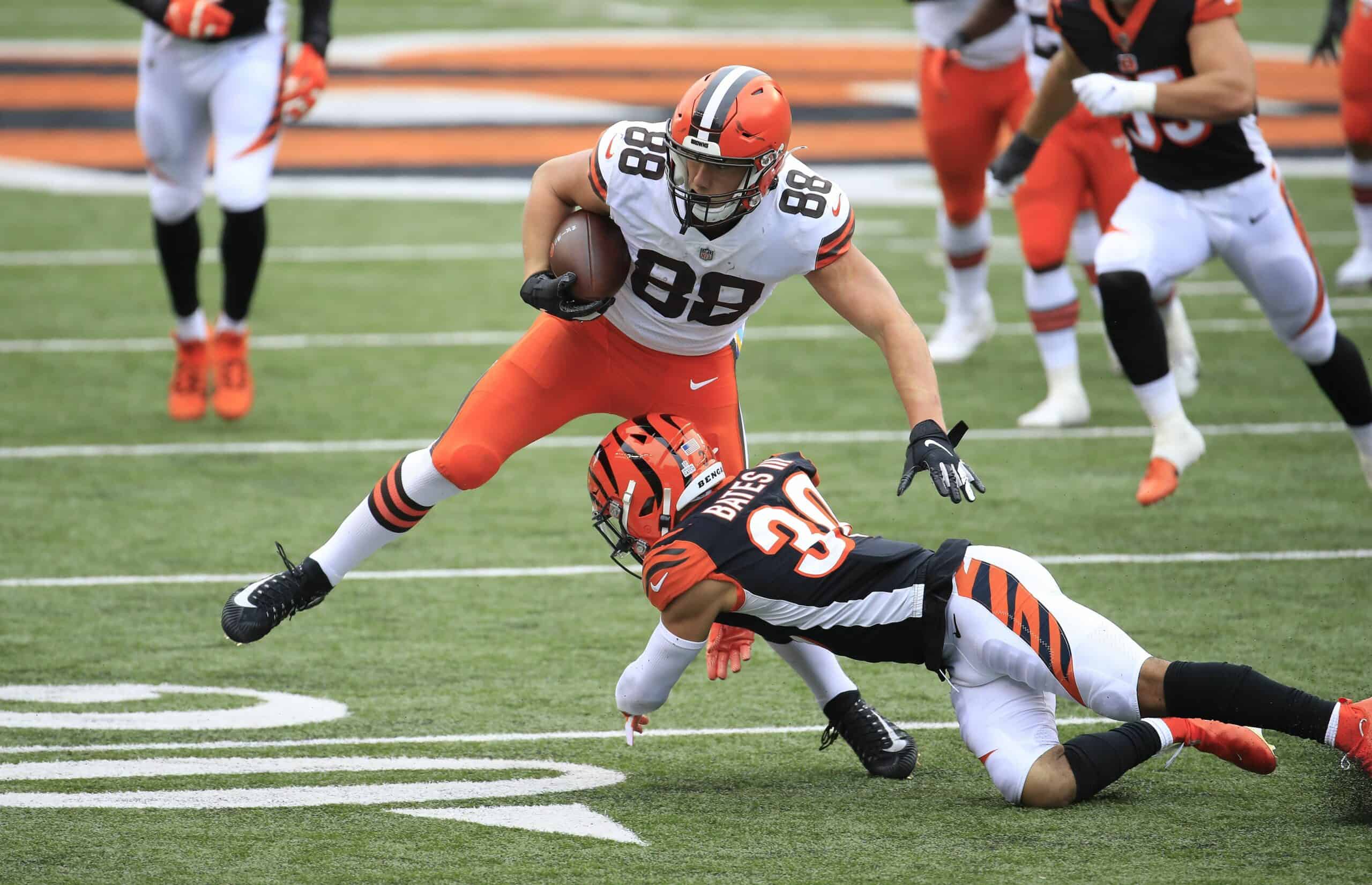 It has been a drama filled week for the entire Cleveland Browns organization.
The Browns dropped their last contest, but that wasn't even the focal point of the discussion this week.
It has been all Odell Beckham Jr. and finally it's over after the organization decided to part ways with the former Pro Bowl receiver.
Browns EVP of Football Operations and General Manager Andrew Berry made it official and announced that the Browns will release WR Odell Beckham Jr.

— Adam Schefter (@AdamSchefter) November 5, 2021
Now, the Browns must prepare for an important divisional matchup against the Cincinnati Bengals.
A road victory over the Bengals would go a long way for this Browns team.
However, there are going to be a few matchups that should dictate the outcome of Sunday's Week 9 matchup.
1. Ja'Marr Chase vs Browns D
The No. 5 overall pick wide receiver Ja'Marr Chase has been excellent for the Bengals this season.
Already, the rookie wideout has put together two games of 150 receiving yards or more.
He comes into this contest with 786 yards and seven touchdowns through eight games in 2021.
The chemistry between former LSU teammates in Chase and quarterback Joe Burrow is obvious.
Now, the Browns must do their best and try to slow down Chase in Week 9.
Ja'Marr Chase is simply unreal. #RuleTheJungle pic.twitter.com/QbeW3Jup3L

— uSTADIUM (@uSTADIUM) October 31, 2021
The hope is that former Pro Bowl defensive back Denzel Ward will be able to play on Sunday.
He has been battling a hamstring issue and it sounds like he'll be a game time decision.
That being said, the Browns could have some serious issues trying to slow down Chase without Ward available.
Chase is a difference maker on offense and the Browns need their best defender on him if they will have any chance of slowing him down.
2. Baker Mayfield vs Himself
It has been a long week for quarterback Baker Mayfield and it's not even Sunday yet.
The media continues to talk about whether or not it's Mayfield's fault that OBJ wasn't succeeding in Cleveland.
To be honest, it's not important anymore because Beckham isn't on the team and won't be back.
Now, Mayfield must go out there on Sunday and prove that he can be a leader for this team.
Last season, the Browns' offense looked much better after OBJ suffered his season-ending ACL injury.
A year later, Cleveland must do it again, but this time the Browns and Mayfield have higher expectations.
Last week, Mayfield returned from injury and played fairly well against the Steelers.
Now, all the eyes are going to be on Mayfield after a drama filled week of nonsense.
It'll be interesting to see if Mayfield can put all of it behind him and play well against the Bengals on Sunday.
3. Myles Garrett vs Bengals O-Line
The Browns are going to need a successful pass rush to beat the Bengals.
They cannot give Burrow time in the pocket to find an open receiver.
The Bengals have too many weapons and giving Burrow time is going to create more problems for Cleveland.
That being said, two-time Pro Bowl pass rusher Myles Garrett needs to bring the heat in Week 9.
Through eight games, Garrett has 10.5 sacks and is actually leading the league right now.
He has put together success versus the Bengals before as he strip sacked Burrow last season.
Myles Garrett can't be stopped 😤

He strip sacks Burrow

(via @thecheckdown)pic.twitter.com/JWQxgQZzVq

— Bleacher Report (@BleacherReport) October 25, 2020
There is too much firepower on the Bengals, so the Browns need to put pressure on Burrow.
They need to force him to make mistakes or sack him for a loss.
It worked earlier in the season when the Chicago Bears sacked Burrow five times.
In that game, the Bears were able to pressure Burrow and force him to throw three interceptions.
That is what the Browns need to do on Sunday if they want to come away with the win.