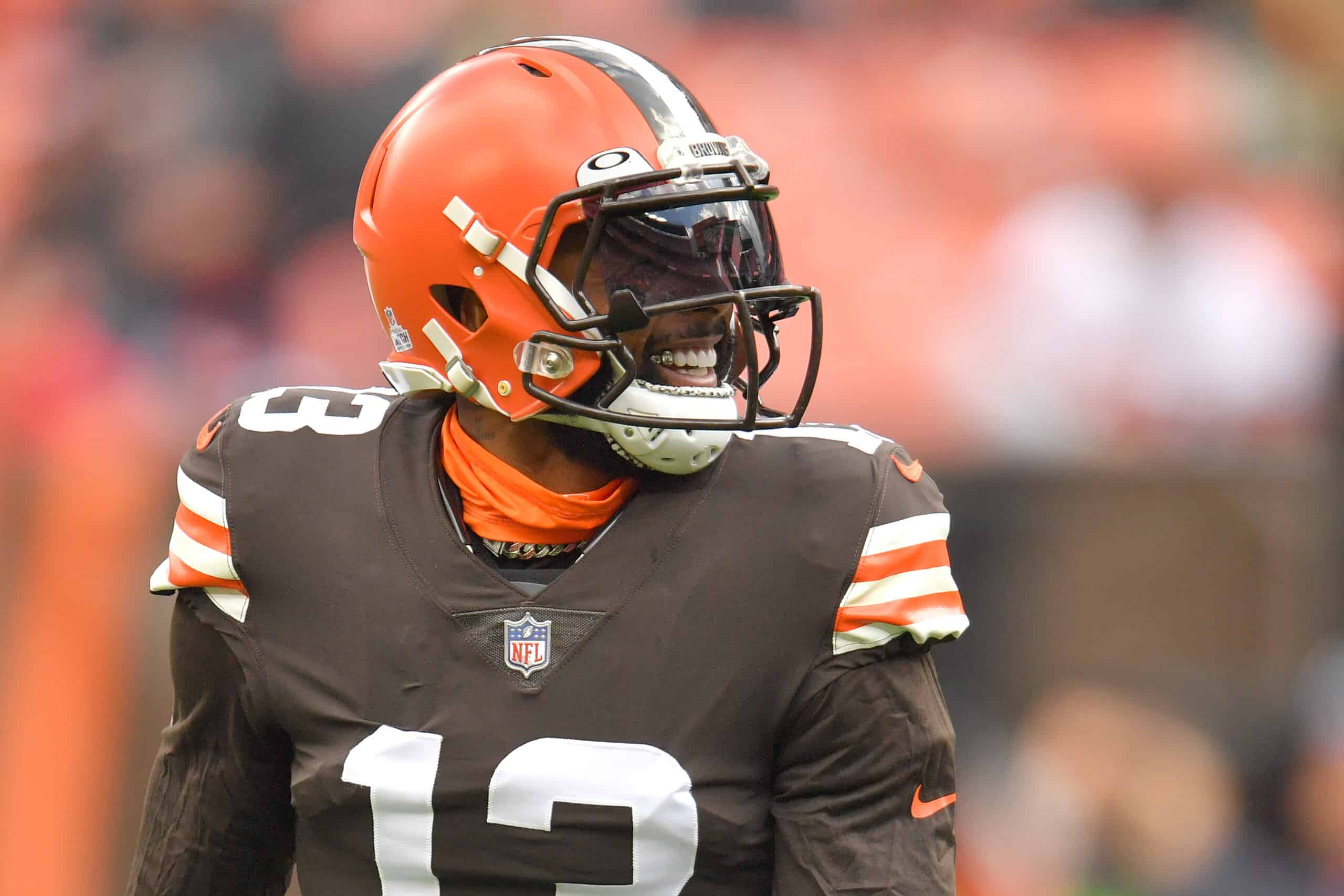 For the second time in his career, Odell Beckham Jr will be unceremoniously dumped from an NFL roster.
This time around, it appears OBJ helped orchestrate his release from the Cleveland Browns.
— Cleveland Browns (@Browns) November 5, 2021
But his waiver wire appearance Monday represents disappointment for many fans and teammates.
That includes the young wide receivers he took under his belt during his stay in Berea.
And Jarvis Landry, his best friend off and on the field, expressed his thoughts.
1 Of The Best Teammates I Have Ever Played With In My Life !!!! @obj

— Jarvis Juice Landry (@God_Son80) November 5, 2021
Most teammates seemed uncertain of how to react to the goings-on involving OBJ and Baker Mayfield.
Some liked and shared social media posts and then quickly unliked and removed the same.
But with the resolution of events in sight, more than a few took the time to publicly say goodbye.
Receiving Corps Most Affected
There are reasons for some speculation about how the week's events will affect Jarvis Landry.
Landry suffered his worst game as a Brown last week, prompting questions about what he knew was coming.
But Landry is a professional and will undoubtedly work to fill the hole OBJ leaves in the locker room.
Thank you for your guidance and for taking me under your wing and helping me grow, will always appreciate you family🤞🏽 @obj

— Anthony Schwartz (@TheRealF1ash) November 5, 2021
And it seems Beckham's loss leaves more of a hole than many fans realized.
Anthony Schwartz thanks OBJ for his guidance and for helping him (Schwartz) grow.
Donovan Peoples-Jones cited the "little things" Beckham did and his words of encouragement.
Brotha,, I appreciate the little things that you have done for me that no one knows about, the words of encouragement u have given me, and the laughs/fun that we shared each day,, nothing but love and respect for u @obj

— Donovan Peoples-Jones (@dpeoplesjones) November 5, 2021
"One of the best teammates of my life," is how Landry paid homage to his friend.
Many teammates used words like "brother" and "family" to describe their relationship with OBJ.
Another Side to the Selfish Prima Donna?
To be certain, Odell Beckham Jr's actions this week disenfranchised him from most of the Cleveland Browns' faithful.
Looking at it from the outside, he abandoned his teammates, denigrated his quarterback, and gave the Dawg Pound the finger.
The big different between Odell Beckham Jr. and Nick Chubb 👀 #Browns @MikeKilli @BrownsMemes @OrangeisOranger @VintageBrowns @BrownsTherapy pic.twitter.com/PEOLJTBvZS

— John Sabol (@John_Sabol) November 5, 2021
Throughout his career, OBJ showed he had the prima donna gene so common among wide receivers.
His antics rubbed the New York Giants general manager the wrong way,  and he gleefully traded OBJ in 2019.
But in New York and Cleveland, he still has the respect and friendship of the locker room.
#Browns Myles Garrett on losing Odell Beckham Jr. pic.twitter.com/o27mAagqYA

— Camryn Justice (@camijustice) November 5, 2021
Players cite Beckham's generous side, like how he shared clothes and gifted new shoes to his teammates.
And even while OBJ was unhappy with his own role, he constantly encouraged and coached up the young receivers.
Myles Garrett says OBJ's release leaves a big void in the locker room and calls him a "positive presence."
Receivers Not The Only Ones Expressing Gratitude
Myles Garrett's statement about OBJ indicates his loss will be felt outside the wide receiver room, too.
During the week, John Johnson and Greg Newsome tried to be supportive in uncertain moments.
Joel Bitonio was among many who said they would accept OBJ back in the locker room if he wants to return.
Thank you for everything big bro. @obj ❤️

— Mack Wilson Sr. (@5mackwilson1) November 5, 2021
Baker Mayfield had as much right as anybody to be upset by what happened.
But even as he addressed his surprise, he didn't say a bad word about his soon-to-be former receiver.
#Browns Andrew Berry on releasing Odell Beckham Jr.: pic.twitter.com/XmxkgHwdSN

— Camryn Justice (@camijustice) November 5, 2021
And after the Browns released an official statement about Beckham's release, Andrew Berry shared his thoughts.
"Odell is a good person who brings a special energy into the building and developed a lot of strong relationships with teammates, staff members, and coaches, and we really do want all parties to emerge from this successfully."
Berry's words only make Beckham's decisions this week more mystifying and anger-inducing from a fan's viewpoint.