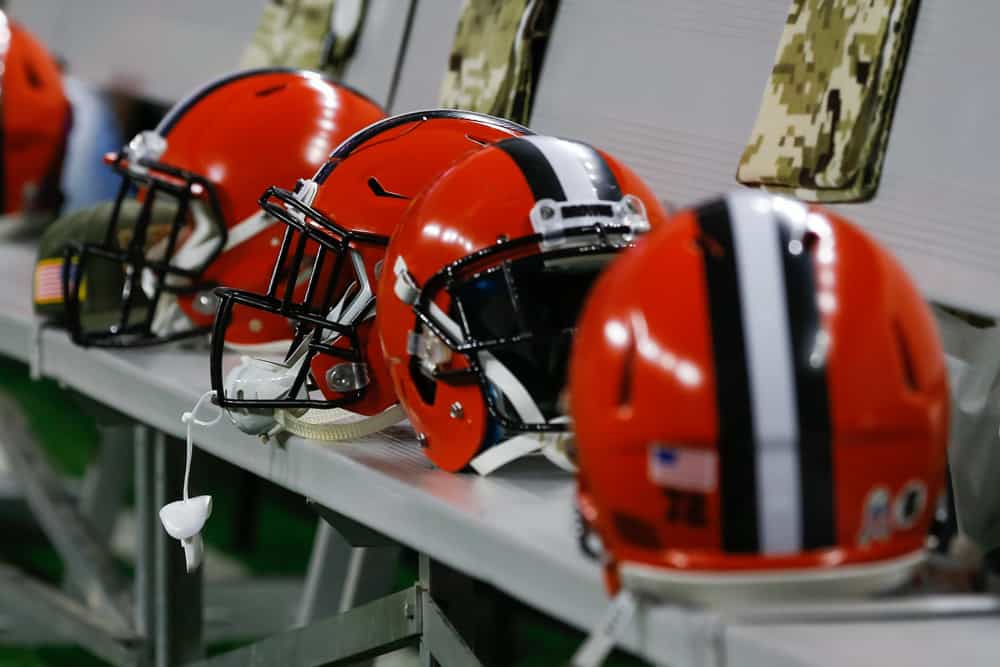 This offseason has been one of the most hectic and busiest offseasons in the NFL's recent history.
There have been half a dozen major quarterback moves, and numerous other big player acquisitions.
Players that were once thought of as the faces of their franchises have changed teams via trades or free agency, including Russell Wilson, Matt Ryan, and Deshaun Watson.
Fortunately, the Cleveland Browns have been on the receiving end of some of the top player acquisitions in the league.
They made big trades for Deshaun Watson and Amari Cooper and cut a few players loose including Austin Hooper, Jarvis Landry, and J.C. Tretter.
However, rumor has it that the Browns are far from done.
They still have holes on offense, defense, and special teams that need to be shored up if they hope to contend in the future.
Here are three more moves that the Browns should make before the start of the 2022 NFL season.
1. Resign Jadeveon Clowney 
Resigning defensive end Jadeveon Clowney should definitely be at the top of the Browns' offseason to-do list.
Clowney enjoyed renewed success with the Cleveland Browns playing opposite pro-bowler Myles Garrett.
He played with a renewed energy and fire that was typical of the former first overall draft pick and three-time pro-bowler.
Together, he and Garrett combined for 25 sacks and were constant threats to opposing quarterbacks.
There are rumors that the Browns will target an edge rusher in the upcoming NFL draft, but there are plenty of other holes that they need to fill via the draft.
Unfortunately, since they traded their 2022 first-round draft pick to get Deshaun Watson, the chances of getting a premier edge rusher in the second round are slim.
The best way to ensure that they remain a constant threat to opposing quarterbacks is to resign Jadeveon Clowney.
#Browns expected to Resign FA DE Jadeveon Clowney. Per Source pic.twitter.com/Wg9JvYZ6vV

— NFL Free Agency Rumors (@NFLFreeangency) March 19, 2022
2. Add Another Wide Receiver 
Trading for a three-time pro bowl quarterback was great.
Trading for a pro-bowl and first-tier wide receiver was also great.
However, if we've learned anything from the Browns and other teams in recent years, it's that one good quarterback and one good receiver isn't enough to carry an offense.
If the Browns hope to win consistently, they're going to need another first or second-tier wide receiver to help Amari Cooper.
There has been recent speculation that former Browns wideouts, Jarvis Landry and Odell Beckham Jr. would love to return to the fold.
There have also been rumblings that former All-Pro receiver Antonio Brown would love to team up with Deshaun Watson in Cleveland.
Outside of making another trade, notable free agents still available include; Will Fuller, A.J. Green, Julio Jones, Jamison Crowder, and T.Y. Hilton.
Any one of these players would complement the current trio of Cooper, Donovan Peoples-Jones, and Anthony Schwartz nicely.
3. Extend Denzel Ward 
Why the Browns haven't signed superstar cornerback Denzel Ward to a massive extension yet is a mystery.
The most likely reason is simply because of all the other players and contracts they're pursuing.
However, Ward has been one of the few steady anchors in an up and down Cleveland defense and locking him up long-term should be extremely high on their list of priorities.
If the #Browns do indeed extend CB Denzel Ward, which all signs point to this being the case, the "floor" price in extension talks is expected to be around 19M per season. (Via @clevelanddotcom) pic.twitter.com/oFHMaF4H9z

— MoreForYouCleveland (@MoreForYou_CLE) January 9, 2022