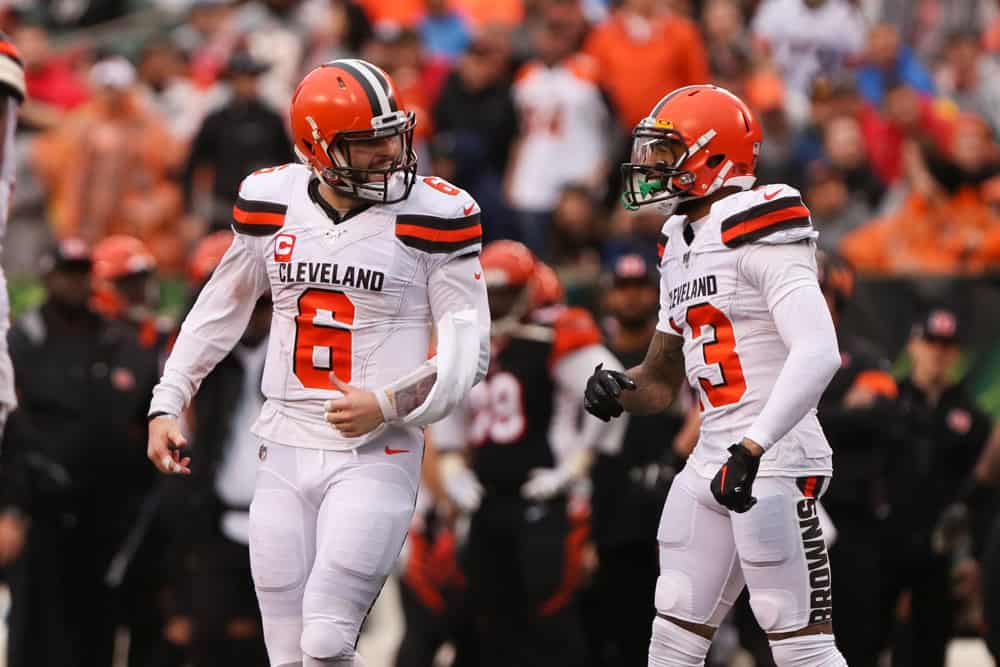 After a disappointing 2019 season, the Cleveland Browns have plenty of work to do to get them to the top of the AFC.
Owner Jimmy Haslam seems to have come to grips with tempering expectations a bit, and fans understand it as well.
Still, there's a lot of talent and a lot of potential within this Browns team.
If they hope to be playing playoff football, however, there are a couple obstacles they will need to overcome.

1. Divisional Toughness
Lamar Jackson and the Ravens seemed unstoppable after losing to the Browns in week four last year.
Jackson took a definitive step forward as a quarterback, throwing for over 3,000 yards and bumping his completion percentage up from 58% to 66%.
They seemed destined to compete for a Super Bowl, until Derrick Henry and friends had other ideas in the Divisional Round of the playoffs.
However, Baltimore did just lose a very key piece of their defense in Earl Thomas.
The team decided to move on from him on Sunday after Thomas apparently punched a teammate.
Ravens are moving on from Pro Bowl S Earl Thomas today, sources tell ESPN. They either will release him for conduct detrimental to the team – punching S Chuck Clark – or trade him. Dallas is the leading contender if he's released, per sources. But his time in Baltimore is over. pic.twitter.com/eJeTuHD1mI

— Adam Schefter (@AdamSchefter) August 23, 2020
Still, Baltimore is the heavy favorite to win the division coming off a 14-2 season.
There's also the Pittsburgh Steelers who will welcome back Ben Roethlisberger under center.
They still pieced together a 8-8 season while trotting Mason Rudolph and Devlin Hodges out at quarterback.
Roethlisberger has seven total AFC North titles since entering the league in 2004, and rest assured he'll be gunning for a few more before he hangs up the cleats for good.
I'm still not thoroughly convinced "Big Ben" will look sharp though, at least not early.
Coming back from an elbow injury on your throwing arm is no easy task for a quarterback, so we'll see how he looks.
The defense in Pittsburgh is much improved.
The secondary took a huge step forward by trading for Minkah Fitzpatrick last season.
They kept that team in a lot of football games last year, so they are hoping Roethlisberger can get them back over that offensive hurdle.
The Bengals will be better, but still not a threat to the AFC North title.
Regardless, those are still games you need to win if you want to win the division.
With three teams in the division looking to make deep postseason runs, the battle for the AFC North crown will be tough one.

2. Adjust to a New Offense
So far from what we've heard out of camp, the defense has looked much crisper than the offense.
I actually think local Cleveland radio host Ken Carman had a pretty good opinion on this.
No OTA's, or mini camps. New coach. New Offense. I don't think the Browns expect to put it all together in the first three days of camp. This should be expected. If the offense was WAY ahead of the defense, I'd be more concerned that defense was going to be really, really bad.

— Ken Carman (@KenCarman) August 20, 2020
There are a plethora of new ideas and concepts in this Browns offense compared to last year.
With not nearly as much time or as many opportunities to implement this and get reps in, it's going to take time for the offense to click.
It'd be tough to argue the offense ever did really click last year, so it will be a process.
If the defense was giving up points left and right during practice and the offense was doing whatever, that would be more of a sign the defense is going to be awful.
Kevin Stefanski had a lot of success with his offense in Minnesota.
With even more talent in Cleveland, I'm willing to give him some time to help Baker Mayfield and company find their groove.

3. Cut the Drama
There aren't too many people that believe this team won't improve on the field.
Areas that needed addressed were taken care of, such as the offensive line with drafting Jedrick Wills and signing Jack Conklin.
What about off the field though?
Can the antics that seemed to follow the Browns on a weekly basis finally be put to an end?
Only time will give us a definite answer on that one, but eliminating the distractions is something this team needs to do.
Danny Heifetz from The Ringer actually did a great job explaining some of the issues within the organization while John Dorsey and Freddie Kitchens were in leadership positions.
Those two were not the only guilty parties, however.
From Odell Beckham Jr. and Jarvis Landry needing to change cleats at halftime to sideline yelling matches with Kitchens, there were too many extracurricular activities happening outside of the whistles.
It's on each and every player on this roster to rekindle the kind of focus needed to compete at a high level.
That won't be easy, especially with a global pandemic lurking in the background of this season.