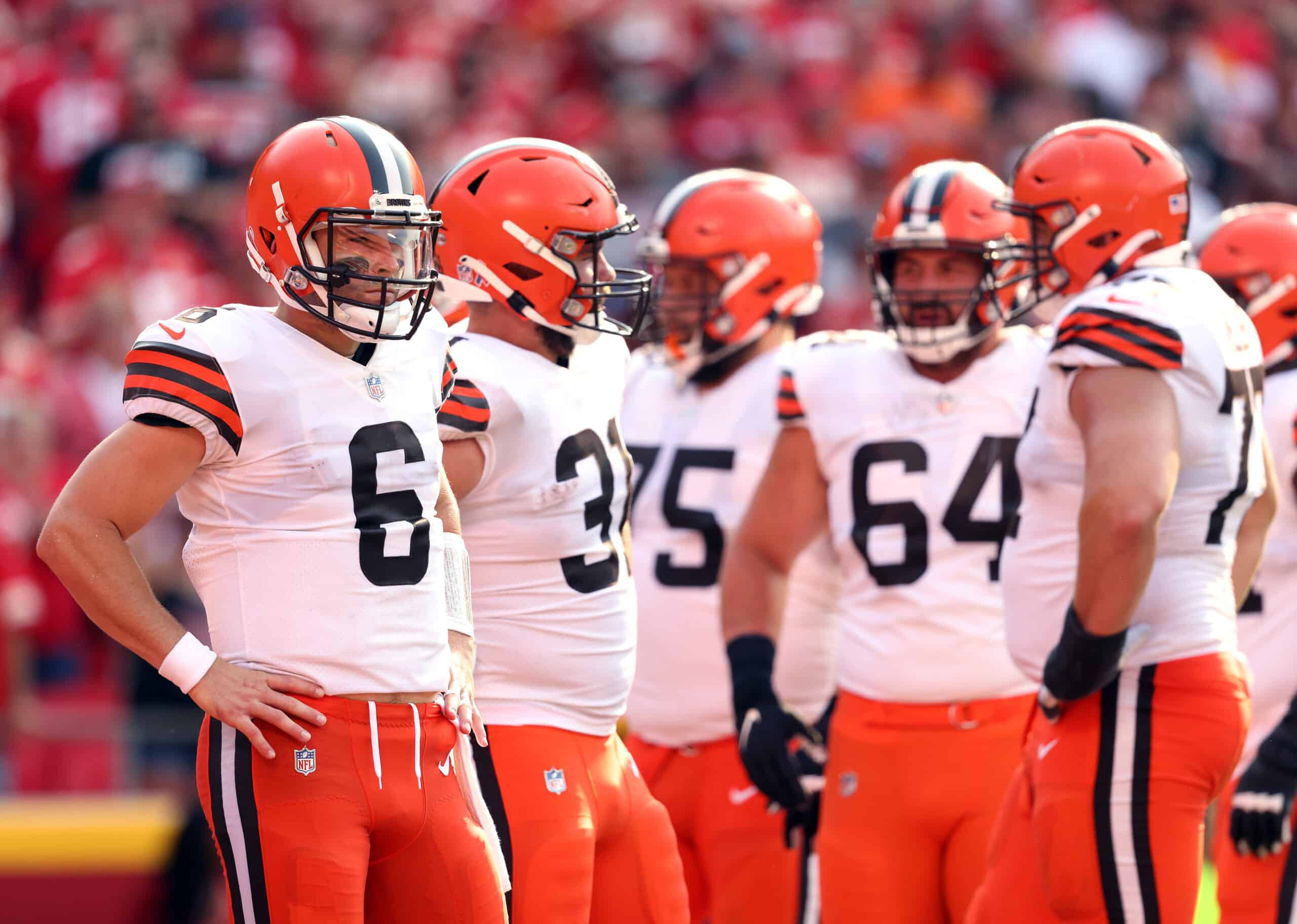 The Cleveland Browns are 1-1 in the 2021 season.
This season has already started out with unpredictable occurrences and a lot of inconsistent play.
The criteria for selection is that each player had to appear in both games and play consistently well.
With that being said, here are the three most impressive Browns thus far.
1. Baker Mayfield
Putting Mayfield on this list is a no brainer.
He has done everything asked of him plus some to make his team successful.
That includes an ill-advised tackle on a Texans player who intercepted his pass.
Thankfully, it was his non throwing shoulder, and the MRI showed no structural damage.
Beyond being the quarterback, Mayfield is the heart and soul and leader of this team.
Baker Mayfield through 2 weeks:

Has the best completion rate in the NFL. (81.6%)

Has his best passer rating ever. (101.9)

Is throwing for a career best yards per game. (267)

Has his best yards per attempt. (10.9)

Without Odell Beckham.
Without Jarvis Landry week 2.
FRANCHISE pic.twitter.com/JnDtQh95dc

— Nick Karns (@karnsies817) September 20, 2021
2. Demetric Felton
The rookie Felton is on this list because he contributed on both offense and special teams.
Most noteworthy was his first ever NFL reception, a touchdown catch, from Baker Mayfield in the Texans game.
Though he has not broken one yet, Felton has also done well to put the Browns in better field position with his punt and kick returns.
He is averaging 18 yards per kick return and has returned 4 punts so far with the longest punt return going for 15 yards.
His performance has entrenched him in the offense particularly with OBJ and Jarvis Landry out and on special teams.
DEMETRIC FELTON JR. 😱 @demetricfelton7 #Browns

📺: #HOUvsCLE on CBS
📱: NFL app pic.twitter.com/OgRd3SyD3R

— NFL (@NFL) September 19, 2021
Though used as a slot receiver, Felton is also a running back and knows the playbook at both positions.
Coach Stefanski talked about Felton after the Week 2 win.
"His role will grow. He's a rookie. He's doing a nice job for us as our returner and then we will find opportunities for him. I thought he obviously made an incredible individual effort on that [touchdown] play."
3. Austin Hooper
Remember all of that preseason talk about Austin Hooper and Baker Mayfield not connecting at practice?
It is time to forget that.
Hooper caught every single pass Mayfield has thrown to him in two games.
That equals 8 targets and 8 catches.
The sample size is not huge, but it's only been 2 games.
The takeaway is that Hooper is a big and steady target for Mayfield to lean on in OBJ and Landry's absences.
Austin Hooper deserves a lot of credit. He caught a good amount of flack this offseason for his performance last year relative to his lofty price tag and he's come out this year and balled for two straight weeks. Gotta love that. #Browns #NFL

— CLEology (@_CLEology) September 20, 2021
Who Is Missing?
If you asked me to predict who would make this list through two games during the preseason, it would have been different with the possible exception of Mayfield.
To begin with, I would have expected either Nick Chubb or Kareem Hunt to make the list.
With the Chiefs as the Browns' first opponent, that would have been a faulty prediction.
Donovan Peoples-Jones is another player I may have added to my list given his stellar preseason play.
DPJ inexplicably has not turned that preseason prowess into regular season success yet.
Through two games, I would have had one defensive player on this list, most likely Myles Garrett.
Garrett has not played poorly; however, the Browns defense is slow to click so overall they are not looking as good as expected.
It will be interesting to see who makes the impressive Browns list as the season continues.