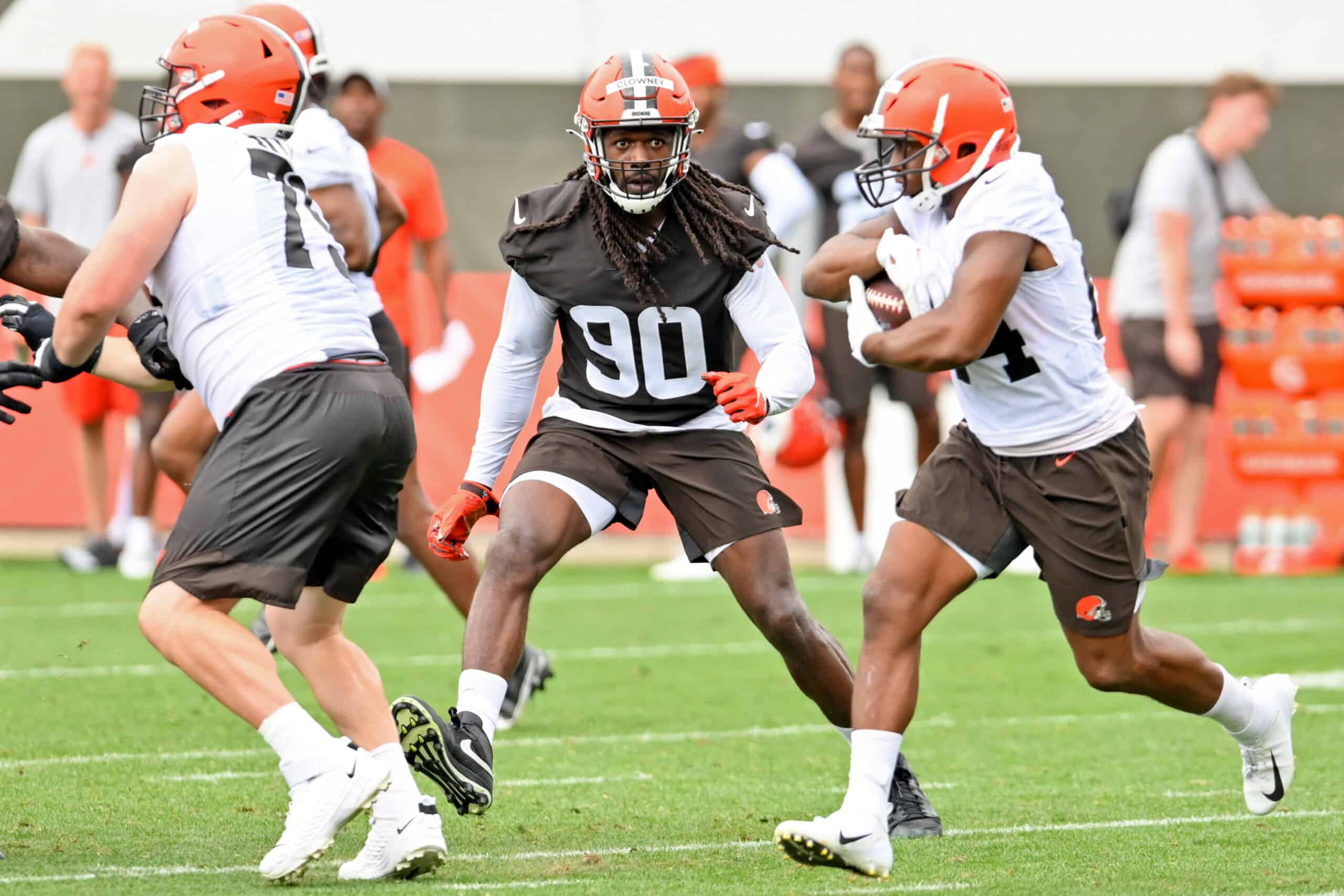 This is proof that there is a stat measuring everything in the NFL.
While the Cleveland Browns defense has not yet collectively played up to its potential, a key player's stat is noteworthy.
That player is Jadeveon Clowney who signed with the Browns in 2021.
Clowney is among the top performers in his 2021 free agent class for quarterback pressures.
Through 2 games, Clowney has 8 quarterback pressures.
The league leader is Melvin Ingram of the Pittsburgh Steelers with 11.
Notable FA pressures through 2 weeks:

Melvin Ingram 11
Matthew Judson 10
Romeo Okwara 10
Trey Hendrickson 9
Yannick Ngakoue 9
Shaw Barrett 9
Jadeveon Clowney 8
Leonard Floyd 7
———————
Bud Dupree 3

— Mike Renner (@PFF_Mike) September 21, 2021
Imagine where Clowney could be on this list when the Browns defense gets its legs under it and really plays?
Right now, the Browns defense has shaky sea legs at best.
League Leaders – Quarterback Pressures
Pro Football Focus reports that Las Vegas Raiders Maxx Crosby is the league leader among all players (free agent and other) in quarterback pressures with a total of 19.
Second is Arik Armstead from the San Francisco 49ers who has 15.
Myles Garrett and Clowney are tied for 15th; each has 8 pressures.
Coach Stefanski On Defensive Strategy For Quarterback
Back in early August as Clowney was just getting acclimated, Coach Stefanski talked in general terms about the Browns' defensive strategy regarding the quarterback.
"You want to pressure the quarterback. Sometimes they materialize in sacks and that is obviously the goal, but being around the quarterback, affecting the quarterback, affecting the throw and making him get to his check-down sooner than he wanted is a big deal. For our entire defense, we have a rush plan. It is about creating one on ones and winning those one on ones, but you have to rush together in order to have that plan have some success."
Clowney and Garrett are having modest success though many fans expected more success early and often and more plays like this.
The #Browns needed to make a play, and Myles Garrett and Jadeveon Clowney met at Patrick Mahomes for a sack.

— Register Sports (@RegisterSports) September 12, 2021
The rest of the strategy Coach Stefanski outlined has not shown up in two games.
Hopefully, we see it executed as early as Sunday in the Browns Week 3 game against the Chicago Bears.