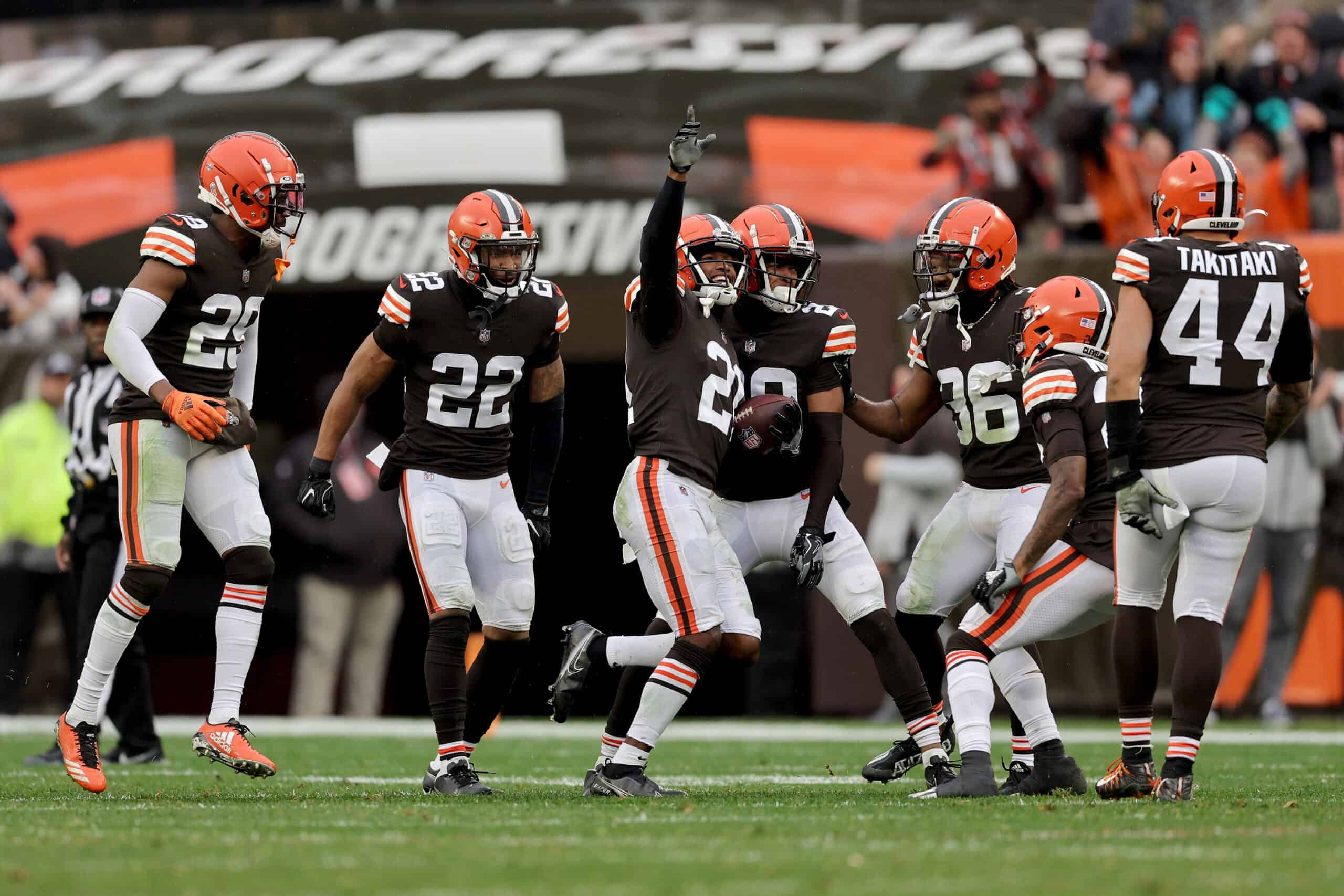 The Cleveland Browns roster is loaded with talented players.
Injury and COVID-19 certainly changed the course of how some players performed, but there were some shining stars in 2021.
An argument could be made that any of the 5 Browns Pro Bowlers could be on this list.
5️⃣ of our players have been named to the 2022 Pro Bowl. pic.twitter.com/vwy1BbBQuE

— Cleveland Browns (@Browns) December 20, 2021
Narrowing it to 3 is tough, but here it goes.
The 3 most valuable players this past season for the Browns are as follows:
1. Myles Garrett
Of course, the list starts with defensive end Myles Garrett.
He is a Pro Bowler, and 2021 was the season when he broke the franchise single-season sack record in a grand way.
Garrett earned the 15th record-setting sack with a strip-sack, fumble recovery, and a touchdown.
With this sack, Myles Garrett breaks the Browns' franchise season record with 15 sacks this season.

Cleveland still has 4 games left to play 🤯
(via @NFL)pic.twitter.com/45mQM59ger

— Bleacher Report (@BleacherReport) December 12, 2021
He finished the year with 16 sacks, 33 solo tackles, and 33 quarterback hits.
Garrett has publicly stated that he is not satisfied with individual honors and longs to bring a Super Bowl championship back to Cleveland.
"Individual honors are nice, something I can put up in my house and display, something to show my family and my kids one day. But that Super Bowl means everything. Not only to me, but to this team and to this city, and that's who I play for."
2. Nick Chubb
Despite missing 3 games, Nick Chubb still put up big numbers in 2021.
He rushed for 1,259 yards and 8 touchdowns.
Chubb also added 174 receiving yards and 1 touchdown reception.
Last season, Chubb had 190 rushes, but in 2021, his workload increased with Kareem Hunt missing significant playing time.
Chubb had 228 rushes on the season.
By selecting Chubb as a Browns' MVP, we are by association selecting guards Joel Bitonio and Wyatt Teller.
Without those two guys blocking defenders, Chubb would not have been as successful.
In typical Chubb fashion, he commended the team effort from the offensive line that allowed him to gain the yards he did in 2021.
"Those guys work hard for us up front. They block a lot of big guys, have stacked boxes, they still plug their way through, get to the second level and hit the linebackers and block defensive linemen very well."
3. Denzel Ward
Cornerback Denzel Ward, in his 4th NFL season, was a playmaker in 2021.
Ward appeared in 15 games and had a career-high 3 interceptions.
He also had 34 solo tackles, one of which sealed the victory for the Browns over the Ravens on a fourth-down play at the end of the game.
Fourth down stop for the win!#ProBowlVote + @denzelward!

📺: #BALvsCLE on CBS
📲: Browns mobile app pic.twitter.com/VqK1QFbP7x

— Cleveland Browns (@Browns) December 12, 2021
Ward's biggest play of the season was against the Cincinnati Bengals.
He collected an interception off of Joe Burrow in the red zone and ran it all the way back for a touchdown.
DENZEL WARD. 100-YARD PICK-6. #Browns

📺: #CLEvsCIN on CBS
📱: NFL app pic.twitter.com/6YCHI0bBH7

— NFL (@NFL) November 7, 2021
Among the Browns Pro Bowlers, Ward is the only one not signed to an extension.
In 2022, he will be playing under his fifth-year option.
It seems like the Browns will address this issue sooner rather than later because Ward is too valuable to let walk.
Youth Rules
The best part about this list of Browns MVPs is their ages.
Denzel Ward is the youngest of the three at 24 while both Myles Garrett and Nick Chubb are 26.
The Browns have excellent players in the prime of their careers so fixing the pieces around them to achieve postseason goals is definitely what Andrew Berry will be working on in this offseason.