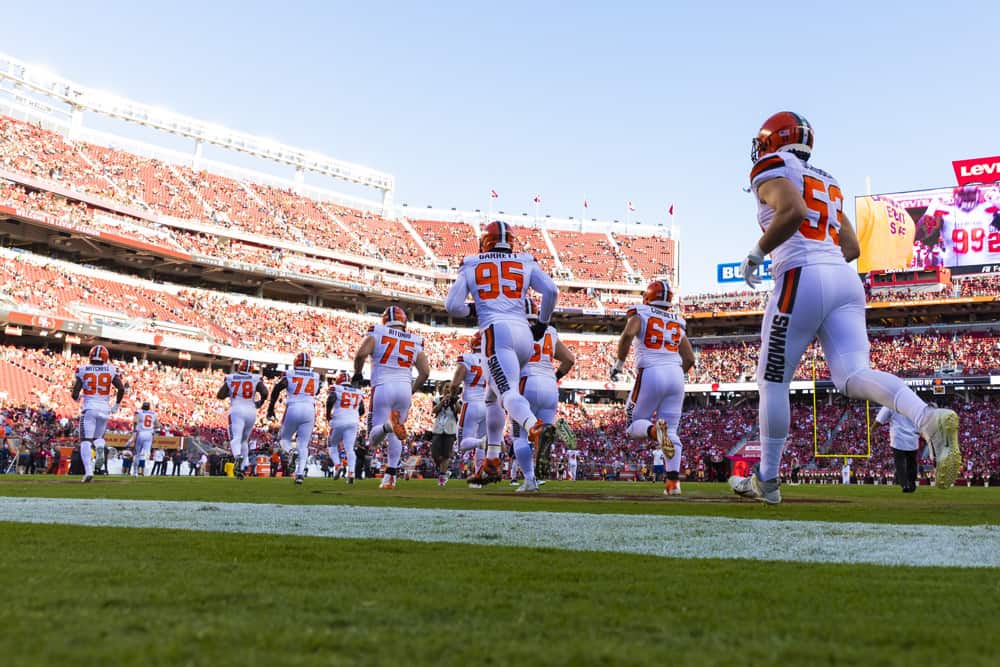 Once again, Cleveland Browns general manager Andrew Berry did an incredible job of adding talent this offseason.
He has quickly turned his roster into one of the strongest units in the entire league.
This offseason, a majority of the Browns focus was improving on the defensive side of the football.
Last season, the Browns defense struggled to slow down opposing teams, so Berry made it a focal point to improve defensively.
Now the Browns have plenty of new faces that fans are surely eager to see take the field in 2021.
1. John Johnson
Last season, the Browns struggled in the secondary.
They needed someone experienced and who would bring leadership to the defense.
Enter John Johnson.
Not only did the signing of Johnson get rave reviews nationally, but Johnson even claimed that signing with Cleveland was the "opportunity of a lifetime."
He is just as happy to be in Cleveland as any free agent signing in a long time.
This makes him a perfect fit for the city and the Dawg Pound.
Fans will be eager to introduce themselves to him this Fall.
2. Jadeveon Clowney
Finally, the Browns have added some legitimate pass rushing help for Myles Garrett.
The organization has struggled to find a reliable defensive end threat to put alongside Garrett over the last few years.
Hopefully, three-time Pro Bowler Jadeveon Clowney will be able to fix that problem.
The 28-year-old is a former No. 1 overall pick by the Houston Texans from 2014.
He has dealt with injuries over the last few seasons, which have hurt his numbers on the field.
However, fans and players should not take Clowney lightly because he is a high impact type of player.
Watched the #Titans–#Vikings tape last night…

Strong move/technique here from OLB Jadeveon Clowney on this rep.

Aligned inside (matchup vs. the guard). Stack/shed with power. @NFLMatchup pic.twitter.com/dJwzZ2eIsA

— Matt Bowen (@MattBowen41) September 28, 2020
Cleveland signed Clowney to a one-year deal with a heavily incentive based salary.
A smart move by Cleveland to make sure Clowney needs to produce in order to get paid significant money.
There is no doubting his ability or skill, but the injuries have taken a toll on him over the last few seasons.
Clowney and Garrett at full health together could end up being the best pass rushing duo in the NFL.
3. Greg Newsome II
For the first time in what feels like a century, the Browns did not have a top 10 pick during the NFL Draft.
Instead, Cleveland had a late first round pick, but still ended up with a highly graded prospect.
They selected Northwestern defensive back Greg Newsome II with the No. 26 overall pick.
We got our guy 💪@gnewsii pic.twitter.com/ticBfuzI3u

— Cleveland Browns (@Browns) April 30, 2021
Newsome was one of the top defensive back prospects in his draft class, but somehow almost fell out of the first round.
He did end up only playing three games in 2020, but still managed to make a significant impact.
The opposing offenses had a tough time finding success whenever they'd throw towards Newsome.
Greg Newsome II: Lowest completion % allowed in single coverage in the 2021 Draft class (10.5%) pic.twitter.com/LALOA5E9Yz

— PFF College (@PFF_College) March 17, 2021
Newsome is certainly going to give Greedy Williams a battle for the No. 2 spot at defensive back right away.
Regardless of who wins the job, it sounds like Newsome is going to be in the Browns' future plans.
He has the upside of being a Pro Bowl type player and will hopefully end up as the perfect fit alongside Denzel Ward.