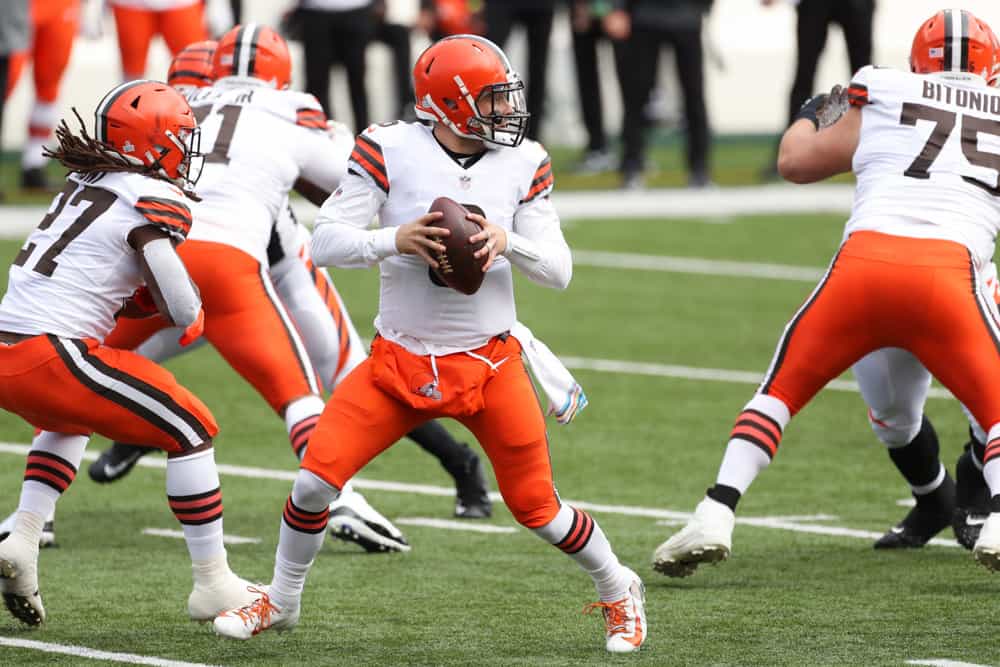 The Cleveland Browns enter 2021 with plenty of optimism after a successful 2020 season, particularly on the offensive side of the ball.
In the second year with all key players and coaches returning, many wonder if this is the year that the explosive Browns offense vaults the team deep into the playoffs and potentially into the Super Bowl.
Here are three offensive questions that face the Browns as they set out to achieve these lofty postseason goals.
1. Is The Offensive Game Plan Predictable?
In the first year of the Stefanski/Van Pelt offensive scheme, there was an aura of mystery, especially in the early part of the season, as to how the Browns would succeed.
There is now less mystery; the run game must be successful to open up the other facets of the offensive game plan.
Teams with solid defenses could stack the box and thwart the run game from the opening kickoff.
Is there enough variety in the game plan to provide solutions to those obstacles?
One easy way to curtail the predictability would be for Coach Stefanski to turn over play calling duties to Alex Van Pelt.
Had it not been for COVID-19, that may have happened in 2020, but Stefanski chose to keep that role.
However, Van Pelt called a good game (certainly Stefanski had input) in the wildcard playoff against the Steelers when Stefanski had to watch from home because he had COVID-19.
Or maybe it is not an either/or; it is a combination of both?
I thought about this as well when Stefanski turned play calling over to Alex Van Pelt…As Allbright pointed out I believe those two wouldn't have any ego problems with it. https://t.co/Tz9SmWrRQh

— ChadP71 6elieve (@chadp71) February 2, 2021
2. Are There Too Many Receivers To Incorporate Into The Game Plan?
Yes, this is an odd question and an unusual problem to have.
Wide receivers and tight ends in particular like to get involved in the plays and develop a rhythm.
With so many talented receivers and tight ends, how can the Browns spread the ball out to keep everyone involved in the game plan?
While the running game can be handled in a committee structure, generally there is a star wide receiver who leads the pack with receptions, yards, and touchdowns.
Think about the huge offenses of the 90s, the star wide receivers were obvious: Jerry Rice of the San Francisco 49ers and Michael Irvin of the Dallas Cowboys are just two examples.
Who is the WR1 on the Browns roster?
Most receptions in a player's 1st 3 seasons…

Michael Thomas – 321
Christian McCaffrey – 303
Odell Beckham Jr – 288
Jarvis Landry – 288
AJ Green – 260

— NFL Stats (@NFL_Stats) May 6, 2021
Is it Jarvis Landry or OBJ?
Can a high powered offense successfully function and keep everyone happy if there is limited productivity for each player?
3. Can Baker Improve?
There has been so much written and said about Baker Mayfield, but this is a no brainer.
Any young quarterback has to continue the improvement from season to season.
Baker Mayfield by year:
2018: 3725 yards 27 TDs
2019: 3827 yards 22 TDs
2020: 3563 yards 26 TDS

Will he have over 30 TD's in 2021? pic.twitter.com/zRg1os3LWE

— NFL Memes (@nflmemer) May 30, 2021
Mayfield certainly made better decisions last year which resulted in fewer interceptions.
Interceptions thrown over last 10 games* for remaining QBs:

Jared Goff 9
Lamar Jackson 8
Tom Brady 8
Josh Allen 6
Drew Brees 5
Patrick Mahomes 5
Aaron Rodgers 3
Baker Mayfield 1

*includes postseason pic.twitter.com/kp2jV9nscn

— NFLonCBS (@NFLonCBS) January 14, 2021
However, he still has a tendency to hold the ball longer than he should so that would be an area for him to improve.
According to Next Gen Stats, Mayfield had the 2nd most time to throw among NFL quarterbacks at 3.05 seconds in 2020.
This is compared to Ben Roethlisberger who was the quickest at 2.3 seconds.
We will have to wait until September to see if the Browns have answers for these lingering offensive questions.