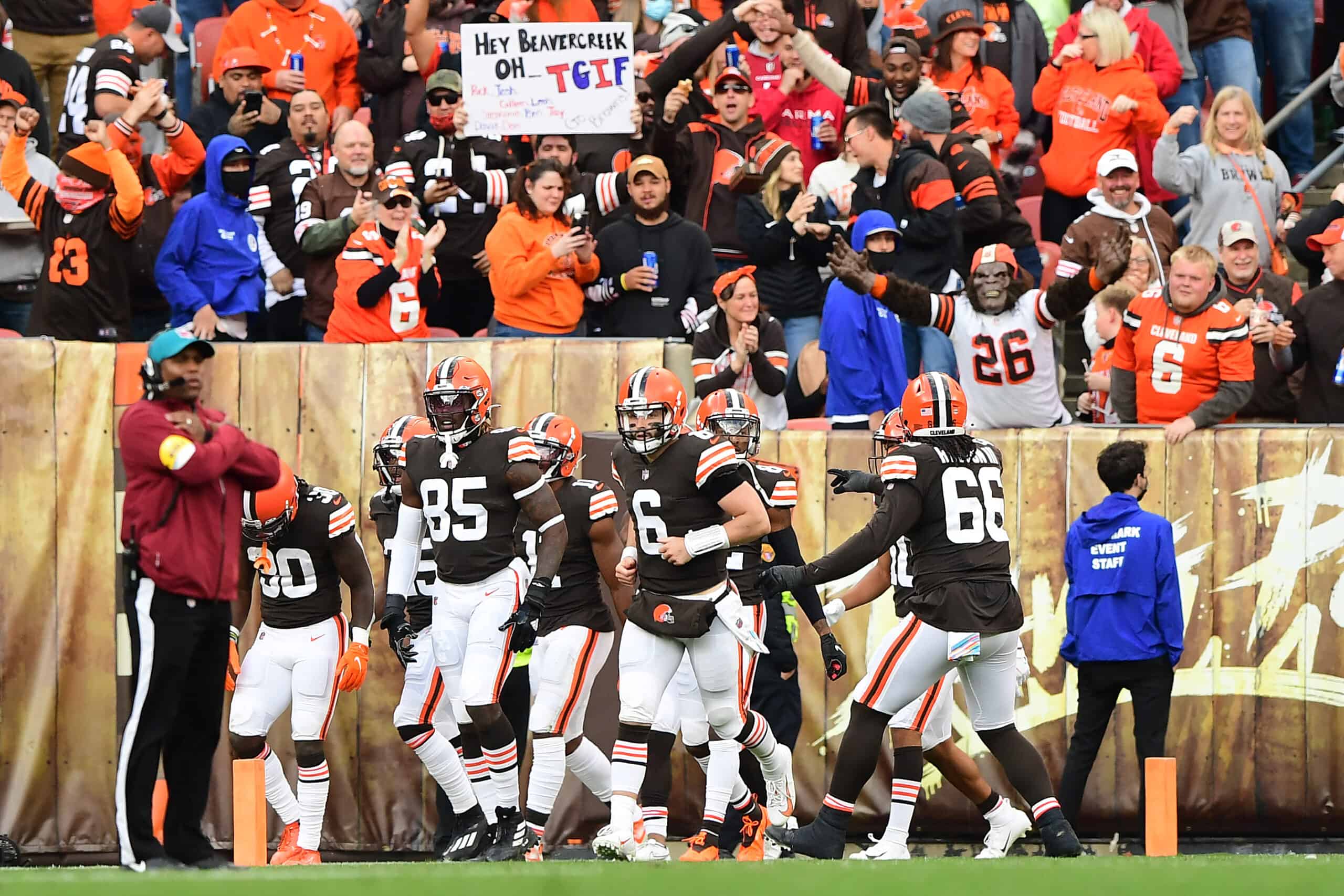 The Cleveland Browns 2021 season has hit the skids.
Officially they are 4-4, but arguably, they have played worse than their .500 record.
Amidst preseason expectations of a trip to the AFC Championship, this season's team has delivered more than its share of disappointments through eight games.
A lot of people deserve blame for the team's struggles so the process of narrowing the list down to just three was painstaking.
Here are the three Browns who top the list for the 2021 troubles.
Spoiler alert: All three were celebrated as being integral parts of the 2020 success so it is especially disappointing that less than one year later, we are here.
1. Jarvis Landry
For all of the flux in the wide receivers room in Cleveland, Jarvis Landry was consistent and ready-to-go.
That changed in 2021 when a lot of uncharacteristic things happened with Landry.
The knee injury tops the list.
No, it is not his fault that he got hurt, but he has been such a continuing presence that it wrecked the mojo of the Browns wide receivers.
Then, he tweaked his knee in his first game back from IR.
Finally, there were the drops and the costly fumble against the Pittsburgh Steelers.
Because it is Landry, it hurts more.
OBJ has not been a significant factor in years so that's why he will not be on this list.
Jarvis Landry is killing Baker Mayfield.

— Skip Bayless (@RealSkipBayless) October 31, 2021
The man said it himself but still people trying to dump on the QB. Ridiculous https://t.co/TsaoxH91Iz

— Jeff-LJ-Lloyd (@Jeff_LJ_Lloyd) November 1, 2021
2. Baker Mayfield
Mayfield was the spirited leader in 2020.
He was making smarter decisions, throwing fewer interceptions, and showing an improvement in his footwork and his physical fitness.
Was it just last November that Mayfield (and Deshaun Watson) were the only quarterbacks who did not throw a single interception during the month?
Oh, how times change.
Once again, it is not Mayfield's fault that he got injured.
However, it will be his fault if his persistent drive to play prolongs his injuries and recovery.
Baker Mayfield's shoulder injury remains a week-to-week discussion for the Cleveland Browns and their QB, per source. Shutting down Mayfield for the season is not a prevailing theme as they prepare for Steelers. More about whether they can get swelling to subside before Sunday.

— Jeremy Fowler (@JFowlerESPN) October 27, 2021
Mayfield continues to hold the ball too long and tries to play a game that is non conducive to his talent.
He is not Aaron Rodgers who can single-handedly carry a team.
I am not saying he is not talented, and this offense is tailor made to his abilities.
Execution of it has been suspect since the beginning of the year.
This is what some don't seem to get in the overall conversation. No one is saying Baker Mayfield can't be better. He absolutely can be. He misses some throws and reads. At same time, his supporting cast must be better and help him in key moments. It's not an either/or situation.

— Brent Sobleski (@brentsobleski) November 1, 2021
3. Kevin Stefanski
#Browns HC Kevin Stefanski on what is missing in the pass game: "We missed some opportunities is probably the easiest way to put it. And that's where I need to do a better job. We've got to take care of it, practice it…address it."

— 92.3 The Fan (@923TheFan) November 1, 2021
Coach Stefanski, the 2020 NFL Coach of the Year, is certainly in a sophomore slump.
Once rock solid in his decision making and able to entrust his team to win a game without him while he quarantined in his basement for COVID-19, he has tripped himself up lately.
Play calling is a nagging issue.
#Browns HC Kevin Stefanski: "We haven't scored enough points the last few weeks. We have to look at it, find ways to be explosive."

— 92.3 The Fan (@923TheFan) November 1, 2021
Unfortunately, when the team loses like the Browns are, in close fashion and repeatedly to playoff contending teams, the play caller will be blamed and rightly so.
Coach Stefanski, in the throes of a Week 9 game against the Bengals, needs to make material changes to this team.
We have seen plenty of evidence that things are not working so the time is now to switch things up to hopefully get a better result.