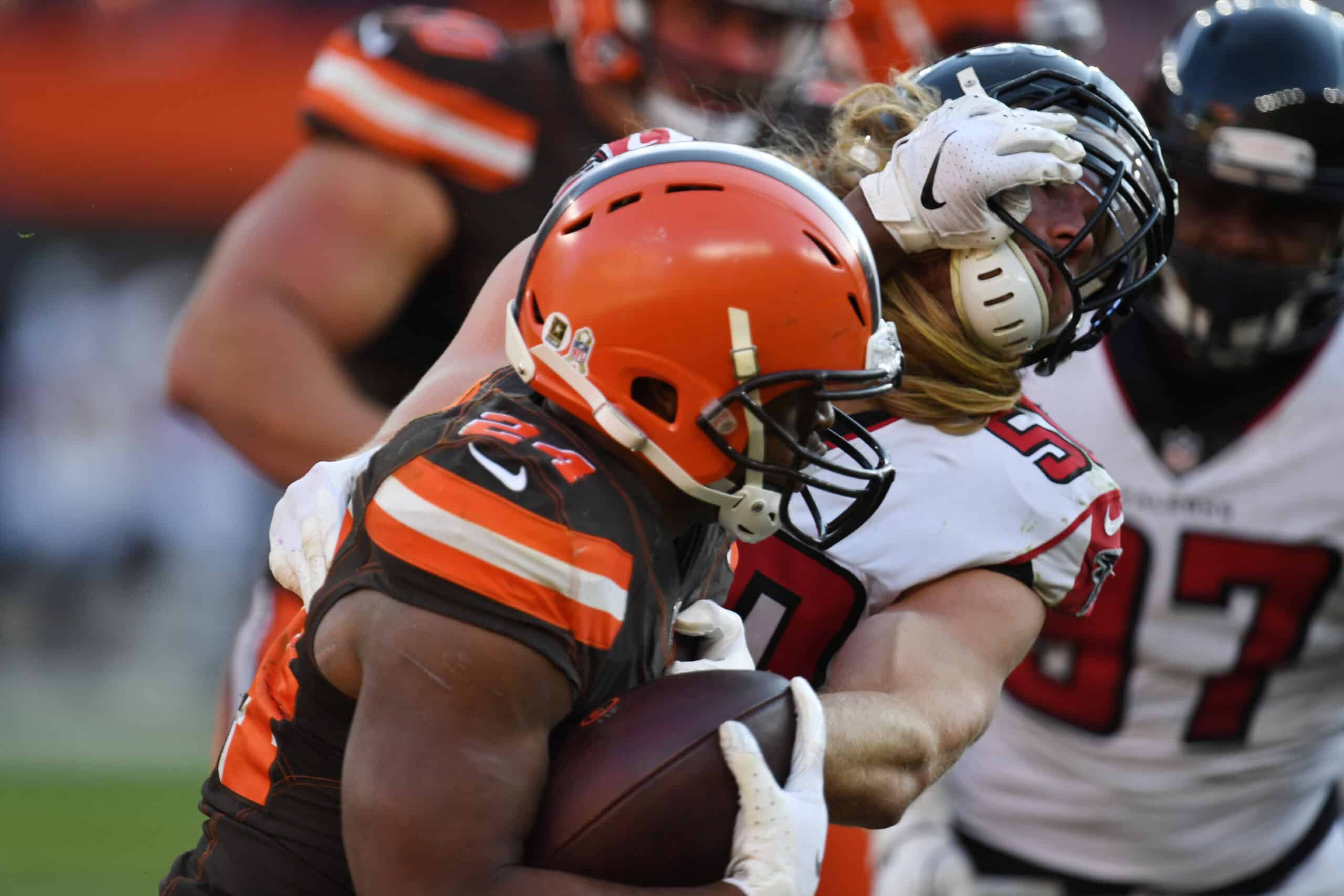 The Cleveland Browns take the field tonight for their final preseason game against the Atlanta Falcons.
Coach Kevin Stefanski announced on Friday that Baker Mayfield and select starters will be playing in the game.
#Browns Kevin Stefanski said Baker Mayfield will start against the Falcons along with some select starters pic.twitter.com/2rn7QeFqYN

— Fred Greetham (@FredGreetham9) August 27, 2021
It is hard to know who the select starters are so the bold predictions are even more difficult to predict than usual.
With that in mind, here are the three bold predictions.
1. Defense Gets A Pick 6
The Browns defense is retooled to be quicker, deeper, and more skilled than in 2020.
Because we have not seen Jadeveon Clowney and Myles Garrett on the field together yet, we do not exactly how good they will be.
It still is not clear if they will be on the field tonight, but the bold prediction remains.
The Browns defense will get a Pick 6 off of Matt Ryan.
What a statement that would be for a Browns defense that definitely struggled last year.
I didn't realize how absolutely stacked the Cleveland browns defense is this season. Low key best unit in the nfl.

— Ty Pardy (@tpardy21) August 20, 2021
2. Long Field Goal Converted
Cody Parkey is no longer a Cleveland Brown.
That leaves Chase McLaughlin as the de facto kicker for the team.
There are still two weeks left until the regular season begins so it is not completely clear that McLaughlin will be the starting kicker on September 12.
To earn the job outright and not just be the last healthy man standing, McLaughlin will boot a 50-yard field goal today against the Falcons.
He will also add a couple of extra points and finish with a perfect day.
McLaughlin is trying to become the ninth Browns kicker in nine years.
Find me my kicker! Browns GM Andrew Berry and coach Kevin Stefanski turn to Chase McLaughlin to replace Cody Parkey. For now.https://t.co/QpgibXnY58

— Tony Grossi (@TonyGrossi) August 24, 2021
3. Baker Throws A TD Pass
He has been hot and on target through the practice sessions, joint practices, and 7 on 7 in training camp.
Baker has spread the ball around to the tight ends and receivers.
Today, he will air it out during the game with a touchdown pass to either David Njoku or Donovan Peoples-Jones.
#Browns Baker Mayfield to David Njoku for a Touchdown over #Giants Jabrill Peppers in one-on-one drills pic.twitter.com/DuKq3cM535

— Baillie Burmaster (@bayburmTV) August 19, 2021
QB Baker Mayfield to WR Donovan Peoples-Jones (again)
(Via #Browns) pic.twitter.com/8hoyU9XfrM

— Brad Stainbrook (@BrownsByBrad) August 8, 2021
What We Do Not Want To See 
One thing we definitely do not want to see tonight is any injury to an Atlanta Falcons or Cleveland Browns player.
Watching Baltimore Ravens running back JK Dobbins be carted off the field in the Saturday night preseason game against the Washington Football Team is a painful reminder of the perils of preseason.
Getting game reps and work in can be a high risk endeavor during preseason games that ultimately do not count.
Another thing we do not want to see tonight are the offensive and defensive playbooks, and we will not since Coach Stefanski is too smart for that.
The Kansas City Chiefs will be watching this game so the Browns need to keep the new plays and secrets under wraps so the Chiefs cannot prepare for them between now and September 12.
Tune in tonight as the Browns and Falcons kick off at 8 PM EDT on NBC.