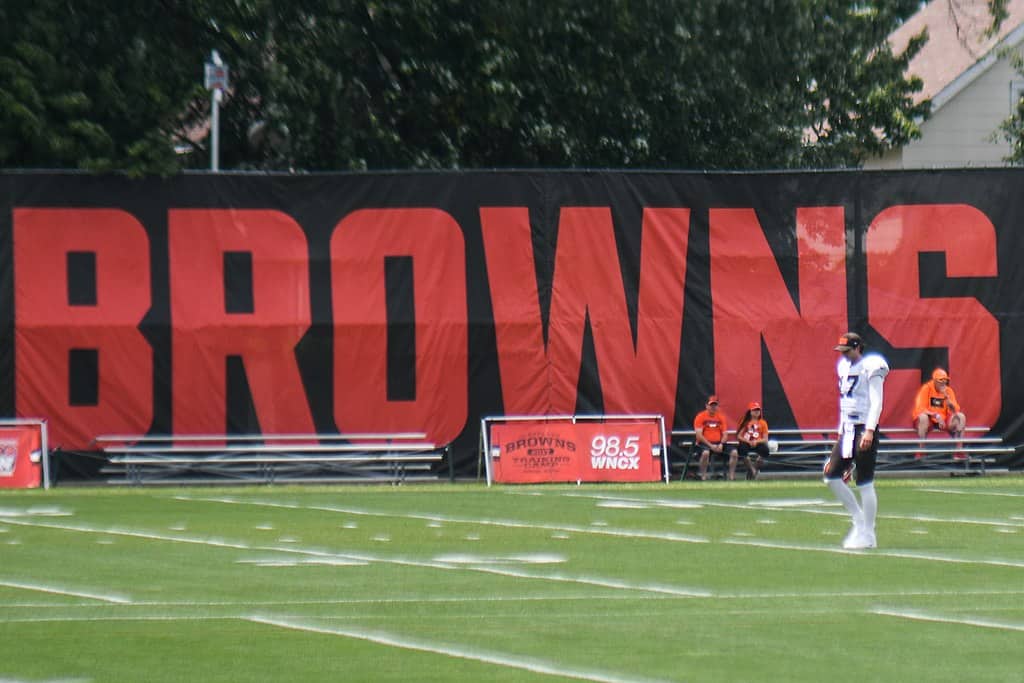 As of this writing, we are less than 2 weeks from the beginning of full squad training camp scheduled to open on July 28.
There are many questions facing all NFL teams at this time.
Most obvious are the COVID-19 questions and status of the outstanding issues between the NFL-PA and the owners.
Casting those aside, we are going to focus on what questions Cleveland Browns Head Coach Kevin Stefanski has to face and hopefully resolve during training camp.
The new coach bears the pressure and expectations of a fan base and an organization that has never made it to the Super Bowl (along with Lions, Texans, and Jaguars) but has high hopes for 2020.
AFC North rankings in 2020

1. Cleveland Browns
2. Baltimore Ravens
3. Cincinnati Bengals

— Joey aka Sir Yacht (@SirYacht) July 16, 2020
1.  How are the rookies progressing?
The Browns signed all of their draft picks to contracts so with the paperwork out of the way, Coach Stefanski must evaluate how they are progressing.
Of course, the offseason has not been a traditional one so learning the playbook and getting to know their teammates has largely occurred through virtual Zoom sessions.
At a minimum, figuring out the situations of these particular rookies may already be causing Stefanski sleepless nights.
Is Jedrick Wills managing the transition from right to left tackle?
Can Grant Delpit make an immediate contribution?
With the disarray associated with David Njoku wanting to be traded, is Harrison Bryant game-ready?
2. How are the personalities meshing?
Let's face it, the Browns are loaded with talented players and larger-than-life personalities.
It's also fair to say that former Head Coach Freddie Kitchens did not manage them well.
How will Stefanski handle OBJ if Jarvis Landry gets a lot of balls?
What are his plans around mentoring Myles Garrett who is a phenomenal talent but has shown instability with his on-the-field demeanor?
Win or lose, Stefanski must manage egos and be in complete control of the locker room.
I don't mean in the sense of being a dictator.
He has to evolve into a players' coach but know when and how to lead to keep things progressing positively.
"My big note to our players is that I have their back … I'm standing right there beside them." — HC Kevin Stefanski pic.twitter.com/WsGRtOWfw6

— Cleveland Browns (@Browns) June 10, 2020
Winning and losing streaks bring out the best and worst in athletes.
3. Can Baker Mayfield stay upright AND succeed?
No one knows yet what Baker will do this year.
Everyone is talking about Nick Chubb and Baker Mayfield right now. But guess who is the real key to their success? THE BIG UGLYS.

Jack Conklin
Wyatt Teller
JC Tretter
Joel Bitonio
Jedrick Wills Jr

Everything is depending on these guys. They will make this offense explode🔥

— Morning Man (@MorningManAM) July 10, 2020
We know the Browns got players to protect him and assist the offense.
Besides the rookies who could step into positions right away, the acquisition of Austin Hooper comes to mind.
And let's not forget that the Browns actually have a fullback on the roster in Andy Janovich who can block for Nick Chubb and Kareem Hunt.
Plus Janovich has good hands and can catch the ball.
At this point, it doesn't appear that Baker Mayfield should have to carry this team on his back or handle the ball like a hot potato that he needs to get rid of immediately before taking a sack.
He should have protection and weapons.
We know the WRs corps is hungry.
OBJ wants the ball, and Jarvis is a great talent also.
Given the deck of cards Coach Stefanski has to play with this season, he should be feeling pretty good.
The Browns are a better team as a result of their offseason transactions.
Continuing with the card analogy, let's hope Stefanski takes his good hand and runs with it all the way to the playoffs.